Spa resorts provide the perfect escape from the hustle and bustle of city life. From romantic getaways with luxury accommodation options and private treatments to full-body massages that ease away your aches and pains, a spa getaway is your ticket to ultimate relaxation.
In this guide, we look at some of the best spas and spa getaways in Ontario. Whether you're looking for a soothing hot stone massage surrounded by nature or a refreshing swim in an outdoor pool, your dream spa break awaits.
---
SPIN GENIE'S CHILLY WELCOME OFFER HERE
*Terms and conditions apply.*
---
The Best Spa Getaways in Ontario 
1. Ste. Anne's Spa
Location: Grafton, Ontario
Price: $140 to $300 for day and overnight spa services. All-inclusive packages are also available.
Ste. Anne's Spa is a renowned wellness retreat in Grafton, Ontario, around 90 minutes from downtown Toronto. This historic country castle turned spa destination offers a serene and luxurious environment for guests to escape the stresses of modern life and indulge in relaxation and rejuvenation.
Spa treatments
Ste. Anne's Spa offers an extensive spa menu of holistic treatments, including Swedish massages, facials, body wraps, and more.
Eucalyptus steam room:

Guests can enjoy the benefits of a eucalyptus steam room, known for its respiratory and relaxation benefits.

Outdoor hot tub:

The spa features outdoor hot tubs, providing a soothing and immersive experience surrounded by nature.

Gardens: The beautifully landscaped gardens create a serene atmosphere, perfect for strolls and quiet contemplation.

Wellness classes:

You'll also find a range of wellness classes, from yoga classes and meditation to fitness and nutrition workshops. These classes contribute to a holistic approach to well-being.
Accommodations & dining
Whether you're drawn to cozy rooms or charming private cottages, every lodging choice at Ste. Anne's Spa is a carefully crafted haven of tranquillity. Each space boasts tasteful décor; from serene rooms to luxurious cottages, your relaxation is their priority. 
Dining at Ste Anne's is also a delightful experience. Each dish, from farm-fresh produce to gourmet creations, reflects its team's dedication to excellence in every aspect of your visit.
Ste. Anne's Spa has received numerous awards and accolades for its exceptional service, wellness offerings, and dedication to creating one of the best spa getaways in Ontario.
2. Millcroft Inn & Spa
Location: Alton, Ontario
Price: Spa treatments and packages are available from $55 to $245, along with accommodation options ranging from $272 to $411.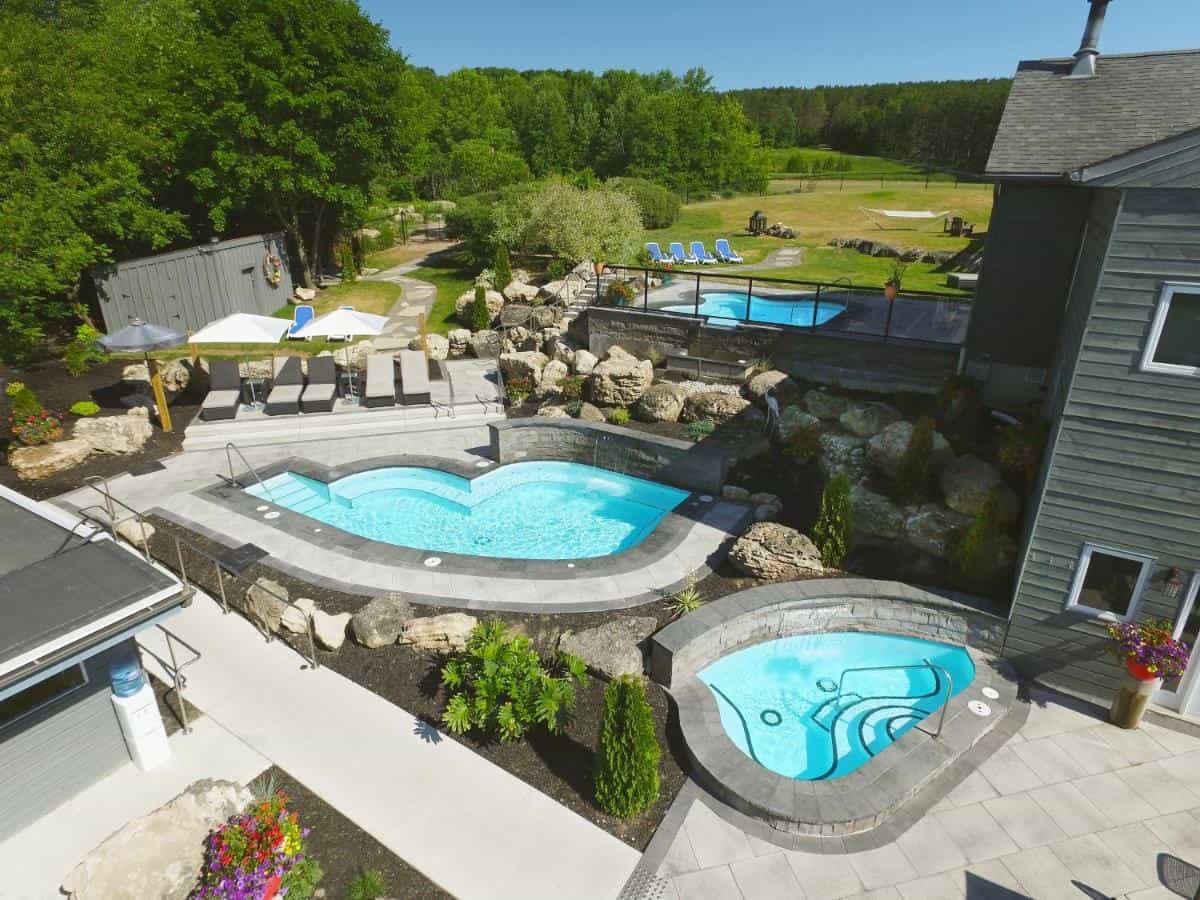 Nestled within the idyllic Caledon Hills, the Millcroft Inn & Spa offers a serene spa getaway. Guests can soak in the therapeutic waters surrounded by lush gardens and landscapes, making it a popular destination for day visitors and those seeking an overnight escape.
Spa treatments
Millcroft offers a range of spa treatments aimed at promoting relaxation and well-being. Guests can indulge in massages, facials, body treatments, and more, all designed to enhance physical and mental rejuvenation.
Pools and hot springs:

The spa features both an indoor swimming pool and outdoor hot spring pools, allowing guests to enjoy the water in various settings. Additionally, the property's grounds have a natural hot spring, adding a unique touch to the spa experience.

Gardens and grounds:

Beautiful gardens surround the spa, providing a peaceful backdrop for relaxation. Guests can take leisurely walks or simply unwind amidst the natural beauty.

Diverse activities:

Beyond the spa, guests can enjoy a range of activities, including exploring nearby hiking trails, visiting local attractions, and even golfing.
Accommodations & dining
For guests seeking an extended retreat, Millcroft Inn & Spa offers a selection of comfortable and charming accommodations. The inn's historical allure blends with modern amenities, cultivating an inviting and indulgent environment. 
Savour the culinary delights of Millcroft's on-site restaurant, where a dedication to locally sourced ingredients and gastronomic excellence takes centre stage. Guests are treated to a delightful mix of flavours that complement the overall spa experience.
What sets Millcroft Inn & Spa apart is its historical significance and its integration into the natural landscape. The combination of the inn's heritage, the surrounding gardens, and the access to indoor and outdoor pools creates a holistic and immersive spa experience.
3. Scandinave Spa Blue Mountain
Location: Blue Mountains, Ontario
Price: Day passes and massage packages are available from around $95 to $105.
Set amidst a serene forest, this spa is known for its Scandinavian-style baths, including hot and cold pools, saunas, and relaxation areas.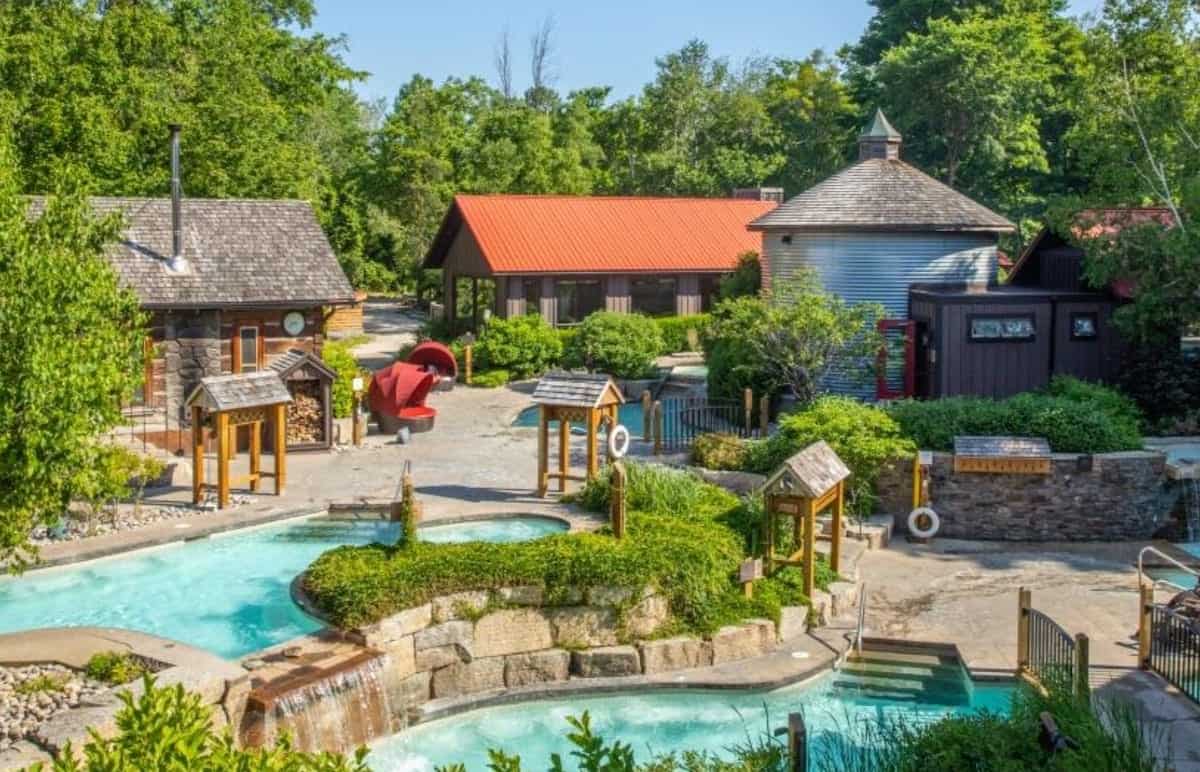 Scandinave Spa Blue Mountain primarily focuses on its hydrotherapy experiences and relaxation facilities, so it does not offer on-site accommodation or dining. However, it is close to Blue Mountain Resort and the town of Collingwood, where guests can find various restaurant options.
Spa treatments
Scandinave Spa Blue Mountain encourages guests to disconnect from the demands of modern life, promoting mindfulness and mental well-being.
Hydrotherapy experience:

Scandinave Spa Blue Mountain places a strong emphasis on hydrotherapy. Central to this experience is the therapeutic hydrotherapy pool, where guests immerse themselves in warm, mineral-rich waters before venturing into cooling plunges. The gentle alternation between temperatures improves circulation and detoxifies the body.

Saunas and steam rooms:

Guests can enjoy various saunas and steam rooms, each with its own therapeutic benefits. The heat helps to detoxify the body and relax the muscles. After warming your body, rinse yourself under thermal and Nordic waterfalls, which can help replenish your body.

Silent environment:

One of the unique aspects of the spa is its commitment to providing a quiet and peaceful environment. This creates a space for guests to disconnect from the noise of everyday life and truly relax.
From soaking in the breathtaking landscapes while sitting in the outdoor Scandinavian baths to high-quality massage treatments, this spa integrates the natural landscape with Scandinavian spa traditions, making it a one-of-a-kind wellness experience and one of the best Ontario spas.
4. Miraj Hammam Spa
Location: Toronto, Ontario
Price: As with most relaxing spas, the pricing at Miraj Hammam Spa can vary. They offer a range of packages and individual treatments. For a wellness retreat, these prices can range from $409 to $1,230.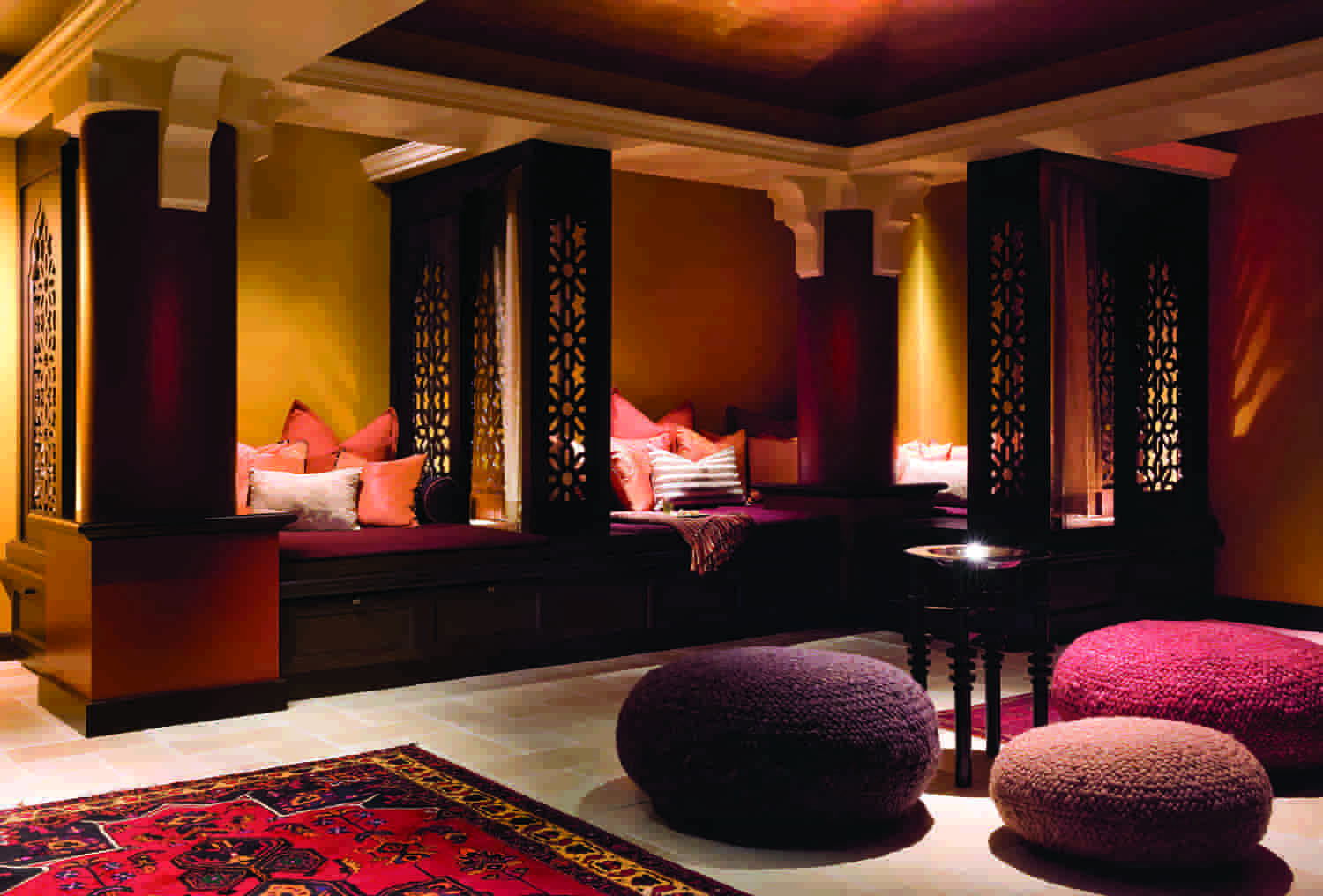 The Miraj Hammam Spa offers a unique blend of Middle Eastern and North African spa treatments in the heart of Toronto. The spa recreates the serene and exotic atmosphere of a traditional hammam (Turkish bathhouse), providing guests with a distinctive spa day that combines relaxation and cultural immersion.
Spa treatments
The centrepiece of Miraj Hammam Spa is the authentic hammam experience. Guests can indulge in traditional hammam rituals, which typically include a steam room, body scrub, and relaxation on heated marble benches.
Hammam rituals:

The hammam area provides an immersive and authentic experience, with steam treatments and exfoliating body scrubs.

Treatment rooms:

The spa features private treatment rooms where guests can enjoy massages, facials, and other personalized therapies.

Décor and ambience:

The spa's décor is inspired by Middle Eastern aesthetics, creating an ambience of opulence, tranquillity, and cultural immersion.

Couples' treatments:

Miraj Hammam Spa offers options for couples' treatments, making it an ideal destination for romantic getaways or shared relaxation experiences. The spa can also accommodate group bookings for special occasions.
Accommodation & dining
The Shangri-La Hotel Toronto is a luxury hotel that houses the Miraj Hammam Spa. The hotel offers luxurious accommodations, ranging from guest rooms to suites, as well as exceptional dining from the Bosk Restaurant and light snacks at The Lobby Lounge. This hotel even makes a feature on our list of the best resorts in Ontario for 2023.
The spa's focus on hammam rituals and its dedication to creating an authentic atmosphere provides guests with a distinctive journey of relaxation and cultural exploration that's unlike any of the other best spa retreats on this list.
If you're planning a trip to Toronto, plan ahead by checking out our blog on the most expensive restaurants in Toronto!
5. White Oaks Resort & Spa
Location: Niagara-on-the-Lake, Ontario
Price: Spa services and overnight spa packages ranging from $300 to $500 are available, along with accommodations.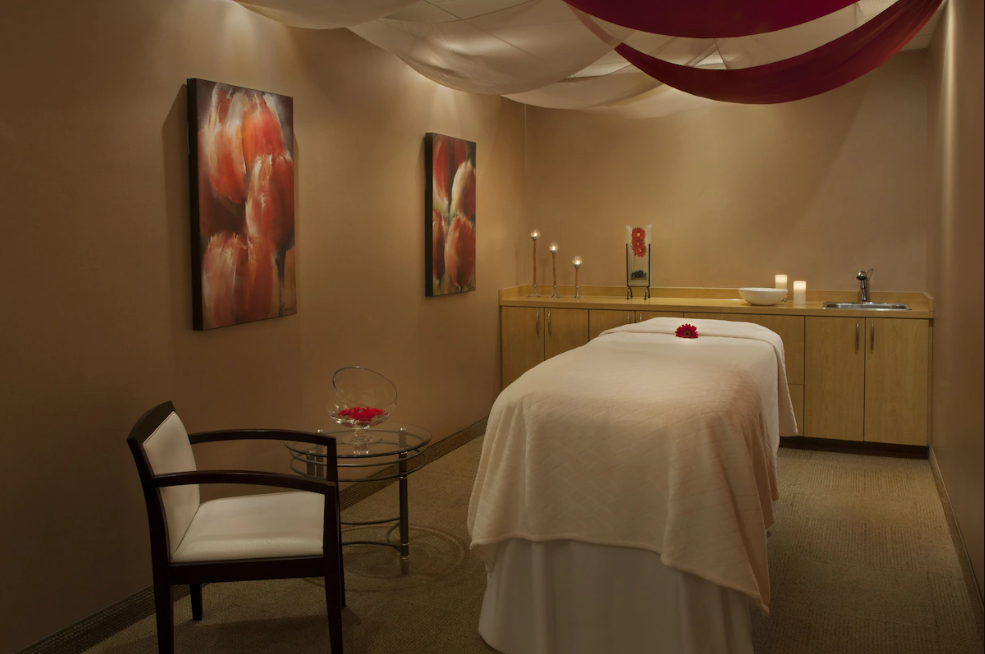 Nestled amid the lush vineyards of Niagara-on-the-Lake, White Oaks Resort & Spa has a history that dates back to the early days of the region's development. Originally established as a serene country retreat in the mid-20th century, the property's transformation into the esteemed resort it is today is a testament to its enduring charm and commitment to exceptional hospitality.
Over the years, the resort has embraced its surroundings, fostering a connection with local winemakers and offering guests the opportunity to explore the nearby vineyards and wineries, making it a perfect retreat for wine enthusiasts.
Spa treatments
The Spa at White Oaks:

The spa is a haven of relaxation, offering a variety of spa treatments, including massages, facials, body treatments, nail therapy and more. Guests can also indulge in the luxury of a heated indoor saltwater pool, providing an added element of rest and relaxation.

Fitness centre:

White Oaks Resort boasts extensive fitness facilities, including a state-of-the-art gym, indoor tennis courts, fitness classes, and personal training services. The focus on health and wellness extends beyond the spa.
Accommodations & dining
White Oaks Resort provides comfortable luxury accommodation, including spacious rooms and suites designed for relaxation and comfort. The spa includes a 21-room luxury overnight spa suite with its own private hot tubs, sauna, and steam room.
Guests can also enjoy a variety of culinary experiences at the White Oaks. The LIV Restaurant is an upscale dining venue showcasing creative cuisine from locally sourced ingredients. The fine dining restaurant experience puts great emphasis on flavours and presentation.
Meanwhile, Play Urban Café is a casual dining spot that offers a more relaxed atmosphere if guests prefer a selection of bistro-style dishes and beverages.
Often praised for its extensive spa menu, upscale amenities, and peaceful atmosphere, the resort's location in the picturesque Niagara-on-the-Lake region adds to the charm, making it an appealing choice for those seeking both relaxation and active pursuits.
6. Thermëa Spa Village
Location: Whitby, Ontario
Price: Thermëa offers a variety of packages and individual treatments ranging from $58 to $175.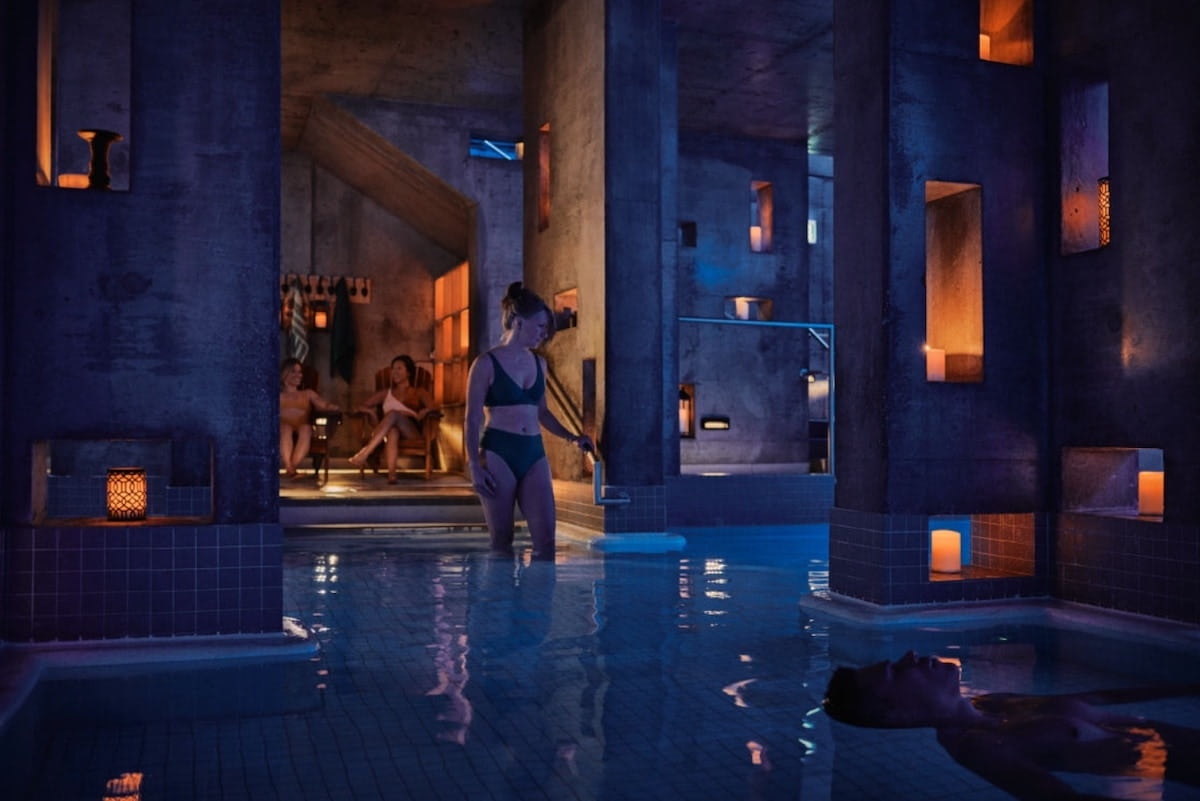 Located just northeast of Toronto, the Thermëa Spa Village is one of the largest spa resorts in Ontario. This complex truly does cater for all, boasting a full-service menu of treatments and therapies alongside steam rooms, saunas, baths, pools, and rest areas.
Visitors can luxuriate in whatever spa experience takes their fancy before hopping between the incredible choice of leisure activities set amid idyllic, Scandinavian-inspired surroundings. 
Whitby's Thermea Spa Village has no accommodation options, so you will need to book a hotel or guesthouse in one of the nearby towns if you want to extend your trip (and trust us, you will)!
Where the resort falls short on accommodation, it excels with on-site dining. After indulging in a world-class spa treatment, you can refuel in Le Resto for exceptional farm-to-table fare or enjoy a cocktail with friends in the Lounge or Biergarden - the perfect end to a perfect day at Thermea Spa Village.
Spa treatments
The resort's main attraction is its thermal experience, which alternates between hot and cold treatments.
Thermal pools:

The spa features a series of thermal pools with varying temperatures, allowing guests to switch between hot and cold baths.

Saunas and steam rooms:

Various saunas and steam rooms offer different temperatures and aromas, contributing to detoxification, muscle relaxation, and overall well-being.

Nordic spa treatments:

The spa offers a range of treatments inspired by Nordic spas. From soothing massage therapy to an invigorating mimosa body scrub, each treatment enhances relaxation, reduces tension, and restores balance.

Rest areas:

Guests can find rest areas throughout the spa village, allowing them to take breaks between thermal treatments and immerse themselves in the serene surroundings.
Thermea Spa Village sets itself apart from other Ontario spas due to its dedication to an authentic Scandinavian spa experience. The combination of Nordic spa treatments, alternating thermal experiences, and a calming environment transports guests to a world of well-being and renewal.
FAQs About the Best Spas in Ontario
Which Are The Best Spas In Ontario For Couples?
Couples seeking a romantic and rejuvenating escape have several excellent options in Ontario.
Millcroft Inn & Spa has a very serene atmosphere, and couples can enjoy spending time together in their natural hot spring pools. Ste. Anne's Spa also provides couples with an all-inclusive wellness experience in a historic setting, complete with spa treatments and gourmet dining.
Alternatively, Scandinave Spa Blue Mountain has Nordic-inspired spa features like thermal baths, saunas, and relaxation areas, making it an ideal spot for couples seeking a bit of tranquillity.
What Are The Best Day Spas In Ontario?
There are several outstanding options for those seeking the best day spa experiences in Ontario. Holtz Spa, Thermëa Spa Village, Scandinave Spa Blue Mountain, Sweetgrass Spa, and 10 Spot Beauty Bar all provide exceptional opportunities for indulging in spa treatments and rejuvenation, even within a single day's visit.
Where Are The Best Spas In Ontario With Hot Springs?
Though natural hot springs are not as prevalent in Ontario as in some other regions, two notable options offer exceptional hot spring-inspired experiences. Scandinave Spa Blue Mountain and Millcroft Inn & Spa both allow guests to enjoy the soothing benefits of hot spring-style therapies.
Where Are The Best Outdoor Spas In Ontario?
Ontario boasts several outdoor spas where guests can luxuriate in treatments and relaxation amid natural settings. Scandinave Spa Blue Mountain, Thermëa Spa Village, and Elmwood Spa offer immersive outdoor experiences featuring thermal baths, saunas, and picturesque views, providing an oasis of serenity and well-being amidst nature.
Book Your Dream Spa Getaway In Ontario With Help From Spin Genie
Ready to book your dream spa escape and make your next trip to Ontario one you'll never forget? 
Give yourself a little more cash to splash on your favourite massage or beauty treatment by playing the best online slots and casino games in Ontario. 
For more luxury lifestyle tips in Canada, take a look at some of our other guides.
---
Discover Spin Genie
Your Magical Online Casino Destination
Spin Genie is a regulated online casino and the destination of choice for the most entertaining online slots, nostalgic game shows and live table games.