Ontario is a treasure trove of diverse landscapes, from majestic forests and serene lakes to vibrant cities and charming towns. Whether you're an outdoor enthusiast, a culture connoisseur or just want to relax and recharge, this large Canadian province has no shortage of luxury resorts to suit your vacation tastes.

You can wake to watch the sun rise over Muskoka's pristine lake or sleep just a stone's throw from the cascading waters of Niagara Falls. Like the entire nation, Ontario's resorts are renowned for their warm and welcoming atmosphere. No matter where you decide to stay, your hosts will be sure to treat you like family.

The best resorts in Ontario allow you to indulge in rejuvenating spa treatments, soak in hot tubs overlooking scenic landscapes, and savour perfectly cooked dishes prepared with locally sourced ingredients.

Whether you choose to have all of Toronto's world-class attractions on your doorstep, head to the slopes at a ski resort, or experience picture-perfect hiking trails, you can't go wrong with these Ontario resorts.
If you're an Ontario resident looking for some ideas of how to spend a break closer to home, we've created a list of the top staycations in Ontario that should come in useful.
---
*Terms and conditions apply.*
---
Luxury Resorts You Should Visit in Ontario
JW Marriott The Rosseau Muskoka Resort & Spa, Muskoka Lakes
Highlights
Spa facilities, lake views, luxury suites
Nestled in the heart of Muskoka, The Rosseau offers stunning views of Lake Rosseau, which can be enjoyed from one of the resort's private balconies before you retreat to the crackling warmth of your room's fireplace.

You can pick from luxurious and well-appointed accommodations, including spacious guest rooms, suites and cottages. The interior designers of this hotel put elegance and comfort at the fore and made sure to include modern amenities, cozy furnishings and picturesque views. You can even stay in a suite with a separate living room.
Expect world-class spa facilities, diverse recreational activities, memorable dining experiences and the commitment to delivering exceptional service during your stay. The Rosseau Muskoka Resort & Spa offers a perfect blend of relaxation, adventure and indulgence, making it an ideal choice for a memorable vacation in Ontario.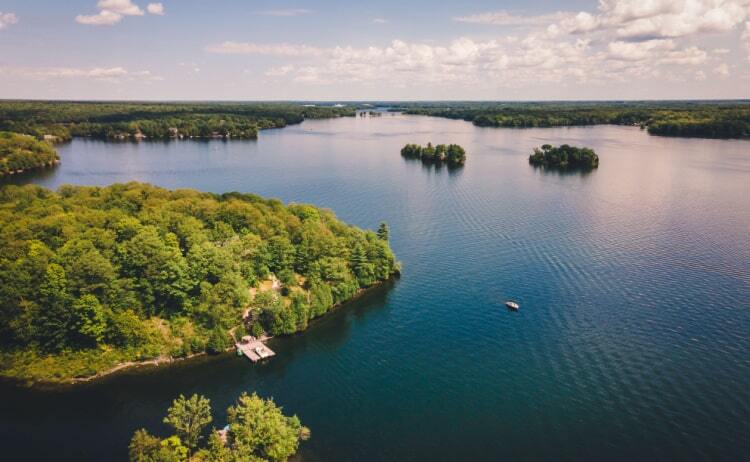 Fairmont Chateau Laurier, Ottawa
Highlights
Close to the city, fine dining on-site, views
The Fairmont Chateau Laurier is an iconic and historic landmark nestled in the heart of Canada's capital, Ottawa. Each guest room is as elegant as the property's exterior, reflecting its timeless charm and offering a glimpse into the country's history. They're meticulously designed with classic furnishings, modern amenities and plush bedding to provide pure comfort. Many rooms also offer stunning views of the picturesque Rideau Canal or the city.

The resort's prime location in downtown Ottawa makes it an ideal base for exploring the city's attractions, cultural sites, shopping districts and restaurants.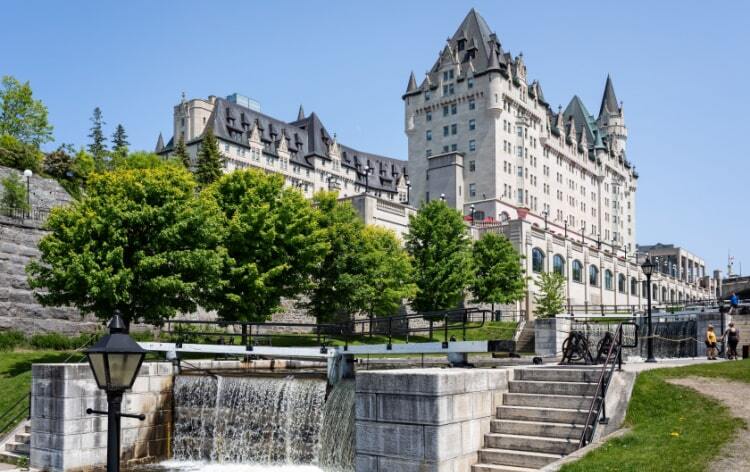 You don't have to go far to find incredible fine dining. Why not book a table at Wilfrid's Restaurant at the Fairmont Chateau Laurier? The hosts greet guests with a sophisticated menu highlighting local ingredients and unparalleled service. The hotel also boasts Zoe's Lounge, known for its elegant afternoon tea service, and the Chateau Lounge, which provides a cozy ambiance for drinks and light bites.
White Oaks Resort & Spa, Niagara-on-the-Lake
Highlights
Spa treatments, fitness center, scenic setting
The White Oaks Resort & Spa is, first and foremost, known for its world-class spa, where you'll find a wide range of rejuvenating treatments, therapies and wellness programs. You can indulge in luxurious spa experiences, including massages, facials, body treatments and holistic therapies, which, when combined, offer a relaxing vacation like no other.

Even though it's a spa resort, you don't have to sit still for the entirety of your stay if that's not your thing. Stay active with the resort's exceptional fitness and recreation facilities, including a state-of-the-art fitness center, indoor and outdoor swimming pools, tennis courts and a squash court.

The White Oaks Resort's location in the charming town of Niagara-on-the-Lake means you're in the ideal place to explore the scenic beauty of the Niagara region. Relax by visiting its picturesque vineyards, enjoy theatre performances at the Shaw Festival or take a leisurely stroll through the town's quaint streets.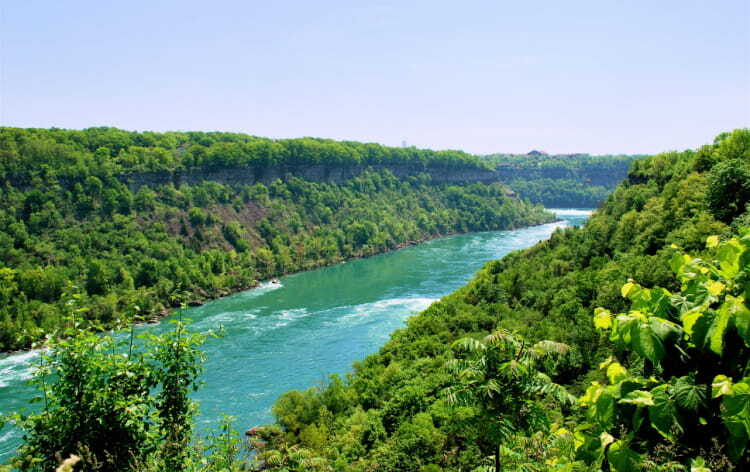 Blue Mountain Ski Resort, Blue Mountains
Highlights
Province's largest ski resort, year-round activities, entertainment village
Blue Mountain is Ontario's largest ski resort, offering a diverse range of terrain suitable for all skill levels. With 42 trails and 16 lifts, the resort provides ample options to enjoy thrilling downhill experiences, whether you're more of a skier or a snowboarder. From gentle slopes for beginners to challenging runs for experts, you can be sure there's something for everyone.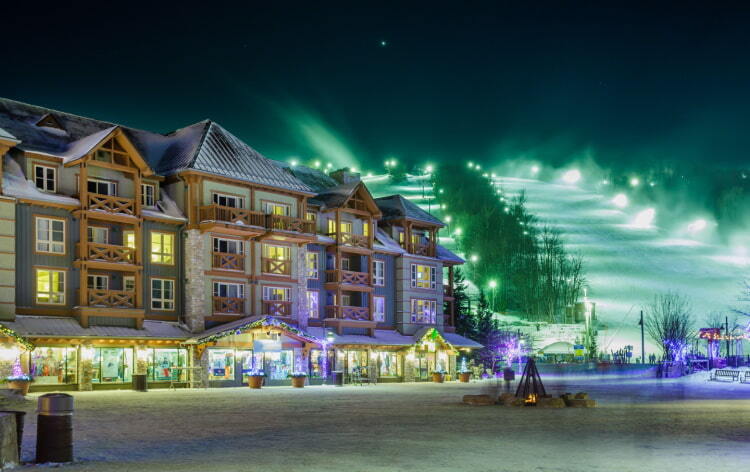 While renowned for its winter sports, Blue Mountain is also a year-round destination. In the warmer months, the resort offers a variety of outdoor activities, such as hiking, mountain biking, zip-lining and golfing.

There is also a vibrant village to enjoy at the base of the slopes. It features a variety of shops, restaurants and entertainment options so you can eat, socialize and other après-ski activities in a lively atmosphere.
Killarney Lodge, Killarney
Highlights
In the heart of the park, nature trails and activities, home-cooked meals
Situated within the breathtaking Algonquin Provincial Park, Killarney Lodge offers a serene and immersive experience in the heart of nature. The lodge is nestled among towering pine trees and overlooks picturesque lakes. You can't ask for a more tranquil setting.

Disconnect from the outside world in your cozy log cabin. Each one has a unique rustic elegance that encourages you to embrace the tranquillity of your natural surroundings. Take the time to wander the park's vast trails, paddle along pristine lakes and observe the abundant wildlife on your Ontario vacation. Algonquin Provincial Park is also renowned for its outdoor recreational opportunities, including hiking, canoeing and fishing.

After an adventure-filled day exploring the great outdoors you can tuck into home-cooked meals at the lodge. The dishes are made from locally sourced ingredients, showcasing the region's flavours. Many visitors hail the dining experience at Killarney Lodge as one of the highlights of their stays.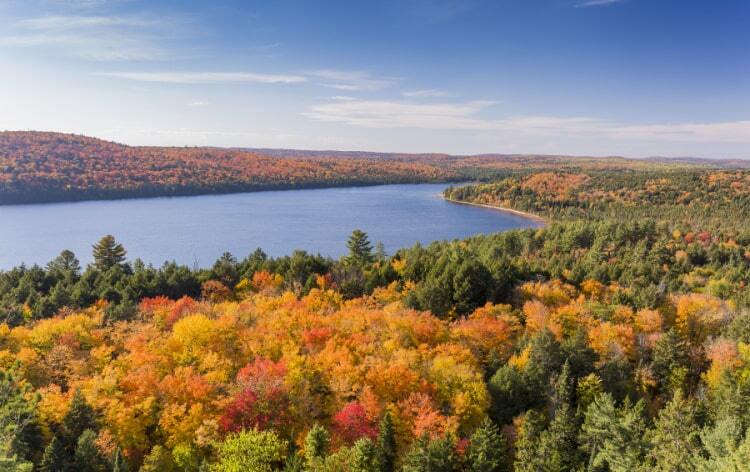 Sterling Inn & Spa, Niagara Falls
Highlights
Tranquil spa, close to the Falls, personalized experiences
The Sterling Inn & Spa is a smaller resort that offers an intimate and boutique experience, providing exclusivity and personalized service. Each room is thoughtfully appointed to create a comfortable and sophisticated retreat so that you can unwind in style.

The resort's on-site spa is known for its exceptional services and tranquil atmosphere. You can indulge in various spa treatments, massages and wellness therapies tailored to promote relaxation, rejuvenation and overall well-being.

The inn also boasts a dining experience that showcases the freshest ingredients and innovative culinary creations. The on-site restaurant provides a refined atmosphere and menu highlighting famous Ontario flavours. From the first bite, you can tell these dishes are crafted with care and attention to detail.

The resort is located near Niagara Falls and the surrounding attractions, allowing you to explore the natural wonder and enjoy the various activities easily. Whether witnessing the breathtaking views of the falls or finding excitement at adventure attractions, the resort's location is the perfect gateway to Niagara's highlights.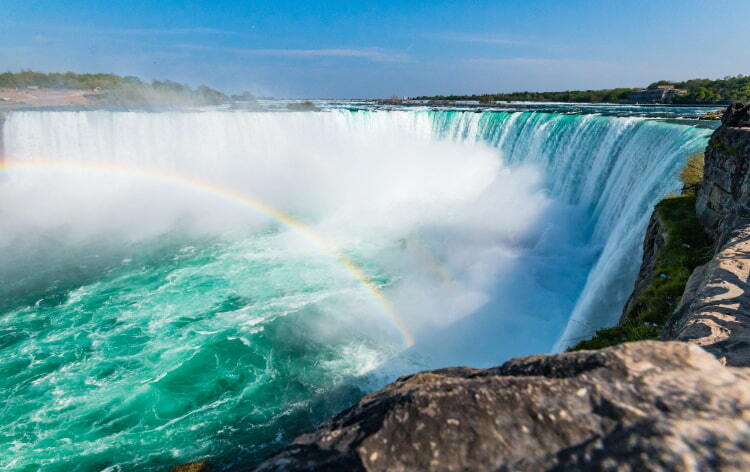 Deerhurst Resort, Huntsville
Highlights
Unspoiled wilderness, outdoor activities, varied food options
Set in the scenic region of Muskoka, surrounded by breathtaking landscapes of lush forests, crystal-clear lakes and rolling hills, is the Deerhurst Resort. The beauty of the natural surroundings creates a picturesque backdrop for your stay and offers an immersive experience in Ontario's stunning wilderness.

There are plenty of opportunities for outdoor adventure and relaxation at Deerhurst. In summer, you can enjoy golfing on championship courses, exploring hiking trails, canoeing or kayaking on the lakes and swimming in the pools. In winter, why not try your hand at skiing or snowboarding?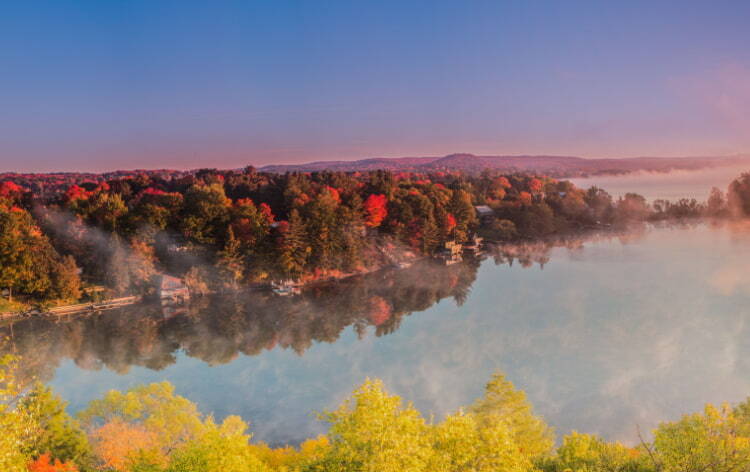 When it comes to food, the resort boasts multiple dining options, from casual eateries to fine-dining restaurants. Enjoy breathtaking views as you savour the delicious dishes. The culinary offerings are diverse and cater to various tastes, ensuring a memorable dining experience no matter what you pick off the menu.
Severn Lodge, Port Severn
Highlights
Private beach, all-inclusive options, historic charm
Severn Lodge boasts a private beach area with more than 700 meters of picturesque shoreline. It sits on the shores of Gloucester Pool, part of the historic Trent-Severn Waterway. The beautiful surroundings of the Canadian Shield provide a tranquil and idyllic backdrop for your Ontario vacation.

The lodge dates back to 1879, and its luxury accommodations feature classic architecture and a rustic ambiance. It maintains its historic charm while providing modern amenities. You can appreciate the nostalgia and character that comes with a long-standing heritage without sacrificing comfort.

The resort also offers convenient all-inclusive packages, including accommodation, meals and various recreational activities. These packages simplify the planning process and allow you to fully immerse yourself in the resort experience without worrying about additional costs.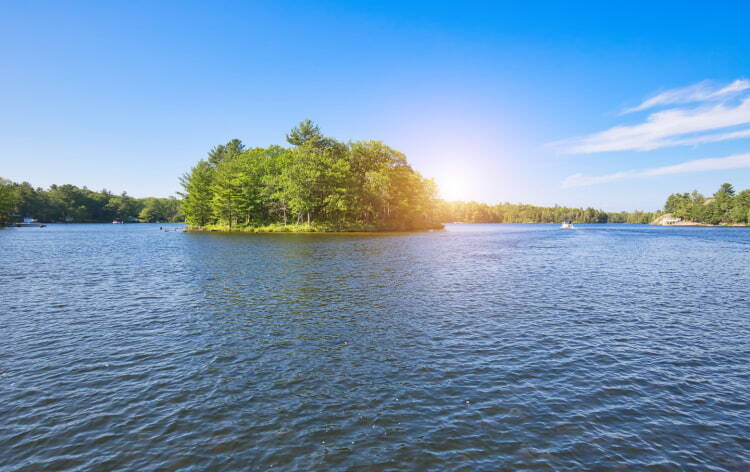 The Westin Trillium House, Blue Mountains
Highlights
Year-round activities, cozy rooms, exceptional service
The Blue Mountains is one of Ontario's most popular four-season vacation destinations. The Westin Trillium House offers convenient access to the Blue Mountain Ski Resort and the village's shops and restaurants.

Beyond skiing, The Westin Trillium House provides a variety of activities and events throughout the year, including hiking, mountain biking, golfing, snowshoeing and special events like festivals and concerts. Immerse yourself in the vibrant atmosphere of the Blue Mountains and take advantage of the resort's proximity to outdoor adventures.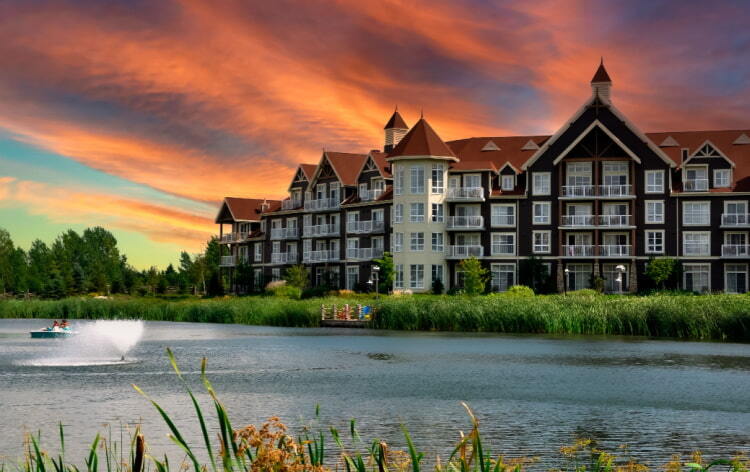 The rooms are all designed with your comfort in mind, featuring cozy furnishings, modern amenities and views of the natural beauty surrounding the property. There's also a fitness center, outdoor heated pool, hot tubs, spa services and on-site dining options. The resort's facilities focus on relaxation, wellness and recreation, ensuring a fulfilling and enjoyable stay.
Shangri-La Hotel, Toronto
Highlights
Prime location, dining options, exclusive facilities
The Shangri-La Hotel is in the heart of downtown Toronto and offers convenient access to the city's vibrant cultural and entertainment districts. You can quickly seek out popular attractions, museums, theatres, upscale shopping areas and popular restaurants as soon as you step out the door.

If you don't feel like hunting down a restaurant in Toronto, not to worry! The hotel is home to a variety of outstanding dining options. Indulge in dishes crafted by renowned chefs, using the freshest seasonal ingredients to create modern Canadian cuisine with subtle Asian influences.

The hotel offers a range of exclusive amenities and facilities to enhance your experience. Make your way up to the rooftop terrace to see breathtaking views and take advantage of the valet parking. You can also enjoy pampering spa experiences, relaxation lounges, fitness facilities and an indoor swimming pool. The hotel's commitment to providing a complete and luxurious experience sets it apart as a top choice for discerning travellers.
If you're looking for some of the best hotels in Toronto, take a look at this blog from Ask Genie: Most expensive hotels in Toronto.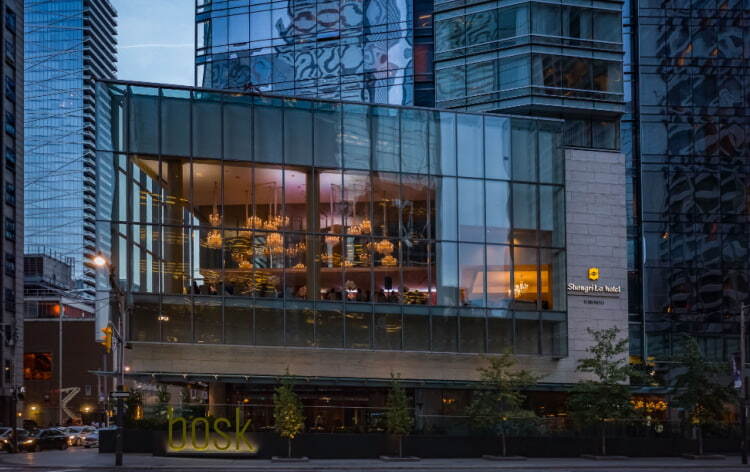 Book a suite at your dream Ontario resort with help from Spin Genie
So, which one of these luxurious accommodations have you got your eye on? Whether you want to sail down the slopes at a Blue Mountains ski resort or leave the digital world behind at a nature retreat, these Ontario resorts have what you're looking for.

Try your hand at some online slots in Ontario, or check out the best online casino in Ontario to make your Ontario vacation one to remember.
Take a look at some more of our recommendations for living a life of luxury in Canada:
---
Discover Spin Genie
Your Magical Online Casino Destination
Spin Genie is a regulated online casino and the destination of choice for the most entertaining online slots, nostalgic game shows and live table games.