From stunning mountain ranges to glorious lakes, British Columbia is regarded as one of the world's most beautiful places.
So, it should be no surprise that this Canadian province is home to some of the best luxury resorts. From the picturesque coastal landscapes of Vancouver Island to the majestic mountain views of Whistler, British Columbia offers a diverse range of environments that set the stage for these exceptional wellness retreats.
In this guide, we'll be taking a closer look at the best resorts in BC that will immerse you in luxury and stunning natural wonders.
---
SPIN GENIE'S CHILLY WELCOME OFFER HERE
*Terms and conditions apply.*
---
Resorts in British Columbia You Should Visit
1. Brentwood Bay Resort
Price: $297 - $457
Address: 849 Verdier Ave Brentwood Bay, Central Saanich, British Columbia V8M 1C5 Canada
Established in the early 2000s, Brentwood Bay Resort provides the perfect setting for embracing the region's stunning waterfront. One of the defining features of Brentwood Bay Resort is its marina, allowing guests to explore the bay and beyond.
Culinary excellence is another cornerstone of the resort's offerings. The Arbutus Room invites guests to savour a range of delectable dishes, while The Brentwood Pub offers a more casual ambience for visitors, perfect for unwinding.
The Brentwood Bay Spa is a pinnacle of indulgence. The spa's treatments draw inspiration from the surrounding natural elements, offering diverse therapies designed to nourish the body and soothe the spirit.
Brentwood Bay Resort continues to captivate guests with its exceptional offerings, from aquatic adventures to upscale accommodations and culinary delights. This fusion of luxury, natural beauty, and a commitment to creating a refined experience ensures that the resort remains a sought-after destination for those seeking an unforgettable escape on the stunning shores of Vancouver Island.
2. Nita Lake Lodge
Price: $328 - $549
Address: 2131 Lake Placid Road, Whistler, British Columbia V8E 0B2 Canada
Nita Lake Lodge is a luxury boutique hotel nestled in the picturesque mountain town of Whistler, British Columbia, Canada. Located just steps away from the shores of Nita Lake and surrounded by stunning natural landscapes, the lodge offers a serene and upscale retreat for both leisure and outdoor enthusiasts.
The lodge features various accommodations, including guest rooms and spacious lakefront suites. Nita Lake Lodge is also known for its commitment to wellness and relaxation. The full-service Nita Wellness & Spa offers a range of rejuvenating treatments inspired by the area's natural elements. Guests can indulge in massages, facials, and other therapies to promote relaxation and well-being.
Dining at Nita Lake Lodge is an exceptional experience. The hotel boasts several fine dining options, including The Den, which serves locally sourced and seasonal cuisine focusing on sustainable ingredients. The Cure Lounge & Patio is another popular spot, offering craft cocktails, a diverse wine selection, and a cozy fireplace to relax by.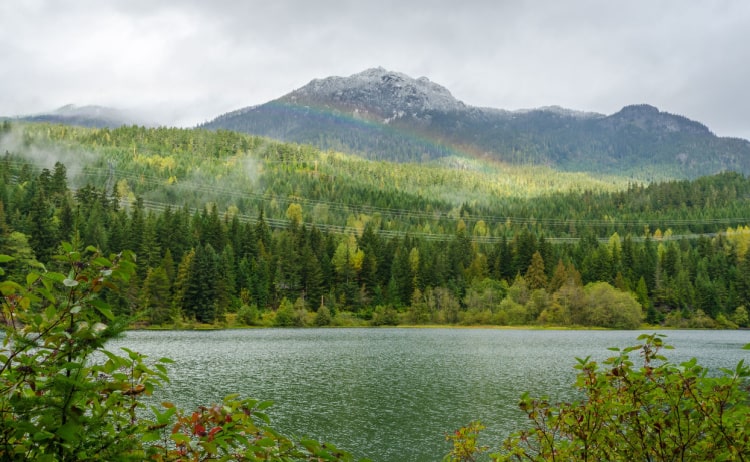 The lodge's location is perfect for outdoor enthusiasts and those seeking a tranquil escape. In the winter, Whistler is renowned for its world-class skiing and snowboarding, with Nita Lake Lodge providing convenient access to the Whistler Creekside Gondola. 
During summer, guests can enjoy hiking, mountain biking, kayaking, and other outdoor activities in the surrounding mountains and lakes.
Nita Lake Lodge also offers various other amenities, such as a fitness centre, an outdoor hot tub, and a complimentary shuttle service to the Whistler Village, providing convenience and comfort for guests exploring the area.
3. Long Beach Lodge Resort
Price: $345 - $906
Address: 1441 Pacific Rim Highway, Tofino, British Columbia V0R 2Z0 Canada
The Long Beach Lodge Resort is situated right on the edge of the expansive Cox Bay Beach, known for its stunning natural beauty and world-class surfing. With the Pacific Ocean stretching out before it and lush rainforest as its backdrop, the Long Beach Lodge Resort offers a tranquil and picturesque setting for visitors seeking relaxation, adventure, and connection with nature.
The luxury resort's accommodations range from cozy lodge rooms to spacious cottages and suites, with many providing spectacular ocean views. As a guest, you'll enjoy waking up to the soothing sound of waves and the beautiful sunrise vistas over the water.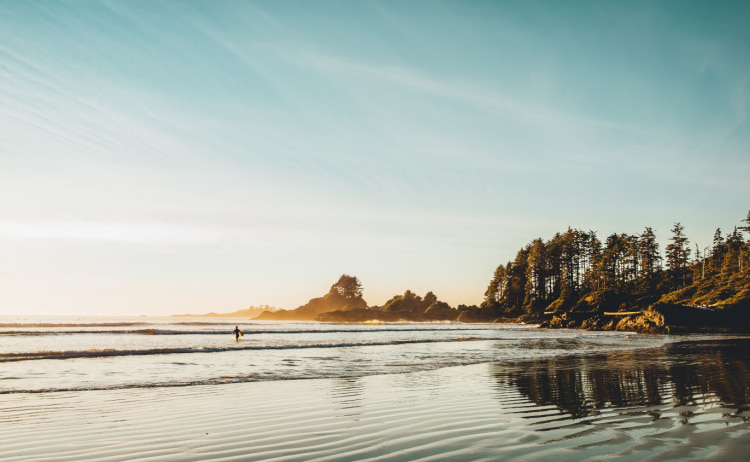 The Great Room, a central gathering space within the lodge, features large windows that frame panoramic ocean views. Here, guests can unwind by the fireplace and enjoy locally inspired cuisine at the on-site restaurant.
A highlight of Long Beach Lodge Resort is its dedication to outdoor adventure. Tofino, famed for its rugged coastline, lush rainforests, and activities like surfing, kayaking, whale watching, and hiking, is easily explored through the resort's guided experiences and adventure packages. Guests can ride waves, spot marine life, and embrace the area's breathtaking landscapes.
The Surf Club Center offers various services for relaxation and wellness, including hot tubs, a sauna, and a fitness centre. The Long Beach Lodge Resort is ideal for a coastal getaway that combines natural beauty, outdoor adventure, and comfortable accommodations.
4. Sparkling Hill Resort
Price: $410 - $608
Address: 888 Sparkling Pl, Vernon, British Columbia V1H 2K7 Canada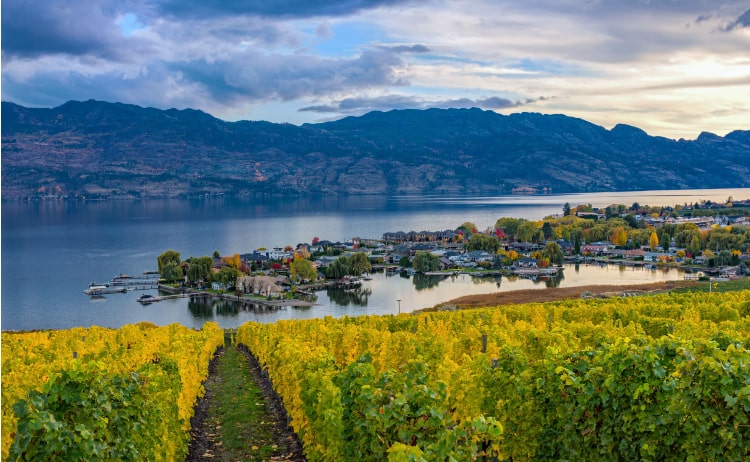 Overlooking Lake Okanagan, the Sparkling Hill Resort emerges as a shimmering jewel, bedazzled with over 3.5 million Swarovski crystals creating a captivating display.
Beyond its aesthetic splendour, the Sparkling Hill Resort offers a range of amenities and experiences that cater to guests seeking rest and relaxation. The resort boasts an award-winning spa, offering a variety of treatments designed to rejuvenate the body and mind. The KurSpa, as it is known, provides a holistic approach to well-being, with facilities such as a sauna, steam room, cold room, and relaxation room.
The resort's accommodations continue the theme of luxurious comfort with panoramic views of Lake Okanagan and the surrounding landscape. The rooms and suites serve as serene sanctuaries where guests can unwind and take in the breathtaking scenery.
In addition to its striking design and wellness offerings, Sparkling Hill Resort is known for its gourmet dining experiences. Guests can savour delectable cuisine inspired by local ingredients and international flavours while enjoying the stunning vistas surrounding the resort.
5. Four Seasons Whistler
Price: $472 - $684
Address: 4591 Blackcomb Way, Whistler, British Columbia
From epic ski runs to magnificent glaciers, there's no better place to stay than at the Four Seasons Resort in Whistler. The resort provides a variety of luxurious rooms, suites, and private residences, each boasting picturesque views of the mountains and lush forests.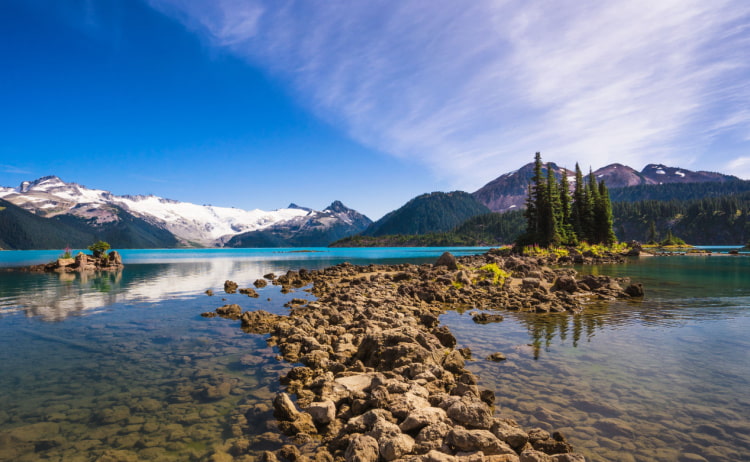 Access the renowned Whistler Blackcomb ski resort with personalized concierge services arranging ski lessons, tours, and equipment rentals. Take a helicopter tour to Cheakamus & Garibaldi Lakes, Black Tusk Peak, and Tantalus Glacier, followed by an exclusive Whistler-inspired afternoon tea. Unwind at Four Seasons Whistler Spa or relish diverse dining, from elegant restaurant to fireside cozy.
Whether it's a romantic getaway, a family vacation, or a solo retreat, the Four Seasons Resort in Whistler promises an enchanting escape for everyone.
6. Fairmont Pacific Rim
Price: $672 - $906
Address: 1038 Canada Place, Vancouver, British Columbia V6C 0B9 Canada
The Fairmont Pacific Rim is an iconic waterfront hotel in Vancouver, blending modern decor with artistic sophistication against the stunning backdrop of bustling Coal Harbour. Panoramic vistas encompass the city skyline, majestic mountains, and tranquil waters, redefining elegant urban living.
From stylish guest rooms to lavish suites and exclusive residences, the Fairmont Pacific Rim offers refined comfort, each space embodying contemporary style with upscale amenities.
The hotel's on-site dining options feature a diverse range of flavours. From farm-to-table offerings to innovative Pacific Rim cuisine, the restaurants within Fairmont provide an exceptional gastronomic experience. Guests can also indulge at the hotel's stylish bars, all while taking in the breathtaking views.
If this resort has sparked your interest, you'll want to try out some of the most expensive restaurants in Vancouver, which you can find in your blog.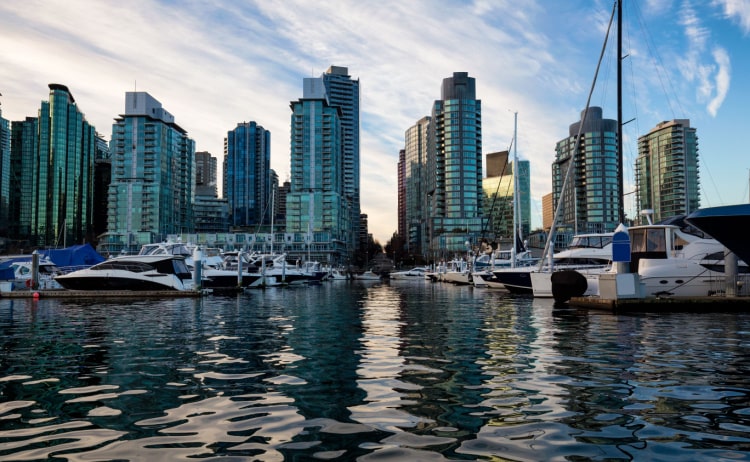 If you're searching for a wellness retreat, the Willow Stream Spa offers a haven of tranquillity. This award-winning spa provides a range of treatments from skilled massage therapists to help revitalize the body and mind.
The Fairmont Pacific Rim is also renowned for its commitment to art and culture. The hotel features an impressive collection of artwork throughout its spaces, showcasing pieces from local and international artists. This infusion of creativity adds to the unique ambience of the hotel and elevates the overall guest experience.
The prime location invites exploration of Vancouver's cultural scene. Whether you're strolling along the scenic waterfront, visiting nearby attractions, or enjoying the city's urban energy, the Fairmont Pacific Rim is an ideal starting point for all your explorations.
7. Wickaninnish Inn
Price: $715 - $1,117
Address: 500 Osprey Lane at Chesterman Beach, Tofino, British Columbia V0R 2Z0 Canada
Located in the charming town of Tofino on the western coast of Vancouver Island, British Columbia, the Wickaninnish Inn offers a unique and unforgettable escape.
One of the most captivating aspects of the Wickaninnish Inn is its unparalleled vantage point overlooking the Pacific Ocean. Whether you're witnessing the drama of a stormy sea or enjoying a serene sunset, the inn's location offers an ever-changing canvas of natural wonders.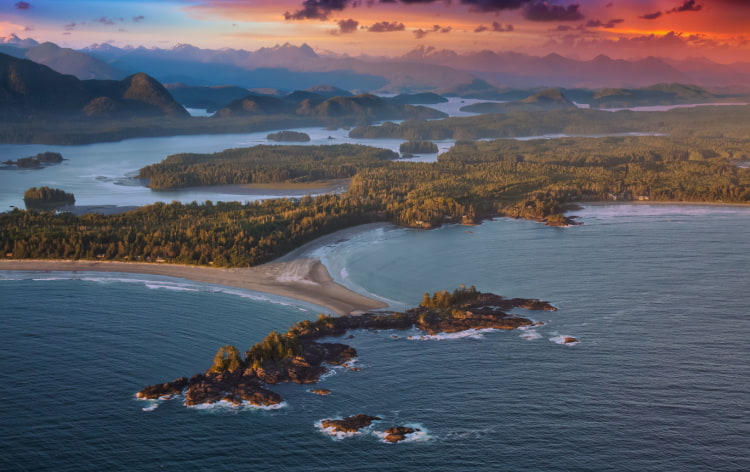 The inn's commitment to environmental preservation and sustainability is evident in every detail. The on-site Ancient Cedars Spa utilizes locally inspired treatments and embraces the therapeutic essence of the surrounding rainforest. The Pointe Restaurant also offers delicious and organically sourced meals to keep you feeling nice and refreshed.
The inn aims to showcase the region's heritage. Through art displays, workshops, and cultural experiences, guests can engage with the local Indigenous culture, enriching their journey.
8. Sonora Resort
Price: $1,323 - $2,162
Address: Sonora Island, British Columbia
For almost 40 years, Sonora Resort has been a beacon of wilderness luxury. Starting as a fishing lodge in 1979, it has grown into a global gem offering an exceptional escape into British Columbia's natural beauty.
This world-class resort is a secluded haven accessible only by boat or seaplane. Accommodations range from elegant lodge rooms to hot tub suites and villas with stunning vistas, art collections, and fireplaces.
The resort's emphasis on outdoor activities makes it a haven for nature lovers and adventure seekers. Whether it's wildlife tours to spot grizzly bears, salmon fishing, kayaking, paddleboarding or hiking, there's something for everyone to enjoy. You also have access to a tennis and basketball court, gym, swimming pool and fitness centre.
If that doesn't sound like you, why not make the most of their 12-seat theatre and gaming rooms, where you can compete and have fun with your loved ones? Sonora Resort also takes great pride in its dining experiences, offering a range of gourmet meals prepared with locally sourced ingredients, especially fresh seafood from the nearby waters. Furthermore, the resort features a spa and wellness centre, providing a tranquil space after a day of outdoor exploration.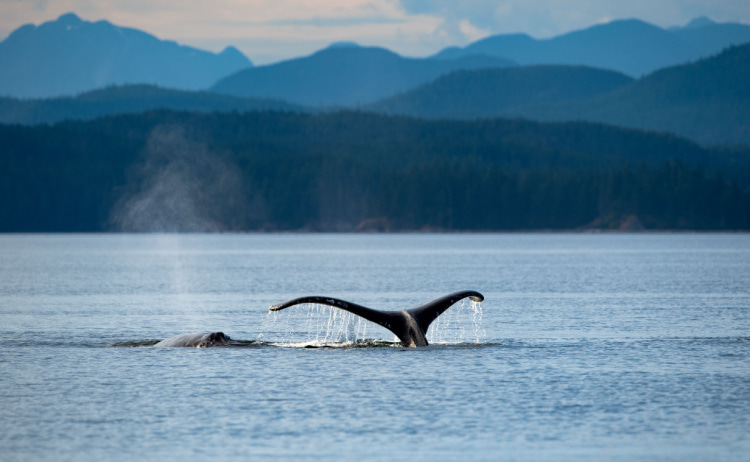 Before heading to bed, pull up a chair beneath the Adirondack Mountains and gather around the Storey Pointe fire pit to engage in heartfelt conversations under the night sky.
Experience the blend of luxury and nature at Sonora Resort, an unforgettable retreat in the heart of British Columbia.
9. Clayoquot Wilderness Lodge
Price: $1,389 - $1,785
Address: 1 Clayoquot, British Columbia V0R 2Z0 Canada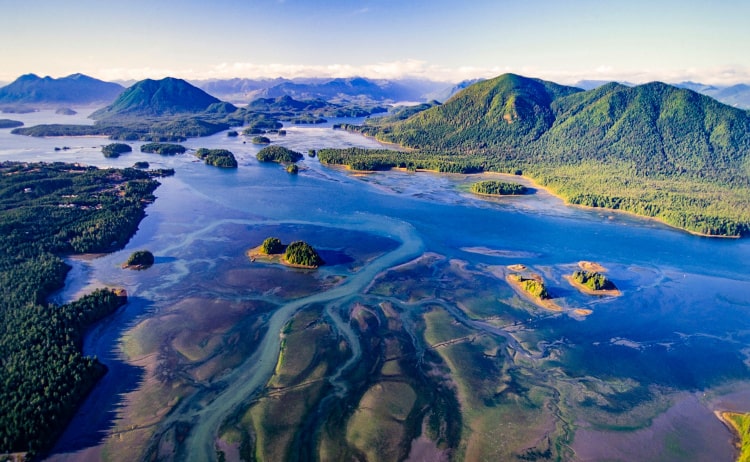 Clayoquot Wilderness Lodge offers a luxurious escape in Vancouver Island's remote wilderness, reachable only by seaplane or boat.
Adventures within the natural playground of Clayoquot Wilderness Lodge are as diverse as the landscape itself. From exhilarating heli-flights and remote hiking to rewarding wildlife sightings and peaceful yoga sessions, every moment promises shared discovery and the creation of enduring memories with loved ones.
Guests are treated to upscale safari-style tents that seamlessly integrate with the natural surroundings. These luxurious tents are designed for comfort, featuring cozy furnishings, en-suite bathrooms with hot showers, and private balconies showcasing awe-inspiring wilderness views.
The dining experience at the lodge is equally remarkable, with a focus on gourmet cuisine featuring locally sourced ingredients and fresh seafood. In essence, Clayoquot Wilderness Lodge invites guests to escape into the serene embrace of the wild with tailored activities, a harmonious culinary experience, and luxurious accommodations.
Stay in a Luxury Resort With Spin Genie
Want to stay at a luxury resort in British Columbia? Have a go at the best online slots in Ontario, or try your luck at Ontario's best online casino, where you could be in with a chance of winning some extra cash.
For more luxury inspiration, check out our other lifestyle blogs:
FAQ About The Most Expensive Resorts in BC
Which luxury resorts in British Columbia are romantic?
British Columbia has several romantic resorts catering to couples looking for a dreamy getaway. Some of these resorts include Clayoquot Wilderness Resort, Fairmont Pacific Rim, Sonora Resort, Wickaninnish Inn and Nita Lake Lodge.
Which are the best ski resorts in British Columbia?
The top ski resorts in British Columbia include:
Whistler Blackcomb

Revelstoke Mountain Resort

Big White Ski Resort

Sun Peaks Resort

Kicking Horse Mountain Resort

SilverStar Mountain Resort
---
Discover Spin Genie
Your Magical Online Casino Destination
Spin Genie is a regulated online casino and the destination of choice for the most entertaining online slots, nostalgic game shows and live table games.