There's nothing like the excitement of moving to a new city. If you're considering relocating to the vibrant city of Calgary, one of the most crucial decisions you'll make is choosing one of the best Calgary neighbourhoods to call home.
Calgary is brimming with diversity, culture and beauty on every corner. Whether you're a professional seeking a bustling city life, an artist looking for a creative haven, or a nature lover in pursuit of lush landscapes, Calgary has a neighbourhood just for you.
Join us as we take you on a tour of the best Calgary neighbourhoods. From the upscale urban chic of Downtown to the tranquil retreat of Prince's Island Park, we'll delve into what makes these neighbourhoods the most sought-after in the city. 
Discover the breathtaking views, exclusive amenities, and incredible restaurants that represent the best of what Calgary has to offer.
---
SPIN GENIE'S CHILLY WELCOME OFFER HERE
*Terms and conditions apply.*
---
Where Are The Best Calgary Neighbourhoods?
Whether you're a seasoned urban dweller or seeking a fresh start, Calgary's neighbourhoods have something extraordinary waiting for you. Why not put roots down in one of these beautiful areas?
1. Downtown Calgary
Living in Downtown Calgary means immersing yourself in the heartbeat of the city. The iconic skyline of skyscrapers becomes your backdrop, with luxurious condos and apartments offering unparalleled views. 
The neighbourhood's energy is palpable - from the vibrant business district to the artistic quarters, it's a place where every corner tells a story.
You can indulge in a wide range of culinary delights with a remarkable array of upscale restaurants, cozy cafes, and trendy nightclubs on your doorstep. It's one of the most walkable neighbourhoods in Calgary, so you can step out into the evening to find a plate of poutine or a fresh bowl of pasta.
Downtown Calgary's culture is another draw. The neighbourhood boasts theatres, art galleries, and museums that showcase local talent and international exhibits. The proximity to live music venues, entertainment hubs, and special events ensures you'll always have something to do!
Population: approximately 40,000
Average house price: $548,000
2. Nose Hill Park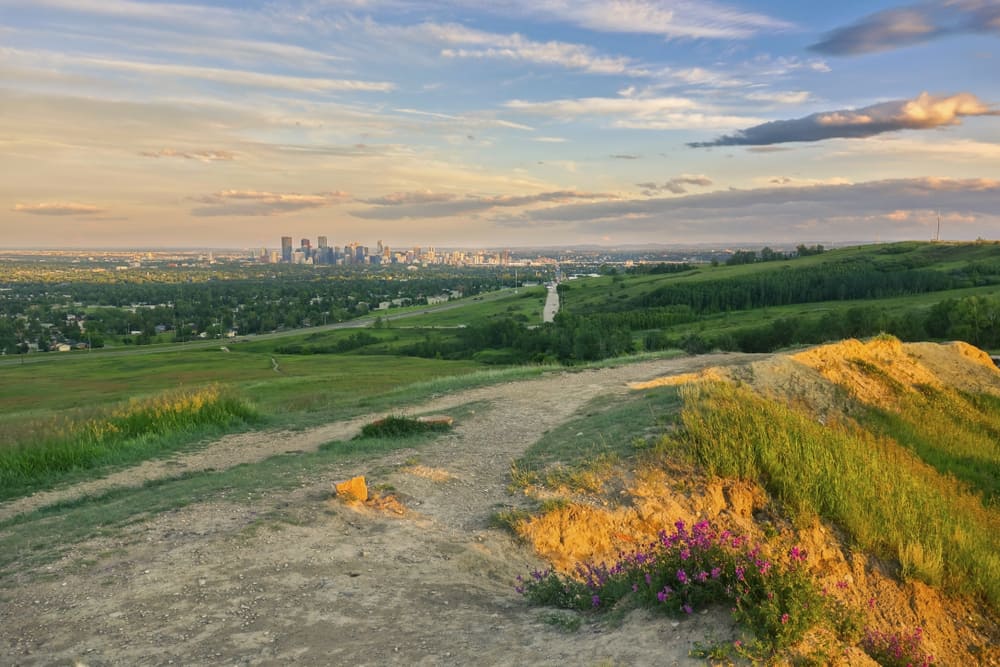 As one of the largest urban parks in North America, Nose Hill Park offers an unparalleled natural escape right within the city limits. Its vast expanse of rolling hills, native grasslands, and winding trails provides a picturesque backdrop for outdoor enthusiasts, hikers, and nature lovers.
Moving to Nose Hill Park's vicinity means enjoying breathtaking panoramic views of the city skyline and the surrounding Rocky Mountains. There's a reason Avenue magazine voted Nose Hill areas like Brentwood Calgary's best neighbourhood two years in a row.
The park's peaceful atmosphere and diverse ecosystems create an urban oasis where you can unwind, engage in recreational activities, and find respite amid city life. But you'll still find all your amenities are just a short drive away at Country Hills Village shopping centre.
Population: approximately 115,000
Average house price: $582,000
3. Prince's Island Park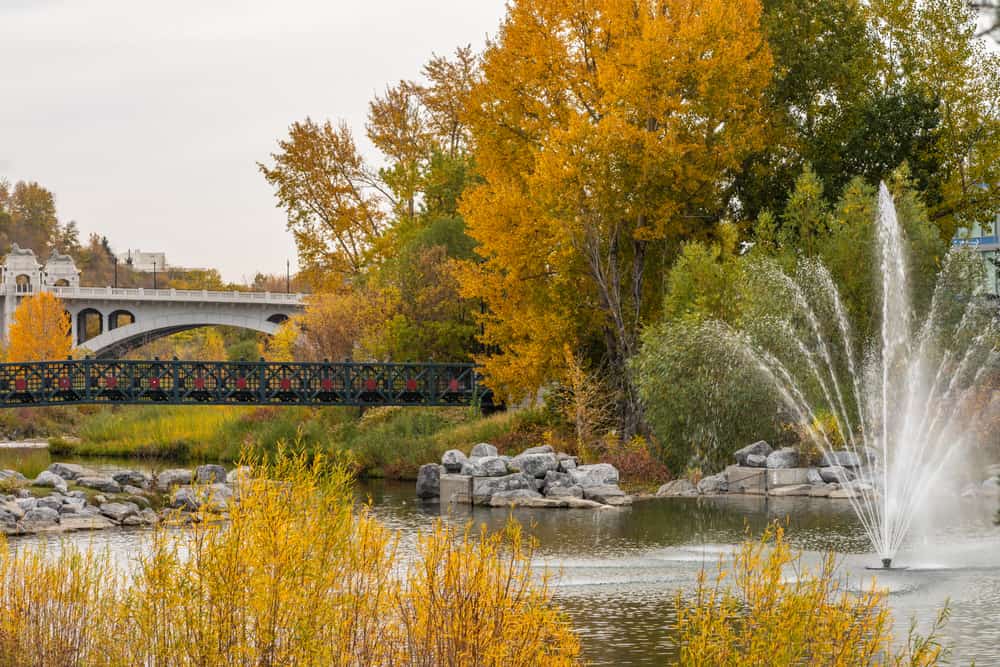 Nestled along the Bow River and just a stone's throw away from downtown is the enchanting urban retreat of Prince's Island Park. You have your pick of the neighbourhoods of Eau Claire, East Village, and Downtown West End surrounding the park.
Living near Prince's Island Park means having an oasis of nature and culture at your doorstep. Its lush greenery, meandering pathways, and tranquil waterways offer a picturesque escape where you can unwind, rejuvenate, and find inspiration amidst the city's rhythm. The park's year-round events, including festivals, concerts, and art exhibitions, infuse the area with a vibrant, cosmopolitan energy.
This neighbourhood's prime location ensures easy access and seamless integration into city life. A short walk across the bridge leads to the downtown core, with its upscale shopping, gourmet dining, and cultural experiences. Yet, when you step onto the island, you find yourself in a haven that feels miles away from the hustle and bustle.
Population: approximately 7,500
Average house price: $400,000
4. Altadore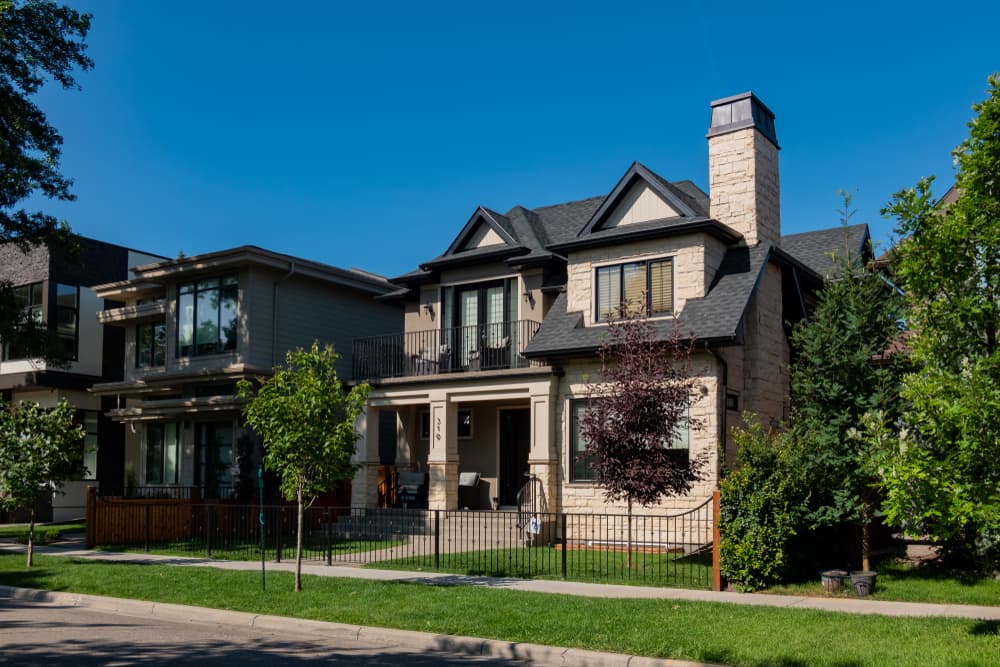 Another of the best neighbourhoods in Calgary is Altadore. Whether you're embracing an active lifestyle, enjoying its peaceful streets, or after a solid investment, this neighbourhood consistently delivers. 
Its charm lies in its perfect balance between sophistication and community spirit. You'll be able to choose from a range of luxury homes, each with a unique architectural identity for you to fall in love with.
Beyond its aesthetic draw, Altadore's vibrant community beckons you to be part of something special. The warmth and sense of belonging are palpable, evident in the various neighbourhood events and gatherings that can only bring you closer to your new neighbours. 
From seasonal festivals to local markets, Altadore embraces a solid communal identity that transforms it into more than just a place to live - it's a true home.
If you're a nature lover, you'll find solace in Altadore's proximity to the Elbow River, River Park, and more green spaces. Picture yourself embarking on leisurely walks along the banks, picnicking on the grass, or biking along winding pathways.
Don't be fooled by the abundance of green spaces. It's still incredibly close to downtown Calgary, ensuring that work, entertainment, and essential services are effortlessly accessible. It allows you to enjoy the best of both worlds: urban amenities and suburban tranquillity - perfect for young families!
Population: approximately 10,000
Average house price: $919,000
5. Kensington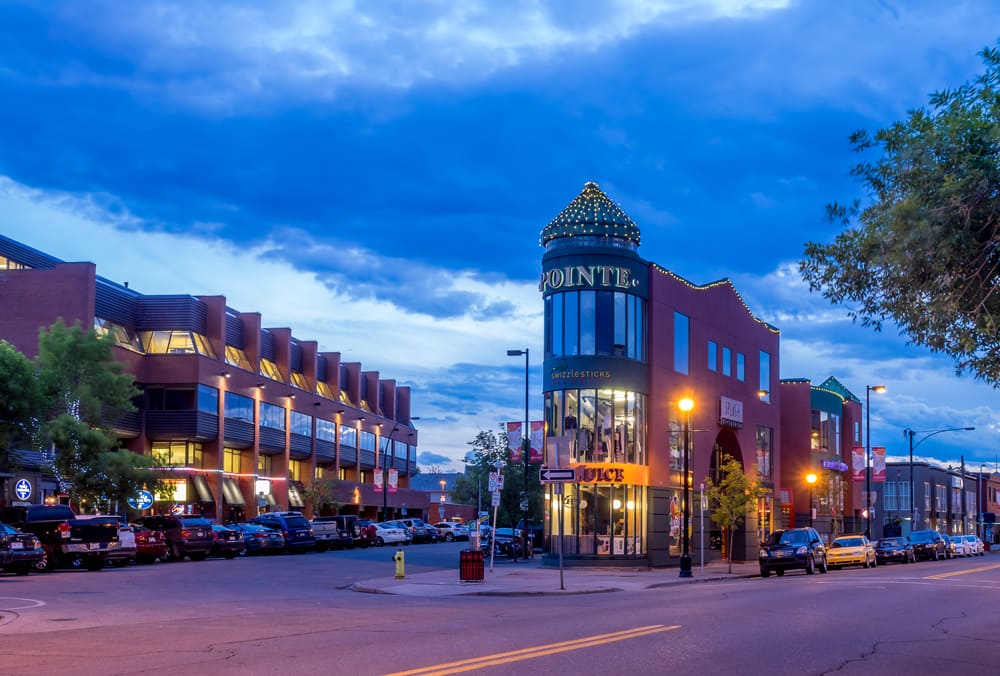 Kensington is a Calgary neighbourhood nestled in the heart of the city. You can immerse yourself in the vibrant tapestry of Kensington's streets, where boutique shops, art galleries, and eclectic cafes come together to create a truly trendy ambience. 
Here, every walk down the road becomes a discovery, and every corner invites you to explore the unexpected. Whether you're seeking artisanal finds or engaging in creative conversations, you'll find it in Kensington.
When it comes to foodie experiences, Kensington elevates dining to an art form. Immerse yourself in a world of exquisite flavours, from gourmet dining establishments to quaint bistros serving mouthwatering morsels. 
Kensington's walkability means you can embrace a lifestyle where shops, cafes, and entertainment venues are just steps away, ensuring you're always at the centre of the action.
But Kensington isn't just about what you find on the surface; it's about the spirit that infuses every facet of life here. The neighbourhood's rich history, reflected in its period architecture and heritage sites, gives it a timeless energy where past and present become one.
Population: approximately 10,800
Average house price: $564,000
6. Mount Royal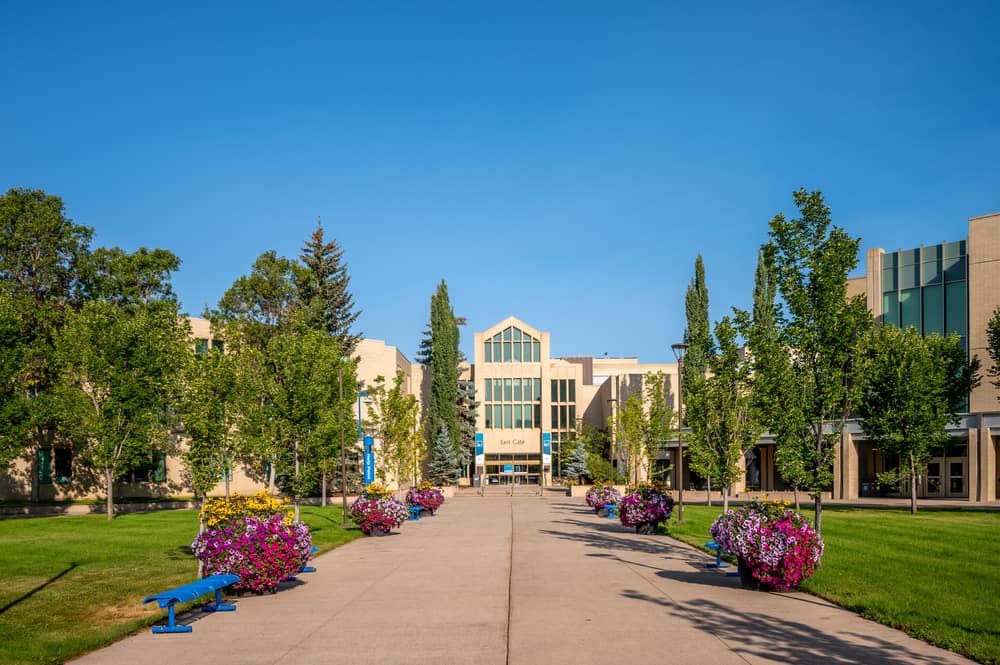 Mount Royal is Calgary's best neighbourhood for incredible panoramic views. Elevated above the city, residents are treated to unparalleled views that stretch from the cityscape to the majestic Rocky Mountains. 
Incredible sunsets become a daily sight, and the city's dynamic energy is ever-present, creating a serene and refreshing atmosphere.
When it comes to homes, Upper Mount Royal is a sanctuary of architectural masterpieces that tell a story of opulence and timeless grandeur. 
Its tree-lined streets are graced with stately homes that stand testament to the neighbourhood's historical significance. From classic mansions exuding old-world charm to modern residences redefining luxury, each home boasts its distinctive character. 
Mount Royal isn't just a neighbourhood; it's a lifestyle curated by and for those who appreciate the finer things.
Beyond the lavish homes, the neighbourhood's proximity to downtown Calgary ensures you're never far from the city's vibrant heart. Explore upscale boutiques, indulge in gourmet restaurants, and immerse yourself in enriching cultural experiences.
Population: approximately 3,000
Average house price: $3,000,000
7. Beltline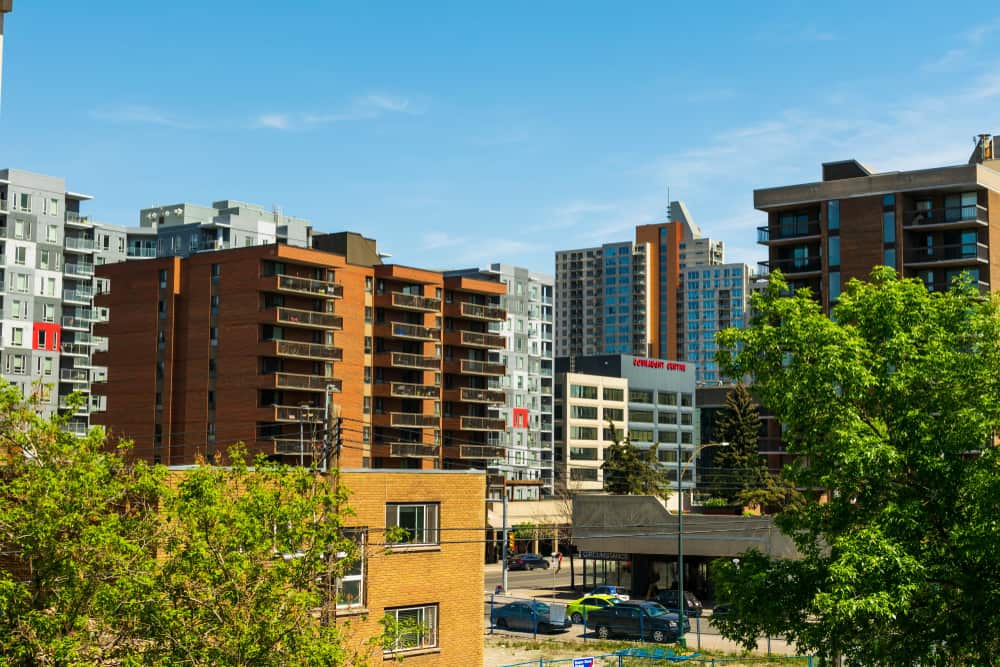 Imagine a place where city living takes on a new dimension. Beltline has a magnetic atmosphere that draws you in with its modernity and vitality. The streets buzz with activity, and the skyline is punctuated by contemporary high-rises that house chic condos and apartments offering stunning views.
You'll find yourself surrounded by art galleries, theatres, and music venues that cater to your thirst for creativity and expression. 
This neighbourhood has a dynamic energy with an ever-changing calendar of social events. From gallery openings and live music performances to community-run events like the Calgary Stampede, you'll never be short of things to do.
When it comes to convenience, Beltline takes the lead. The neighbourhood's walkability means that daily errands, social outings, and strolls to cafes become effortless parts of your routine. Its central location provides easy access to downtown offices, shopping districts, and entertainment venues, ensuring the city's offerings are never out of reach.
Population: approximately 25,000
Average house price: $442,700 
All average house prices listed are correct as of 2023-08-13. Refer to local real estate agents' websites for the most up-to-date prices. 
Move To Your Dream Neighbourhood With Help From Spin Genie
So, which of these beautiful Calgary neighbourhoods have you got your eye on? Whether you dream of owning a stately home with a front-row view of incredible sunsets or you'd be content with a one-bed apartment close to the action in Downtown Calgary, these diverse areas of the city have what you're looking for.

Try your hand at some online slots in Ontario, or check out the best online casino in Ontario to make your dream Calgary home a reality.
Take a look at some more of our recommendations from the Ask Genie blog for living a life of luxury in Canada:
FAQs
What Are The Safest Residential Areas In Calgary?
Calgary has a reputation for being a safe city overall, with low crime rates in many of its districts and neighbourhoods. Here are some of the safest neighbourhoods in Calgary.
Edgemont

Hamptons

Lake Bonavista

Canyon Meadows

Auburn Bay

Arbour Lake

Brentwood

Copperfield
Of course, safety can be subjective and can vary over time. Before deciding where to live, consider researching crime rates, consulting local law enforcement or city officials, and visiting the neighbourhoods to get a sense of the atmosphere. 
Also, working with a local real estate agent with in-depth knowledge of the city can provide valuable insights into safe and suitable residential areas.
What Are The Most Expensive Areas To Live In Calgary?
Calgary has several upscale neighbourhoods known for luxurious properties, high-end shops and amenities. Here are some of the Calgary neighbourhoods with the highest home prices.
Mount Royal

Elbow Park

Britannia

Roxboro

Bel-Aire

Elboya

Pump Hill

Bayview

Eagle Ridge

West Springs
Is It Better To Live In Calgary Or Vancouver?
This depends on various factors, including your lifestyle preferences, career goals, climate preferences, and cost of living considerations. Both cities have their own unique characteristics and advantages.
Calgary, with its strong ties to the energy sector and no provincial sales tax for homebuyers, can be a favourable choice for those seeking job opportunities in the oil and gas industry, and its proximity to the awe-inspiring Rocky Mountains makes it a haven for outdoor enthusiasts. However, the colder climate and lack of ocean access might not be for you if you're after milder weather and coastal living.
On the other hand, Vancouver boasts a moderate climate, oceanfront charm, and a diversified economy that caters to people in various industries, including technology and film. 
The city's rich cultural scene, vibrant food culture, and multicultural environment can appeal to you if you prioritise a cosmopolitan lifestyle. 
Yet, the draw of Vancouver comes at a cost - its elevated cost of living, particularly in real estate, can be a deterrent for those on a budget.
It's best to weigh up all these factors, so you know you're heading to the city that best aligns with your aspirations and way of life.
---
Discover Spin Genie
Your Magical Online Casino Destination
Spin Genie is a regulated online casino and the destination of choice for the most entertaining online slots, nostalgic game shows and live table games.