As one of the most influential continents in the world, Europe is home to a vast range of diverse and culturally rich countries. From impressive historical architecture to quaint towns and delicious foods, every country offers travellers a unique and vibrant experience.
Whether you want to indulge in fine French cuisine, relax in ancient baths or transport yourself back in time, we'll be looking at 12 of the best places to visit in Europe so you can start ticking off your bucket list.
---
*Terms and conditions apply.*
---
Rome, Italy
Average hotel price: €70 to €200 per night
Length of stay: 5 to 7 days
First up, we have the timeless capital of Italy, Rome! Rome is a captivating destination that immerses visitors in its rich history and delectable cuisine. The city boasts iconic attractions, mouthwatering dishes, and a vibrant nightlife.
Attractions
When in Rome, there are countless sights to be seen. To fully immerse yourself in the city's rich history, here are a few attractions you should explore:
Colosseum:

Step back in time at the iconic Colosseum, an ancient amphitheatre that once hosted thrilling gladiatorial contests and spectacles. Marvel at its grandeur and learn about its fascinating history.

Vatican City:

Visit the spiritual and cultural hub of Catholicism, Vatican City. Marvel at St. Peter's Basilica, explore the Vatican Museums with their magnificent art collections and gaze at the awe-inspiring Sistine Chapel adorned with Michelangelo's famous frescoes.

Trevi Fountain:

Toss a coin into the stunning Trevi Fountain, one of Rome's most famous landmarks. Admire its Baroque design, intricate sculptures, and cascading waters, and make a wish for your return to the Eternal City.

Pantheon:

Stand in awe before the magnificent Pantheon, a perfectly preserved ancient Roman temple-turned-church. Marvel at its impressive dome, stunning interior, and ancient architectural feats.
Dining & nightlife
Indulge in a culinary journey through the flavours of Rome, where Italian cuisine takes centre stage. From classic pasta dishes like carbonara and cacio e pepe to mouthwatering pizzas, the city's trattorias, osterias, and enotecas offer a gastronomic paradise. Don't miss the chance to savour gelato, indulge in Italy's finest wines and cheeses, and relish the rustic Roman specialties that will leave you craving more.
For a true taste of Rome, here are some recommendations:
As the sun sets, Rome's vibrant nightlife comes alive. Explore bustling bars and vibrant squares, enjoy cultural performances at the Auditorium Parco della Musica, or immerse yourself in the club scene of Testaccio, Ostiense, and Monti neighbourhoods.
With its rich history, culinary delights, and vibrant nightlife, Rome guarantees an unforgettable experience.
London, England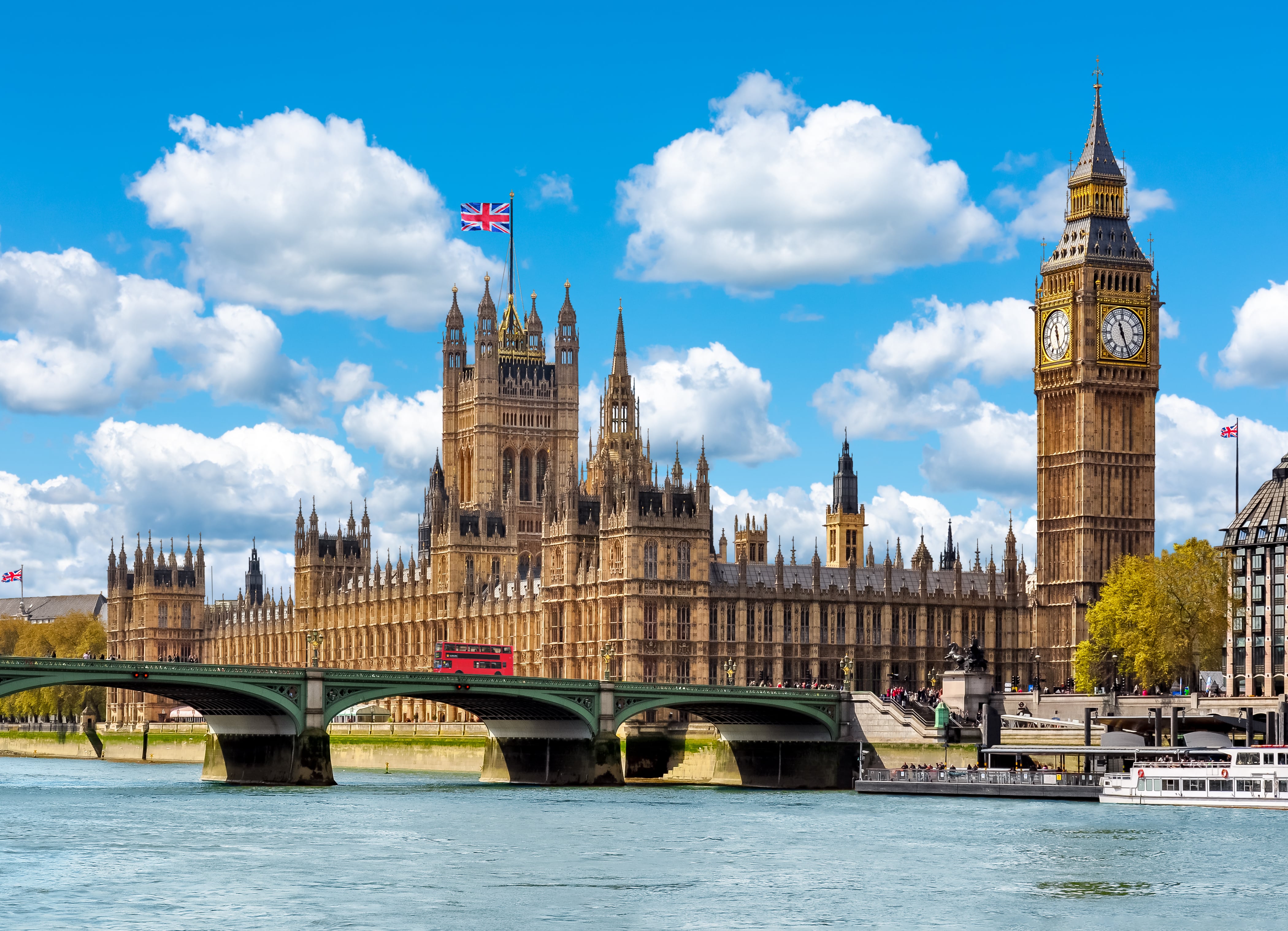 Average hotel price: £100 to £300 per night
Length of stay: 4 to 5 days
With its iconic landmarks, world-class museums, and diverse culinary scene, London is a city that enthrals visitors with many experiences.
Attractions
When it comes to things to do in London, the city offers a plethora of options that cater to every interest and curiosity:
Visit iconic landmarks:

Explore historic landmarks like the Tower of London, Buckingham Palace, and Westminster Abbey. Marvel at the grandeur of Big Ben, stroll across Tower Bridge and take in the panoramic views from the London Eye.

Discover world-class museums:

Immerse yourself in art, history, and culture at renowned museums such as the British Museum, Tate Modern, Natural History Museum, and Victoria and Albert Museum. Admire masterpieces, fascinating artifacts, and interactive exhibits that span various disciplines.

Explore royal parks:

Escape the bustling city streets and unwind in London's expansive parks. Stroll through Hyde Park, Kensington Gardens, or Regent's Park and enjoy picnics, boat rides, or relax amidst lush greenery (if the weather isn't rainy!).

Wander through vibrant markets:

Experience the vibrant atmosphere of London's markets. Visit the bustling Borough Market for a food lover's paradise, explore the eclectic stalls of Camden Market, or peruse vintage treasures in Portobello Road Market. Discover unique products, artisanal goods, and delicious street food.
Dining & nightlife
London's dining scene is a celebration of multiculturalism. You can savour Indian curries in Brick Lane, indulge in Chinese dim sum in Chinatown, or delight in Lebanese cuisine in Edgware Road. Michelin-starred restaurants showcase innovative gastronomy using locally sourced ingredients. Don't miss out on traditional British dishes such as Sunday roast, fish & chips, and a classic afternoon tea. With a range of pubs serving hearty pub grub, London's culinary scene caters to all tastes.
Recommendations:
London's nightlife is a tapestry of vibrant experiences. There's something for everyone, from buzzing clubs to trendy bars and live music venues. The city's renowned theatre scene offers West End productions and Shakespearean classics, while comedy clubs provide laughs with established and emerging comedians.
With its rich history, cultural diversity, and lively atmosphere, London offers endless opportunities for exploration and entertainment.
Paris, France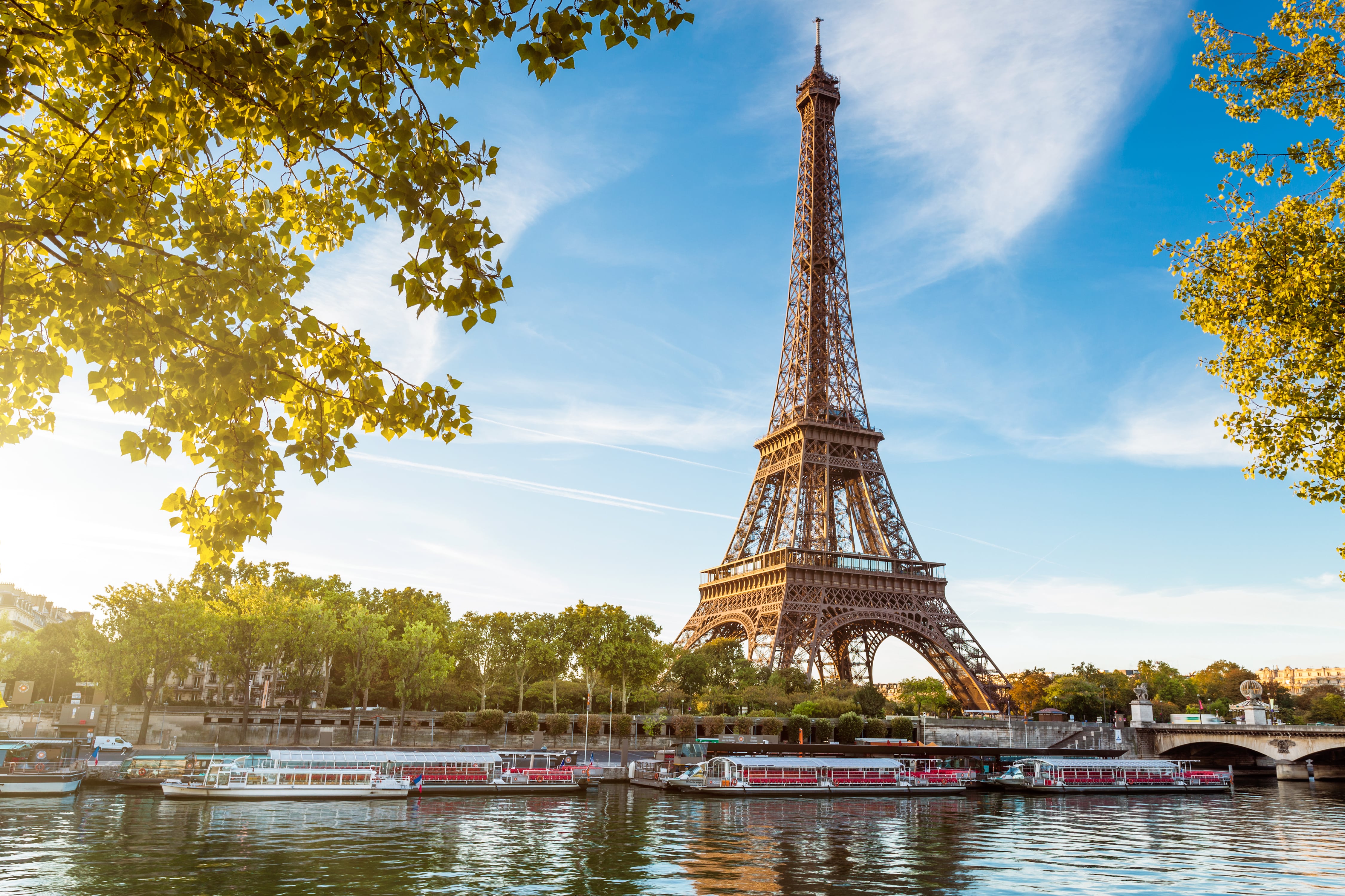 Average hotel price: €100 to €300 per night
Length of stay: 4 to 6 days
Paris, the City of Lights, is a globally renowned destination that enchants visitors with its romantic ambience, stunning architecture, and rich cultural heritage.
Attractions
The enchanting city of Paris has a wealth of attractions and activities to captivate every visitor. Here's an overview of the top things to do in the City of Lights:
Eiffel Tower:

No visit to Paris is complete without a visit to the iconic Eiffel Tower. Ascend to the top for panoramic city views or enjoy a leisurely picnic in its surrounding gardens.

Louvre Museum:

Immerse yourself in art and culture at the Louvre Museum, home to the famous Mona Lisa and countless other masterpieces. Explore its vast collection, housed within the grandeur of a former royal palace.

Notre-Dame Cathedral:

Marvel at the Gothic splendour of Notre-Dame Cathedral. Admire its intricate architecture, climb to the top for a stunning view of the city, and soak in the ambience of this historic landmark.

Champs-Élysées:

Wander along the elegant Champs-Élysées, lined with boutiques, cafes, and iconic landmarks. Visit the Arc de Triomphe, a symbol of French patriotism, and explore the luxury shops and cafes that dot the boulevard.
These are just a taste of the countless experiences that Paris has to offer. Whether you're immersing yourself in art, strolling through historic neighbourhoods, or savouring French cuisine, Paris is a city that invites you to embrace its charm, beauty, and cultural richness.
Dining & nightlife
Indulge in the artistry of classic French dishes like coq au vin and boeuf bourguignon, and savor delicate treats like croissants, macarons, and éclairs from Parisian bakeries. From Michelin-starred restaurants to lively bistros, Paris offers a taste of traditional French fare, complemented by a wide selection of French wines and exquisite cheeses.
Recommendations:
Paris's nightlife is vibrant and diverse, catering to various tastes. From trendy clubs to sophisticated cocktail bars, there are options for every preference. Enjoy the glamour of traditional Parisian cabarets like Moulin Rouge or embark on a scenic river cruise along the Seine, accompanied by gourmet dining or champagne.
Whether you're embracing art, strolling through historic neighbourhoods, or savouring French cuisine, Paris invites you to immerse yourself in its charm, beauty, and cultural richness.
Amsterdam, Netherlands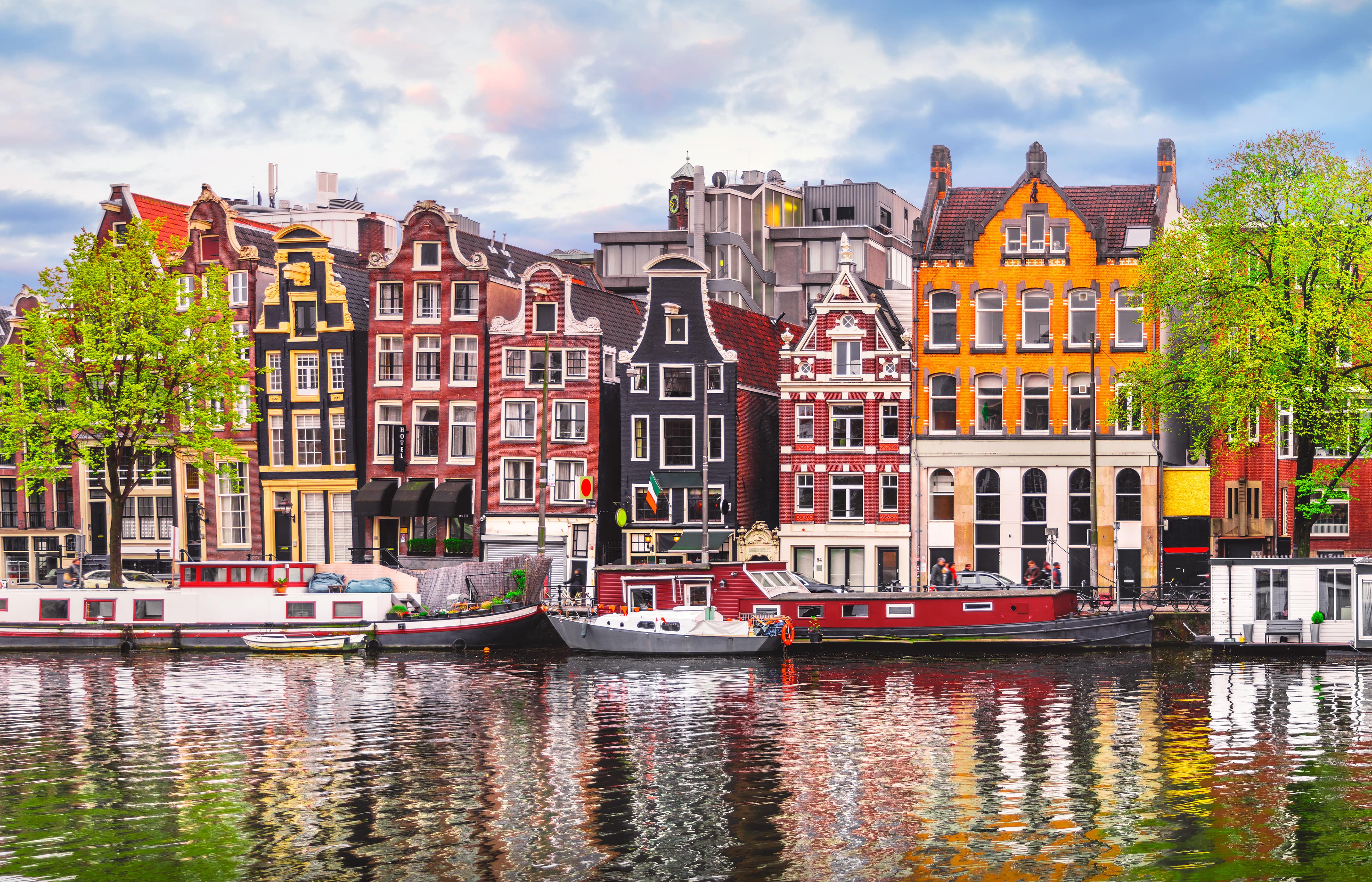 Average hotel price: €80 to €200 per night
Length of stay: 3 to 5 days
With its charming canals, historic architecture, and vibrant culture, Amsterdam perfectly blends old-world charm and modern dynamism.
Attractions
In Amsterdam, there is an abundance of attractions and activities that cater to a wide range of interests:
Visit the Anne Frank House:

Discover the story of Anne Frank and her diary by touring the Anne Frank House. Explore the secret annexe where Anne and her family hid during World War II and gain insight into their experiences.

Explore the Van Gogh Museum:

Immerse yourself in the works of the renowned Dutch artist Vincent van Gogh at the Van Gogh Museum. Admire his vibrant paintings and learn about his life and artistic journey.

Take a Canal Cruise:

Experience the enchanting canals of Amsterdam by taking a scenic canal cruise. Admire the picturesque canal houses, charming bridges, and historic landmarks from the water while learning about the city's rich history.

Experience the Flower Market:

Visit the famous Bloemenmarkt, the world's only floating flower market. Admire colourful displays of flowers, bulbs, and souvenirs, and take home a piece of Amsterdam's floral heritage.
Whether exploring art and history, enjoying the city's natural beauty, or immersing yourself in its vibrant culture, Amsterdam offers diverse experiences that will leave you with lasting memories.
Dining & nightlife
Embark on a culinary adventure in Amsterdam, where diverse flavours and traditional Dutch dishes await. Indulge in hearty stamppot and bitterballen, savour famous Dutch cheeses, and experience the city's brunch culture at cozy cafés. Choose a restaurant with canal views for a memorable dining experience, enjoying the city's charm alongside your meal.
Recommendations:
Cosy cafés, bars, and a social atmosphere characterize Amsterdam's nightlife. Enjoy a wide selection of local and international beers, craft cocktails, and Dutch genever. The city boasts a vibrant club scene, with areas like Leidseplein and Rembrandtplein offering a range of music genres. Engage in unique after-dark experiences such as glow-in-the-dark mini-golf or late-night museum openings.
Whether exploring art and history, admiring the canals, or enjoying the vibrant nightlife, Amsterdam provides diverse experiences that create lasting memories.
Prague, Czech Republic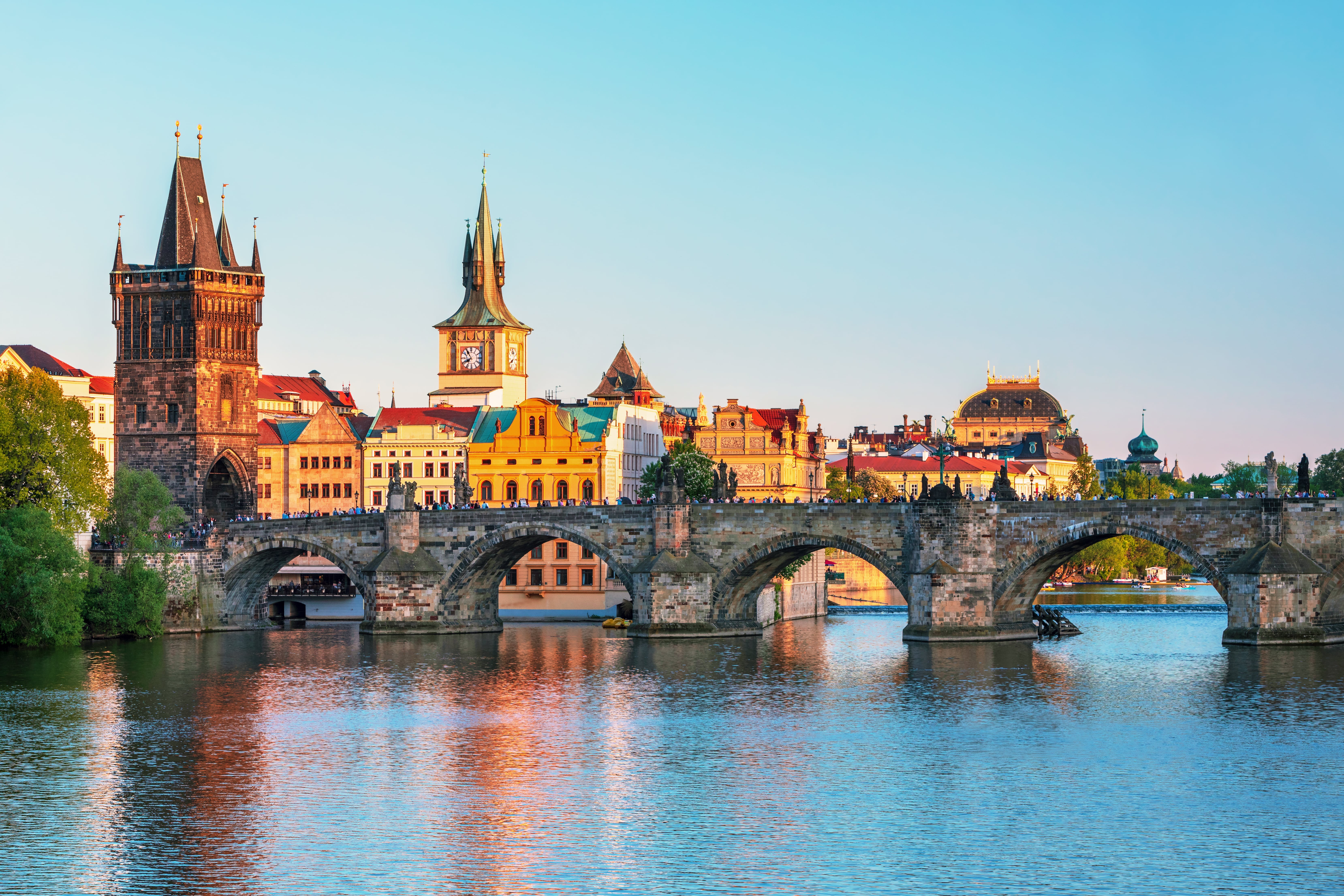 Average hotel price: €60 to €150 per night
Length of stay: 3 to 4 days
With its rich history, stunning architecture, and vibrant culture, Prague is a treasure waiting to be discovered.
Attractions
There are so many fun things to see and do in Prague. Here's an overview of the top things to do in Prague:
Prague Castle:

Explore the grandeur of Prague Castle, one of the largest ancient castle complexes in the world. This fairy tale castle is a marvel to explore! With its stunning architecture, visit the magnificent St. Vitus Cathedral, and enjoy panoramic views of the city from its elevated position.

Charles Bridge:

Walk across the iconic Charles Bridge, a picturesque symbol of Prague. Admire the statues lining the bridge, take in the views of the Vltava River, and enjoy the lively atmosphere created by street performers, artists, and vendors.

Old Town Square:

Immerse yourself in the charming Old Town Square (Staroměstské náměstí), the heart of historic Prague. Admire the Gothic beauty of the Astronomical Clock, visit the stunning Church of Our Lady before Týn, and soak up the vibrant atmosphere of this historic square.

Vyšehrad Fortress:

Venture to the historic Vyšehrad Fortress on a hill overlooking the Vltava River. Enjoy peaceful gardens, visit the stunning Vyšehrad Cemetery, where many notable Czech figures are buried, and admire the views from the fortress walls.
Dining & nightlife
Savour traditional Czech cuisine in Prague, with dishes like svíčková and goulash. Indulge in delightful pastries and desserts at the city's charming cafés and bakeries. Prague also caters to vegetarian and vegan preferences, with dedicated restaurants and cafes offering creative plant-based options.
Recommendations:
Prague's nightlife is legendary, offering vibrant energy and diverse options. Experience the city's lively atmosphere at clubs like Karlovy Lázně and Duplex, or immerse yourself in Prague's jazz heritage at venues like Jazz Dock. Visit offbeat bars and alternative music venues, or explore underground clubs catering to diverse tastes and subcultures.
Prague promises a captivating experience, whether you're exploring historic neighbourhoods, indulging in culinary delights, or enjoying the city's vibrant nightlife.
Barcelona, Spain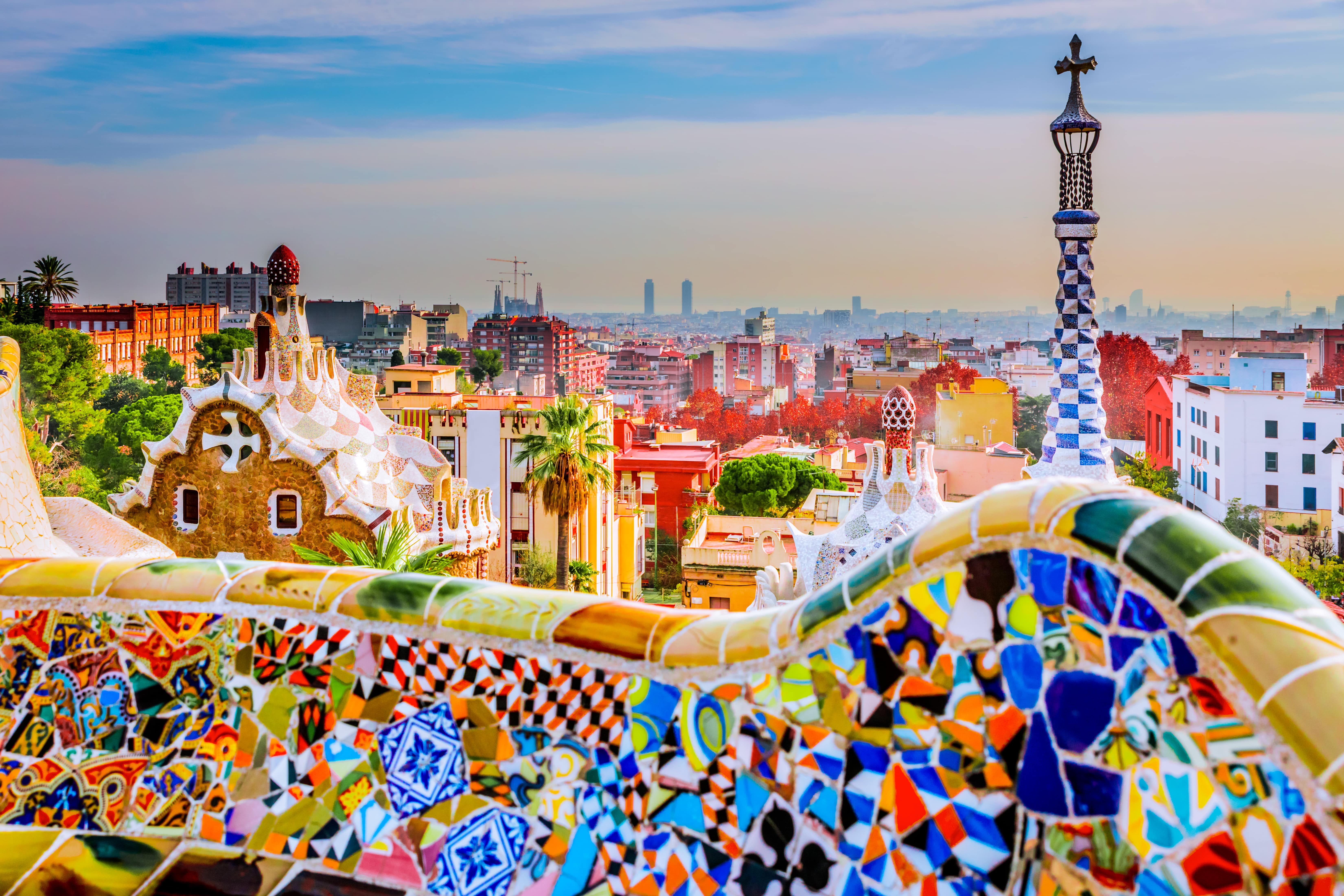 Average hotel price: €80 to €150 per night
Length of stay: 5 to 6 days
Barcelona, a vibrant coastal city, is an exceptional European destination that effortlessly blends history, art, and a lively Mediterranean spirit. With renowned architecture, world-class dining, and a dynamic nightlife scene, Barcelona captivates visitors with its colourful energy.
Attractions
Barcelona offers a wealth of attractions and activities that showcase its rich history, stunning architecture, and vibrant culture. Here's an overview of the top things to do in Barcelona:
Sagrada Família:

Visit the awe-inspiring Basilica of the Sagrada Família, Antoni Gaudí's masterpiece. Marvel at its intricate facades, towering spires, and mesmerizing interior, which blend Gothic and Art Nouveau elements.

Park Güell:

Explore the whimsical Park Güell, another Gaudí gem. Wander through the park's colourful mosaic-tiled structures, unique architectural features, and vibrant gardens. Enjoy panoramic views of the city from its hilltop location.

Casa Batlló and Casa Milà:

Explore the architectural wonders of Casa Batlló and Casa Milà, two iconic Gaudí-designed buildings. Admire their unique facades, innovative designs, and imaginative interiors.

Picasso Museum:

Delve into the artistic legacy of Pablo Picasso at the Picasso Museum. Admire the extensive collection of his works, which span various periods of his career.
Dining & nightlife
Indulge in Barcelona's tapas culture, savouring small plates of patatas bravas, jamón ibérico, and fresh seafood. Experience the rich and varied flavours that showcase the best of land and sea. Sample traditional dishes like paella, fideuà, and butifarra.
Recommendations:
Discover the vibrant nightlife of Barcelona in trendy neighbourhoods like El Raval and El Born, where eclectic bars and cocktail lounges await. Along the coastline, beach clubs and waterfront bars offer a fantastic setting for an unforgettable evening. Experience the legendary Razzmatazz, explore the diverse music venues in the Gothic Quarter, and immerse yourself in the soul-stirring art of flamenco.
Barcelona seamlessly weaves together its history, art, cuisine, and nightlife, creating a captivating and unforgettable experience for all who visit. Immerse yourself in the vibrant energy of this coastal gem, and let Barcelona leave a lasting impression.
Santorini, Greece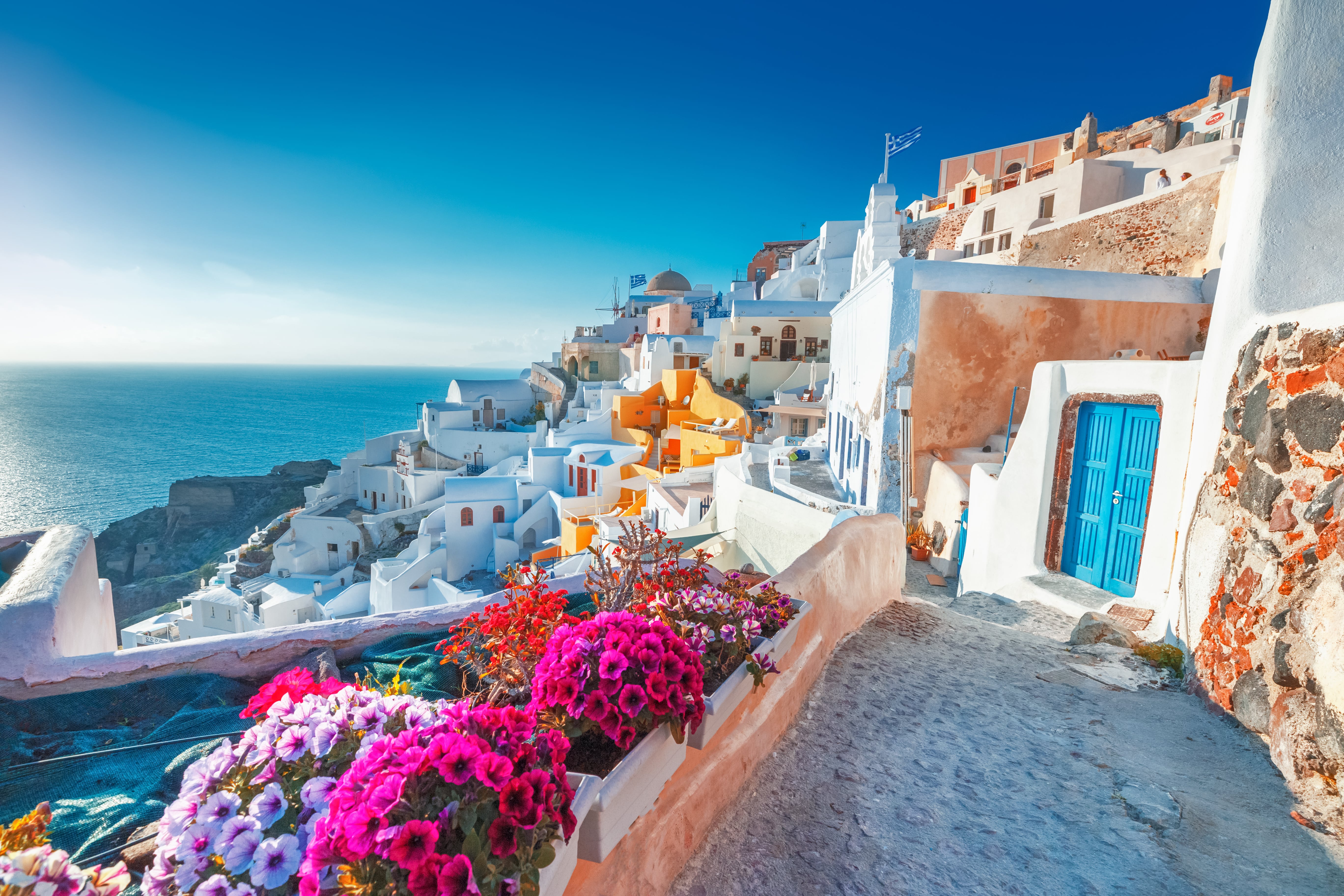 Average hotel price: €150 to €300 per night
Length of stay: 3 to 5 days
Santorini, one of the most iconic Greek islands in the Aegean Sea, is renowned for its whitewashed buildings, blue-domed churches, and breathtaking cliffs overlooking the turquoise waters. The island offers a blend of traditional charm, delectable cuisine, and vibrant nightlife, making it a hub of relaxation and enchantment.
Attractions
From a day trip to relaxing beaches, Santorini has a rich tapestry of experiences. Here's a glimpse of the activities and attractions you could visit:
Visit Fira:

Explore the island's capital, Fira, and immerse yourself in its lively atmosphere. Stroll along the scenic promenade, visit the Museum of Prehistoric Thira, and enjoy the vibrant nightlife with its bars, restaurants, and clubs.

Santorini Beaches:

Relax and unwind on Santorini's stunning beaches. Visit the unique Red Beach, with its striking red cliffs and pebbles, or the black sand beaches of Kamari and Perissa.

Explore Akrotiri Archaeological Site:

Step back in time at the Akrotiri Archaeological Site, a well-preserved Minoan settlement buried under volcanic ash for centuries. Marvel at the ancient ruins, frescoes, and remnants of a sophisticated civilization.

Santorini Volcano:

Take a boat trip to Nea Kameni's and Palea Kameni's volcanic islets. Hike up to the active volcano's crater, bathe in the hot springs, and learn about the volcanic geology that shaped the island.
Dining & nightlife
Take a bite of the culinary delights of Santorini, with a focus on fresh seafood like grilled octopus and succulent prawns, prepared with a traditional Mediterranean touch. Immerse yourself in the charm of traditional Greek tavernas, where authentic home-style cooking awaits, crafted from local ingredients and cherished recipes.
Recommendations:
As the sun sets, stroll through the enchanting streets and witness awe-inspiring sunset views from rooftop bars perched on the cliffs. Enjoy the rhythmic music and dance at beachside bars and clubs the night away. Whether in Fira or the more laid-back atmosphere of Oia, immerse yourself in Greek culture with traditional music and dance performances.
Santorini offers a picturesque European destination where you can explore charming villages, soak in the island's natural beauty, and embrace the romantic atmosphere surrounding you.
Budapest, Hungary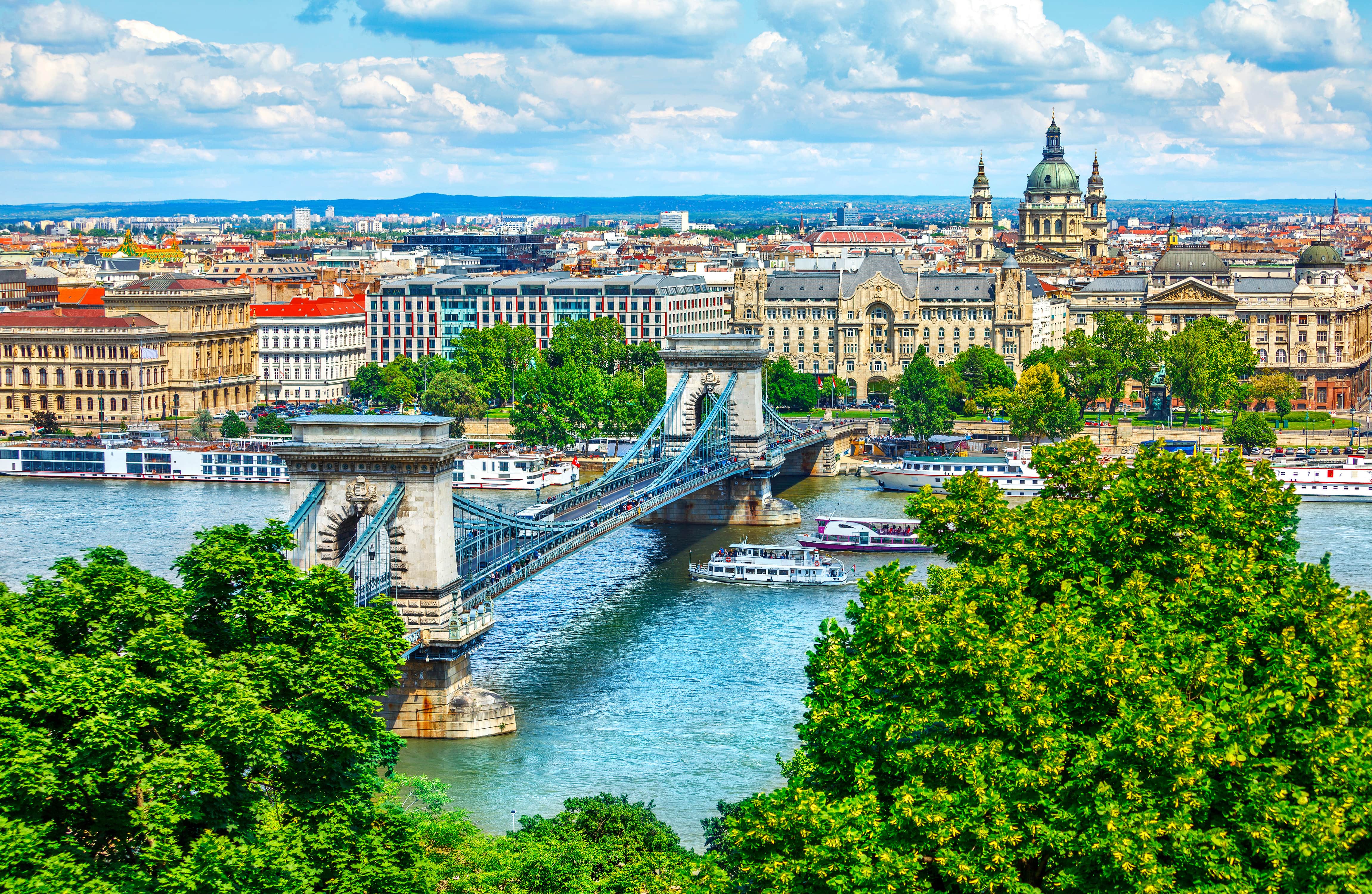 Average hotel price: €70 to €150 per night
Length of stay: 4 to 5 days
Budapest, the captivating capital city of Hungary, is a must-visit destination known for its vibrant urban lifestyle and laid-back atmosphere. Divided into Buda and Pest, this city offers a wealth of attractions and experiences that enchant visitors. From stunning architectural gems to rejuvenating thermal baths, dynamic dining options, and lively nightlife, Budapest is a city that delights at every turn.
Attractions
Budapest offers a wealth of attractions and activities that showcase its rich history and vibrant culture. Here's an overview of the top things to do in Budapest:
Explore Buda Castle:

Visit the historic Buda Castle, perched on Castle Hill. Explore its grand courtyards, visit the Hungarian National Gallery, and enjoy panoramic views of the city from Fisherman's Bastion.

Relax in Thermal Baths:

Unwind in Budapest's famous thermal baths, such as Széchenyi or Gellért Baths. Soak in the thermal pools, indulge in spa treatments, and enjoy the unique architectural beauty of these historic bathing complexes.

Explore Margaret Island:

Escape the city bustle and relax on Margaret Island, a green oasis in the heart of Budapest. Enjoy peaceful walks, visit the medieval ruins, and relax in the gardens and thermal baths.

Visit the House of Terror Museum:

Gain insight into Hungary's dark history at the House of Terror Museum. Learn about the oppressive regimes of the 20th century and the victims of Nazi and Communist rule.
Dining & nightlife
Hungarian cuisine takes you on a journey of traditional flavours, with iconic dishes like goulash, paprikash, lángos, and chimney cake. Enjoy the picturesque views of Budapest along the Danube River, where riverfront restaurants offer stunning vistas of landmarks like the Parliament Building and Chain Bridge. Embrace the city's culinary diversity and embark on a gastronomic adventure.
Recommendations:
Budapest's attractions showcase a blend of history, culture, and natural beauty, making it a top European destination. The city's vibrant and diverse nightlife offers a gateway to European clubbing culture. Explore unique ruin bars like Szimpla Kert and immerse yourself in their bohemian atmosphere. Sing your heart out at karaoke bars, enjoy a late-night river cruise, or unwind with jazz music at the Budapest Jazz Club. Some thermal baths even host nighttime events where you can relax, soak, and enjoy music.
Budapest promises an unforgettable experience, combining history, culture, relaxation, and vibrant entertainment.
Reykjavik, Iceland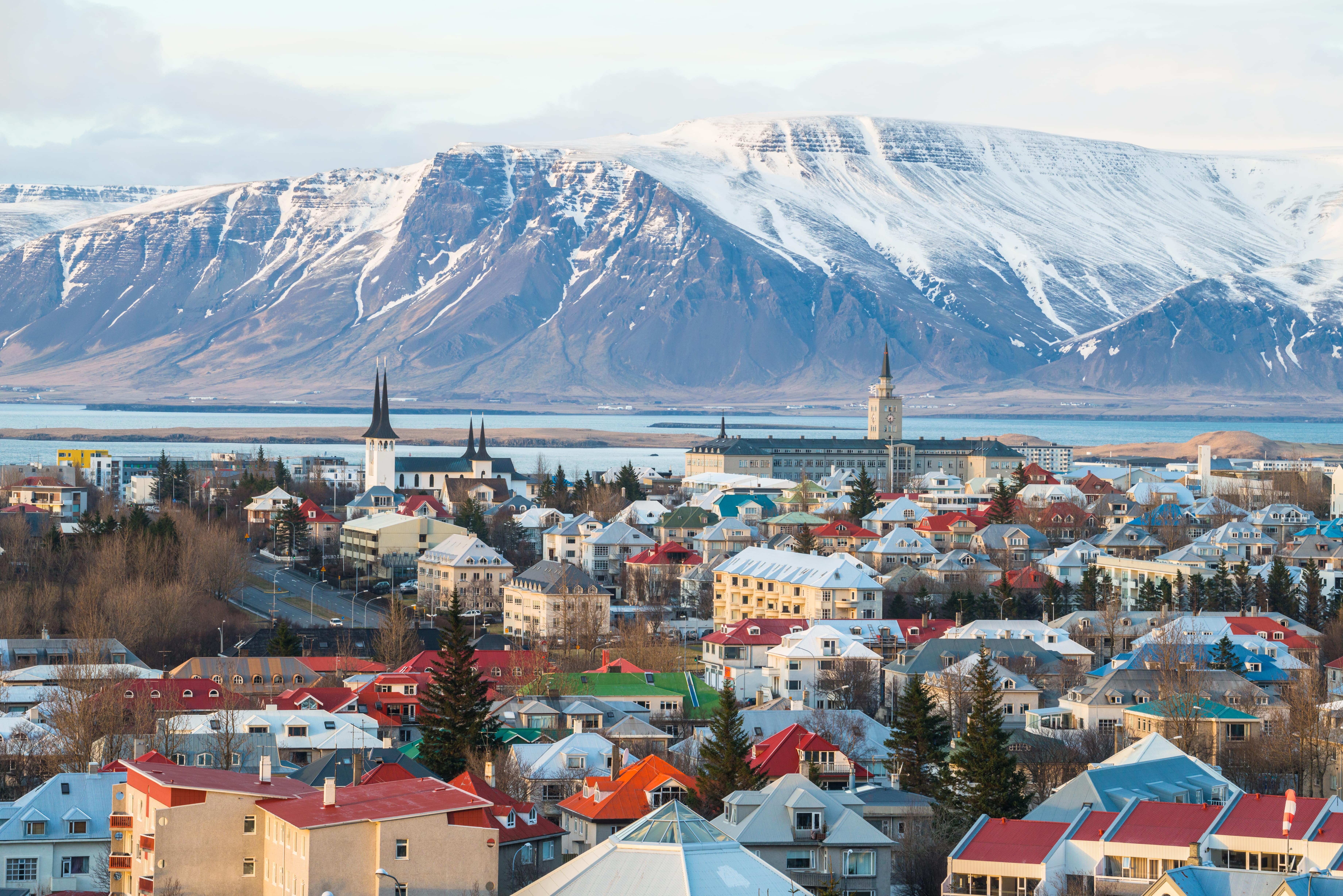 Average hotel price: €100 to €200 per night
Length of stay: 3 to 4 days
The charming capital city of Iceland, Reykjavik, is nestled on the shores of the North Atlantic Ocean. This city of colourful streets, geothermal pools, and a creative arts scene offers a unique and captivating experience.
Attractions
This cool holiday destination has something for everyone. Here are a few things you can visit during your time in Reykjavik:
Visit Hallgrimskirkja:

Explore the iconic Hallgrimskirkja, Reykjavik's striking Lutheran church. Take an elevator to the top for panoramic views of the city and the surrounding landscapes.

Explore the Old Harbor:

Stroll along Reykjavik's Old Harbor and immerse yourself in the maritime atmosphere. Visit the Harpa Concert Hall, enjoy waterfront dining, and take a boat tour to spot whales and puffins.

Relax in Geothermal Pools:

Experience Reykjavik's geothermal pools' relaxation and healing properties. Visit the famous Blue Lagoon, Laugardalslaug, or one of the city's local swimming pools for a rejuvenating soak.

Visit museums:

Immerse yourself in Icelandic history and culture at the National Museum of Iceland or the Reykjavik Art Museum. Explore fascinating exhibits showcasing the country's Viking heritage, medieval artifacts, and contemporary artworks.
Dining & nightlife
Reykjavik is a culinary adventure that showcases the best of Icelandic cuisine. Try fresh seafood such as Icelandic cod, arctic char, and langoustine. Reykjavik is at the forefront of the New Nordic culinary movement. The city's proximity to the ocean ensures abundant fresh seafood restaurants serving lobster soup, salted cod, and Icelandic fish stew.
Recommendations:
Reykjavik may be lesser known for its nightlife, but it offers a fun and energetic scene. As the sun sets, the city comes alive with bars and clubs along Laugavegur hosting live music performances, showcasing local talent and international artists. If you prefer a more relaxed evening, Reykjavik also boasts cozy pubs and lounges, perfect for unwinding and enjoying conversation over drinks.
It's worth noting that Reykjavik's nightlife can vary depending on the day and time of year. The summer months are a great time thanks to the extended daylight hours, allowing for more time to revel in the vibrant atmosphere. Reykjavik may surprise you with its vibrant and enjoyable nightlife offerings.
Berlin, Germany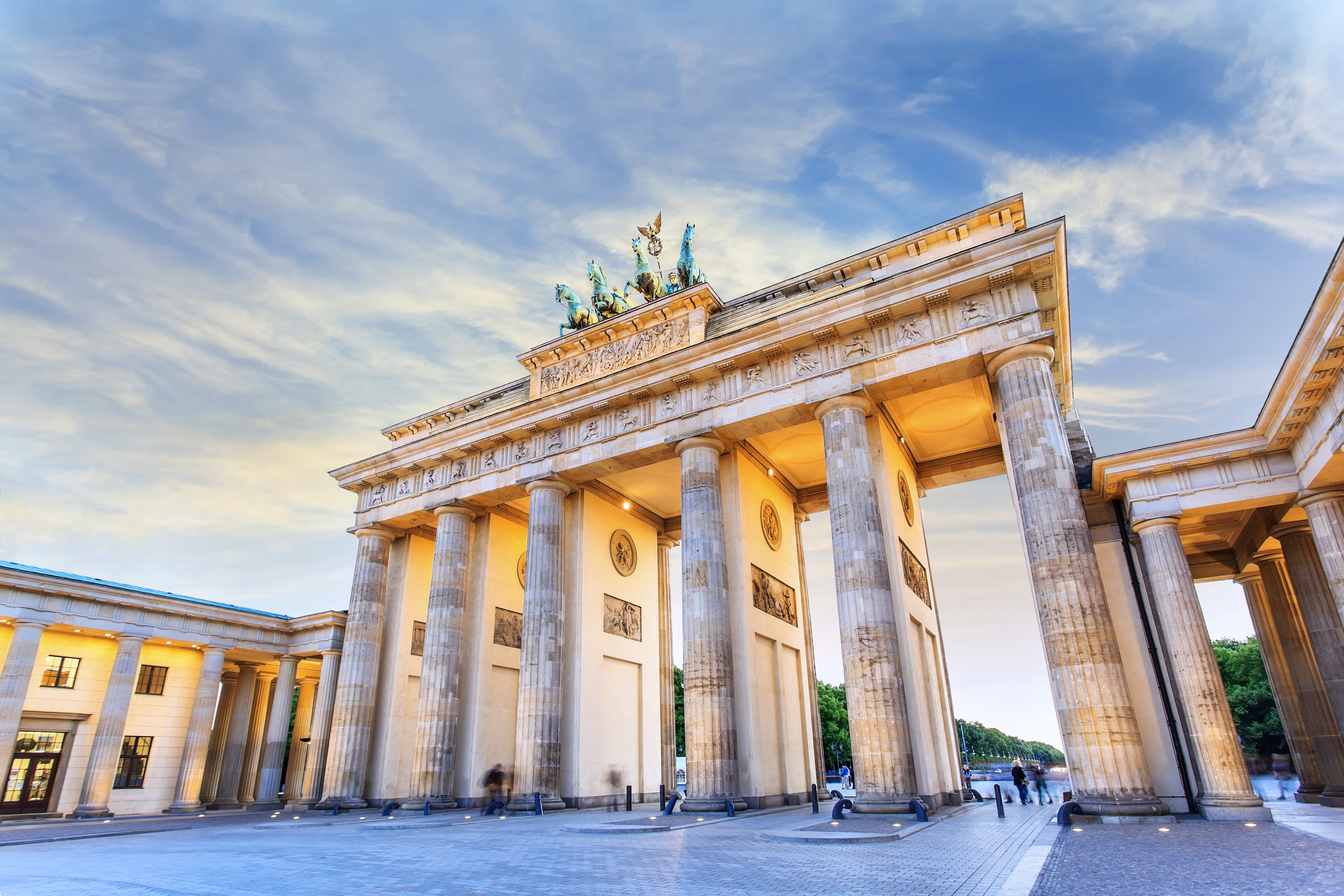 Average hotel price: €70 to €150 per night
Length of stay: 3 to 4 days
With a population of over 3.7 million, Berlin is the largest city in Germany and one of the most populated cities in the European Union. It is renowned for its tolerant and inclusive atmosphere, attracting people from all walks of life. This diversity is reflected in the city's multicultural neighbourhoods, where different cultures and communities coexist harmoniously.
Attractions
Berlin presents a diverse array of activities and attractions, ensuring there's something to suit every interest. Below, we've compiled a list of popular things to do in the city:
Explore Museum Island:

Visit the UNESCO-listed Museum Island, located in the heart of Berlin, which houses five world-renowned museums, including the Pergamon Museum, the Neues Museum, and the Bode Museum.

Visit the Brandenburg Gate:

As an iconic symbol of Berlin, the Brandenburg Gate is a must-visit attraction. Stroll through Pariser Platz and stand before this historic monument that has witnessed key moments in Germany's history.

Discover Berlin Wall and Checkpoint Charlie:

Explore the remnants of the Berlin Wall, which once divided the city. Visit the East Side Gallery, a wall section adorned with vibrant murals. Additionally, learn about the Cold War era by visiting Checkpoint Charlie, the most famous border crossing point between East and West Berlin.

Shop at Kurfürstendamm and Friedrichstrasse:

Indulge in retail therapy at Kurfürstendamm, Berlin's famous shopping boulevard, lined with high-end boutiques, department stores, and designer labels. Alternatively, explore Friedrichstrasse, known for its luxury shopping and exclusive brands.
Dining & nightlife
Berlin's dining scene caters to all tastes, offering a delightful array of options. Indulge in traditional German cuisine, savouring classics like schnitzel, sausages, sauerkraut, pretzels, and hearty stews. Traditional German restaurants, known as "Gasthäuser" or "Brauereigasthäuser," specialize in these regional specialties.
Berlin also boasts a vibrant café culture, with trendy coffee shops and cozy cafés spread throughout the city, perfect for coffee lovers seeking a delightful caffeine fix.
Recommendations:
Berlin's nightlife is legendary, embracing diversity and catering to various tastes. From underground techno clubs to trendy bars, the city presents many entertainment options for every preference.
Throughout the year, Berlin hosts exciting festivals like the Berlinale, the Karneval der Kulturen, and the Christopher Street Day Parade, celebrating the city's creativity and diversity. The infamous Berghain club is renowned for its exclusivity, but fear not, as Berlin has an endless array of nighttime offerings that guarantee an unforgettable experience.
Vienna, Austria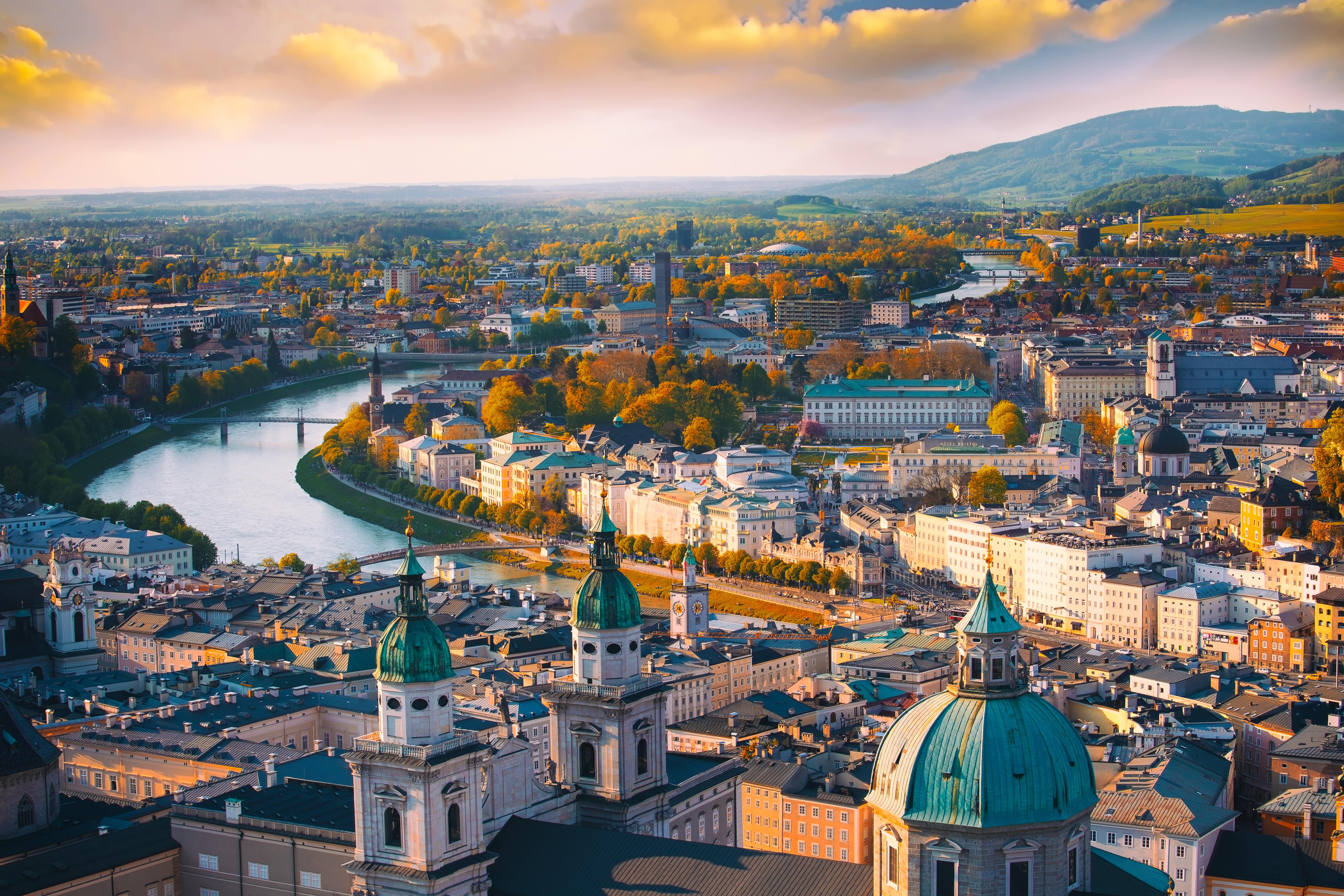 Average hotel price: €80 to €150 per night
Length of stay: 3 to 4 days
Ah, Vienna, home to some of the world's most famous classical composers, magnificent palaces, grand boulevards, and opulent landmarks. This vibrant city along the Danube River combines a rich cultural heritage with a relaxed atmosphere. From the iconic Schönbrunn Palace to the enchanting melodies of the Vienna State Opera, Vienna's imperial past and musical legacy create a captivating backdrop for exploration and discovery.
Attractions
In Vienna, there are so many activities and attractions. Here are some top recommendations for must-see and must-do experiences in the city:
Visit Schönbrunn Palace:

Discover the opulent world of the Habsburg dynasty by exploring the magnificent Schönbrunn Palace. Explore the palace's lavish rooms, stroll through the stunning gardens, and enjoy panoramic views of Vienna from the Gloriette.

Explore Museums and Art Galleries:

Vienna is home to a range of exceptional museums and art galleries. Visit the Kunsthistorisches Museum for its impressive art collection, the Belvedere Museum for Austrian art, and the Albertina for its vast collection of graphic arts.

Wander through Naschmarkt:

Explore Vienna's largest open-air market, Naschmarkt. Sample fresh produce, spices, cheeses, and street food from various cuisines. It's a vibrant place to immerse yourself in local flavours.

Visit Vienna's Palaces:

Apart from Schönbrunn Palace, explore other magnificent palaces such as the Hofburg Palace, the summer residence of the Habsburgs, and Belvedere Palace, known for its beautiful gardens and the world's largest Gustav Klimt collection.
Dining & nightlife
To taste Vienna's culinary heritage, try the famous Wiener Schnitzel, a breaded and pan-fried veal or pork cutlet, typically served with potato salad or parsley potatoes. Another iconic dish is Tafelspitz, boiled beef served with a variety of sides such as horseradish sauce and apple-horseradish compote. Don't miss the chance to sample hearty Austrian soups like Goulash or Frittatensuppe, a clear beef broth with thinly sliced pancake strips.
Recommendations:
Vienna's nightlife offers a vibrant mix of options, from cozy bars to lively clubs and atmospheric dance halls. Enjoy live music performances and immerse yourself in the city's illuminated landmarks during nighttime sightseeing. Late-night cafés and wine bars provide a relaxed ambience, while the underground scene and art events offer alternative experiences.
Embrace Vienna's musical legacy, architectural splendour, and diverse nightlife for an unforgettable journey through this enchanting city.
Start your European journey with Spin Genie!
There you have it, some of the best places to visit in Europe.
Explore the captivating destinations we've mentioned and discover even more hidden gems across the continent. With our wide range of travel guides, tips, and recommendations, Ask Genie is your ultimate companion for an unforgettable journey.
Have a go at the online slots in Ontario, or check out the best online casino in Ontario to see if you can add to your holiday and travel funds!
If you'd like more travel advice, check out our other guides:
FAQs
What are the most beautiful cities in Europe?
Beauty is subjective; however, there are a few European cities that are renowned for their beauty.
Florence, the birthplace of the Renaissance, boasts a wealth of artistic and architectural treasures. The city's historic centre is a UNESCO World Heritage site, and attractions like the Florence Cathedral, the Uffizi Gallery, and the Ponte Vecchio showcase its artistic grandeur.
Other beautiful cities include Paris, Prague, Barcelona, Amsterdam, Vienna, Santorini, and Rome.
What are the largest cities in Europe?
The largest cities in Europe by population include Moscow, London, Saint Petersburg, Berlin and Madrid.
Moscow, the capital of Russia, stands as the largest city in Europe, both in terms of population and geographical expanse. This thriving metropolis blends a rich history with modern cosmopolitanism. From the iconic Red Square and the majestic Kremlin to the opulent St. Basil's Cathedral, Moscow showcases a fusion of grandeur, architectural marvels, and cultural treasures
What are the oldest cities in Europe?
Europe is a treasure trove of history, and it's home to some of the oldest cities in the world. These cities have witnessed the rise and fall of empires, the birth of civilizations, and the shaping of European culture.
Plovdiv, located in Bulgaria, is one of Europe's oldest cities, with evidence of settlement dating back over 8,000 years. The city's Old Town, a UNESCO World Heritage site, boasts well-preserved Roman ruins, including an ancient theatre that is still in use today.
Other cities include Athens, Rome, Cadiz, Argos, Larnaca, and Byblos.
Which are the cheapest cities in Europe to visit?
Budget-conscious travellers will be pleased to discover that several affordable cities offer incredible experiences without breaking the bank.
Budapest is often regarded as one of the most budget-friendly destinations in Europe. With its affordable accommodation options, reasonably priced dining choices, and inexpensive public transportation, visitors can explore the city's stunning architecture, relax in its thermal baths, and indulge in its vibrant nightlife without straining their wallets.
Some of the most affordable cities in Europe to visit include Krakow, Lisbon, Warsaw, Athens and Bucharest.
What are the safest cities in Europe?
Europe is generally considered safe, but some cities have lower crime rates than others.
Zurich, Switzerland's largest city, is often ranked as one of the safest cities in the world. With its efficient public transportation system, well-maintained streets, and low crime rates, Zurich offers a safe environment for travellers to explore its beautiful Old Town, enjoy the pristine Lake Zurich, and immerse themselves in the city's vibrant cultural scene.
Other safe cities include Copenhagen, Vienna, Helsinki, Stockholm, Munich, Amsterdam, Geneva and Oslo.
What are the most romantic cities in Europe?
When it comes to romantic cities in Europe, certain destinations evoke a sense of enchantment and timeless love. Paris, often called the "City of Love," tops the list. With its charming cobblestone streets, beautiful parks, and stunning landmarks, Paris provides the perfect backdrop for romantic strolls, candlelit dinners, and unforgettable moments.
Other cities include Venice, known as the "Floating City," which is a dreamlike destination that exudes romance; Florence, the birthplace of the Renaissance, captivates with its timeless beauty and artistic heritage; Santorini, a picturesque Greek island and Prague, with its fairytale-like architecture.
These cities have an irresistible charm that evokes romance and captivates the hearts of couples seeking a truly enchanting experience.
---
Discover Spin Genie
Your Magical Online Casino Destination
Spin Genie is a regulated online casino and the destination of choice for the most entertaining online slots, nostalgic game shows and live table games.