Toronto isn't just a city. It's a collection of vibrant communities, each with a unique charm. From the glittering lights of downtown to the tree-lined streets of the charming suburbs, there's a neighbourhood for everyone.
Whether you're into arts and culture, a foodie hunting for the best local eateries, or a young professional who wants to be close to the action in one of the best places to live in Canada, Toronto's got you covered. So, let Ask Genie take you through this dynamic city and uncover the hidden gems and celebrated hotspots that make Toronto's neighbourhoods truly special.
Where Are the Best Neighbourhoods in Toronto?
As one of the most expensive cities in Canada and North America, you'll likely want to know the best spots to settle down. So, whether you're a local looking to rediscover your city or a newcomer seeking your perfect spot, this guide will navigate you through the best Toronto has to offer.
1. Lawrence Park North
Population: Approximately 10,000 to 15,000 (2021)
Average house price: $1,704,572 (Zolo)
Lawrence Park North is a midtown Toronto neighbourhood full of classic charm. The streets are lined with beautiful homes and unique architecture that begs for a second look.
And it's more than just pretty homes. This Toronto neighbourhood has a strong sense of community, with locals often organizing events, get togethers, and fostering a friendly, close-knit atmosphere.
Lawrence Park North's lush natural spaces offer peaceful walking trails and picturesque picnic spots.
But don't worry about being isolated from the city. While peaceful, it's not far from the city's action. You've got no shortage of good public transportation (including a subway station at Yonge and Lawrence Ave.), shopping, restaurants, and more.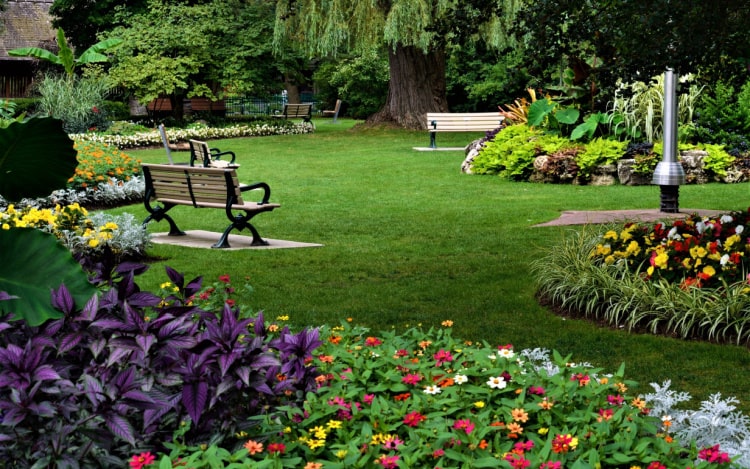 2. Danforth
Population: Approximately 17,000 (2021)
Average house price: $1,212,051 (Zolo)
Danforth, also known as Greektown, is a fantastic neighbourhood if you're considering a move to Toronto. It has a vibrant, bustling atmosphere that's hard to resist.
What sets Danforth apart is its unique blend of cultures and flavours. The famous Danforth Avenue is dotted with restaurants, cafes, and shops that showcase cuisines from around the globe. You'll find Greek, Italian, Middle Eastern, and even more foodie offerings to satisfy your cravings.
The area is also known for its lively street festivals, such as the Taste of the Danforth. This annual event celebrates the neighbourhood's multicultural spirit, featuring delicious food, live music, and an exciting atmosphere. Danforth's also well-connected by public transportation, making commuting a breeze.
So, if you're looking for a neighbourhood with a rich tapestry of cultures, mouthwatering food options, and a vibrant community, Danforth should be at the top of your list.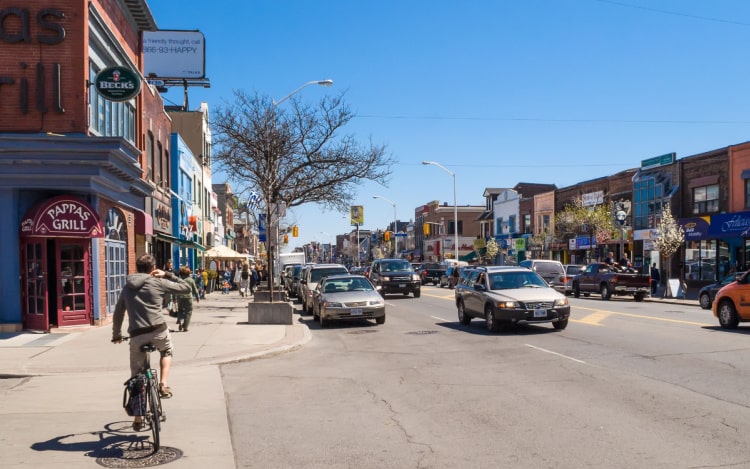 3. North Riverdale
Population: Approximately 10,000 (2021)
Average house price: $1,431,152 (Zolo)
North Riverdale is something of a hidden gem in Toronto. It's a tight-knit community that offers a cozy, small-town feel right in the heart of the city.
The streets are lined with beautiful, tree-canopied sidewalks perfect for walking or cycling down. With several parks in the area, including Riverdale Park East and Withrow Park, you'll soon find an ideal spot for picnics or dog-walking.
The location is another selling point. It's a short drive from the popular Danforth Avenue, known for its diverse restaurants and shops. You're spoiled for choice when it comes to dining out or enjoying some retail therapy. This neighbourhood combines the best of both worlds: the charm of a friendly community and easy access to the city's amenities.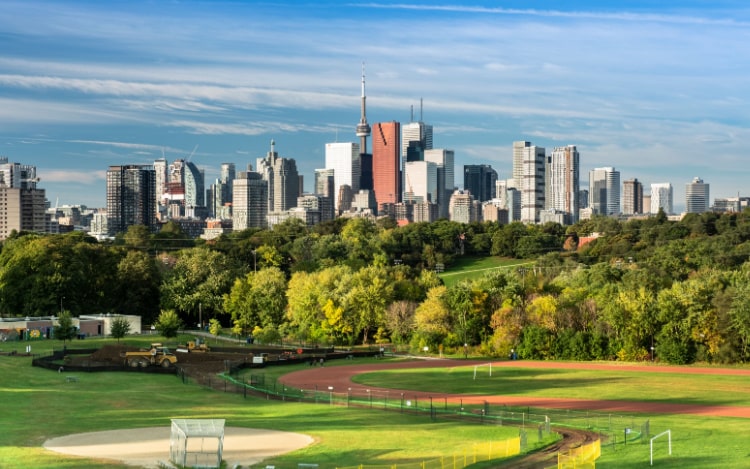 4. The Beaches
Population: Approximately 21,000 (2021)
Average house price: $1,577,622 (Zolo)
The Beaches is a true Toronto gem with a relaxed, beach-town vibe within the big city. The main attraction here is, of course, the beautiful beaches lining Lake Ontario. You can enjoy sandy shores, a boardwalk, and a sense of escape without leaving the city.
The Beaches' commercial area is on Queen Street East, a vibrant hub for local businesses, trendy shops, and diverse eateries. You'll find everything you need right on this bustling strip, including cozy coffee shops and boutique stores. The annual jazz and blues festival is a local highlight, turning the streets into a lively, music-filled celebration. This is one of the many exciting Toronto music festivals listed in our blog. Take a look to find out more - The Best Music Festivals in Toronto.
If you want to live somewhere where every day feels like a vacation, look no further than The Beaches. You'll get sandy shores, neighbourhood warmth, and city amenities in one package.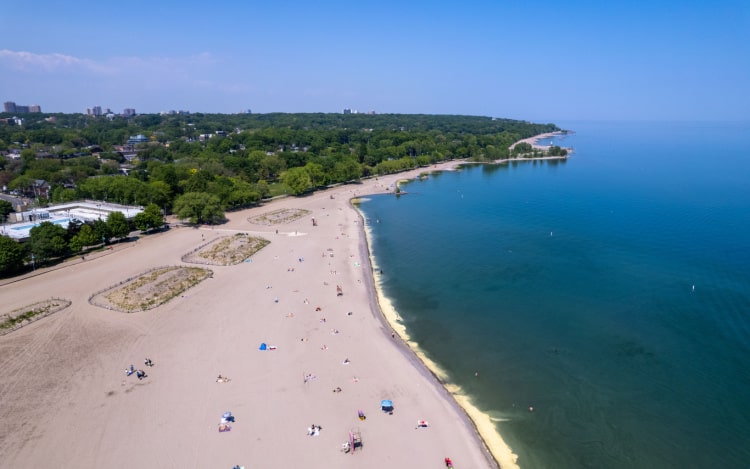 5. Mount Pleasant East
Population: Approximately 28,000 (2021)
Average house price: $1,445,370 (Zolo)
This Downtown Toronto neighbourhood strikes a perfect balance between a peaceful residential vibe and urban accessibility.
One of the striking aspects of this area is its lush greenery and well-maintained streets. The neighbourhood is a mix of tree-lined avenues and vibrant main streets. The sight of people going for a walk, jogging, or strolling through the parks is common. Mount Pleasant East is known for its parks, like Sherwood Park, which provides a lush green escape right within the city.
Then there's the convenience of the neighbourhood. Eglinton Avenue, with its array of shops, cafes, and eateries, makes it easy to meet your daily needs. Mount Pleasant East is also well-served by public transportation, making it a breeze to explore the broader city.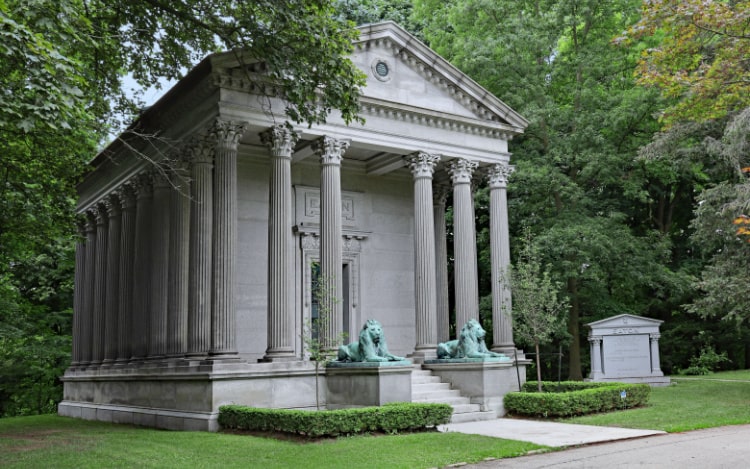 6. Runnymede-Bloor West Village
Population: Approximately 10,000 (2021)
Average house price: $1,323,759 (Zolo)
If you're after a cozy, village-like atmosphere that's close to a bustling main street, Runnymede-Bloor West Village might be perfect for you.
Located north of High Park, the area offers a unique blend of local businesses, artisan shops, and delightful cafes. Exploring the Bloor West Village shopping district, you'll find a range of independent boutiques and charming bookstores. It's the kind of neighbourhood where you can wander down the street, meet your neighbours, and discover hidden gems.
In addition to its quaint, small-town feel, Runnymede-Bloor West Village is conveniently linked to the city through public transportation. You can savour a sense of community while enjoying the urban perks of nearby shops, dining, and cultural experiences.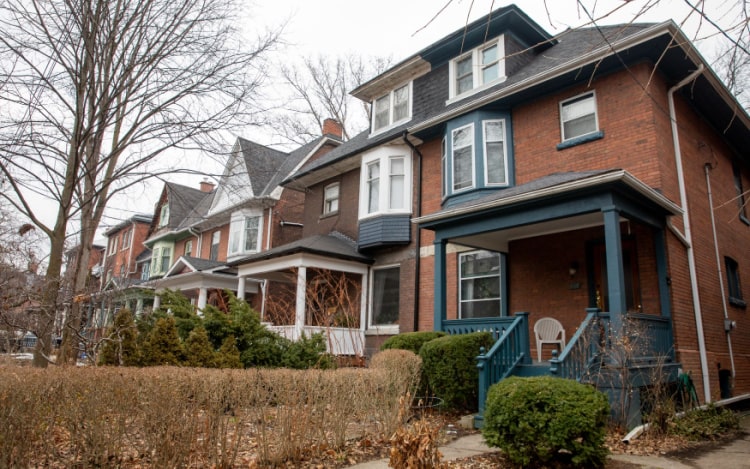 7. The Annex
Population: Approximately 15,000 (2021)
Average house price: $1,776,899 (Zolo)
If you're looking for eclectic character from your new neighbourhood, The Annex has that in droves. This area is known for its artistic and bohemian atmosphere, attracting a diverse mix of residents. The town spans from Bloor Street North to Dupont Street between Bathurst Street and Avenue Road, subway stations at DuPont, Spadina, and Bathurst on the Bloor.
The streets are lined with charming Victorian and Edwardian-style homes to admire. It's a place where you can take leisurely strolls, and each corner seems to reveal a new cafe, bookstore, or art gallery. The lively Bloor Street West, with its array of restaurants, shops, and cultural venues, is a hub of activity.
The Annex also boasts an academic vibe, thanks to its proximity to the University of Toronto. You'll often find students, teachers, and creative professionals who contribute to the neighbourhood's atmosphere. Whether you're an art enthusiast, a foodie, or someone who enjoys the vibrancy of city life, The Annex offers a unique and attractive place to call home in Toronto.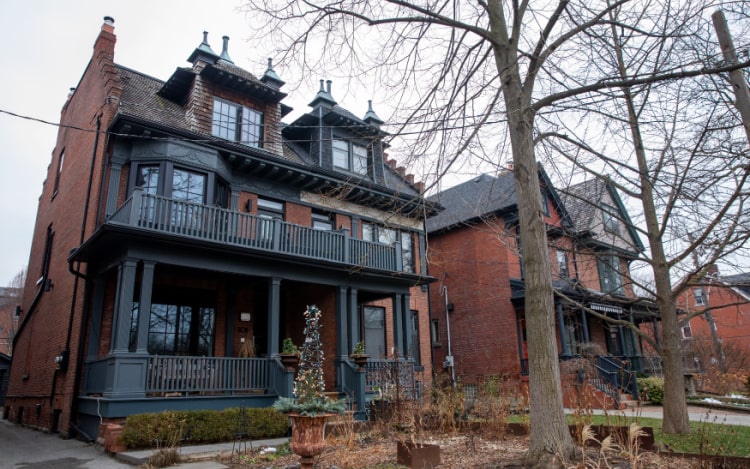 8. Leslieville
Population: Approximately 25,000 (2021)
Average house price: $982,500 (Realosophy)
Leslieville shines for its modern, artistic, and diverse character. It's a draw for creatives and entrepreneurs alike.
One of Leslieville's standout features is its artsy vibe. It's a neighbourhood where you'll discover independent art galleries, street murals, and a lively sense of self-expression. Queen Street East, in particular, is a hive of activity, offering a mix of vintage shops, artisanal bakeries, and farm-to-table dining.
The area also boasts a strong community spirit, with local events, street festivals, and farmers' markets adding to its charm. Leslieville's proximity to Toronto's downtown core means you're not far from the heart of the city, yet you enjoy the authenticity and character of a distinct neighbourhood. So, if you're seeking a place that's diverse, artistic, and culturally vibrant, Leslieville is a prime choice for calling Toronto home.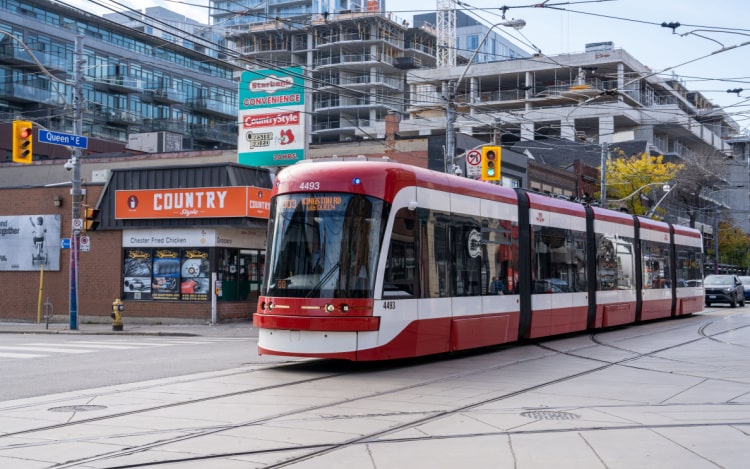 9. Trinity-Bellwoods
Population: Approximately 17,000 (2021)
Average house price: $1,850,000 (Realosophy)
Trinity-Bellwoods is considered one of Toronto's coolest neighbourhoods. It's a haven for the young, the hip, and the urban explorers.
The heart of Trinity-Bellwoods is undoubtedly Trinity-Bellwoods Park, a lush green oasis right in the midst of the city. With its sprawling lawns, buzzing dog park, and walking paths, it's the perfect place for a leisurely afternoon or a casual picnic. The neighbourhood's streets, lined with historic homes and trendy cafes, have a distinctly bohemian atmosphere.
Queen Street West, the neighbourhood's main artery, is a hotbed of art, fashion, and culture. You'll find independent boutiques, art galleries, and some of the city's most celebrated restaurants.
Trinity-Bellwoods is well-known for its artistic vibe and the creativity that flows through its streets. It's a neighbourhood where you can explore unique shops, attend art exhibitions, or simply enjoy a sunny day in the park. If you're a fan of urban charm, culture, and a youthful, buzzing atmosphere, Trinity Bellwoods is an excellent choice for making Toronto your home.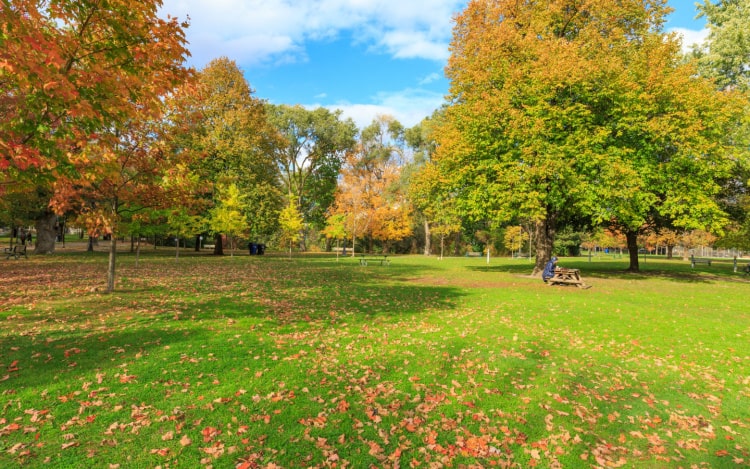 10. Liberty Village
Population: Approximately 15,000 (2021)
Average house price: $692,000 (Realosophy)
Liberty Village is a well-sought-after neighbourhood in Toronto, especially if you're searching for a bustling, urban lifestyle.
The neighbourhood's main through route, King Street West, is a hub of activity, lined with stylish coffee shops, eateries, and more, making it a great place to socialize and dine out. It's a hotspot for young professionals, artists, and entrepreneurs.
What's especially appealing about Liberty Village is its close proximity to downtown Toronto, making it an ideal choice if you thrive in a fast-paced environment. It's a place where you can immerse yourself in the city's vibrancy, from savouring artisanal coffee to exploring contemporary art galleries.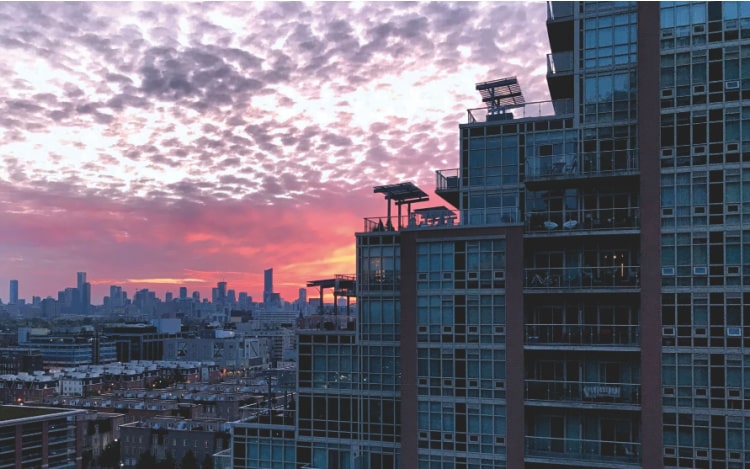 Move to Your Dream Toronto Neighbourhood with Help From Spin Genie
Which of these beautiful Toronto neighbourhoods have you got your eye on? Whether you dream of living down by the waters of Lake Ontario or want to stay close to the city's action, these diverse areas of the city have what you're looking for.

Try your hand at some online slots in Ontario, or check out the best online casino in Ontario to make your dream Toronto home a reality.
If you're planning a trip to Toronto, Ontario, we've got you covered with some recommendations. Take a look at some of our other guides below:
FAQs About the Best Neighbourhoods in Toronto
What is the Safest Area in Toronto?
Overall, Toronto is considered a safe city, but some neighbourhoods, in particular, are known for their low crime rates and family-friendly environments:
Lawrence Park

The Beaches

Leaside

Bridle Path

Rosedale

York Mills
Where Do Expats Live in Toronto?
Toronto is a diverse and multicultural city, making it a popular destination for expats worldwide. Expats in Toronto can be found in various neighbourhoods, including:
Downtown Toronto

Yorkville

Midtown Toronto

Leaside

The Beaches

North York

Scarborough

Etobicoke

Thornhill
What is the Trendiest Street in Toronto?
Toronto is filled with trendy streets and neighbourhoods, so it's tough to pinpoint just one as the trendiest. However, a few streets and areas in the city are known for their modern and vibrant atmospheres. Here are a few that stand out:
Queen Street West

King Street West

Ossington Avenue

Kensington Market

Yonge Street

Distillery District

Bloor Street
---
Discover Spin Genie
Your Magical Online Casino Destination
Spin Genie is a regulated online casino and the destination of choice for the most entertaining online slots, nostalgic game shows and live table games.