Interest in vinyl has exploded recently, with such an increase in demand for new records, vinyl pressing plants are struggling to keep up. Modern record collectors are also turning toward vintage vinyl not just for its value, but for nuanced sound quality, tangible nature, and the nostalgia factor too.
Collecting vintage records can be an expensive hobby, with rare vinyl often going for huge sums at auction, depending on its condition, and rarity.
But who are record collectors willing to shell out the big bucks for? We here at Spin Genie, the best online casino in Ontario, have taken a look at the records, artists, genres, and decades that have fetched the most cash, to find out.
The Most Expensive Vinyl Records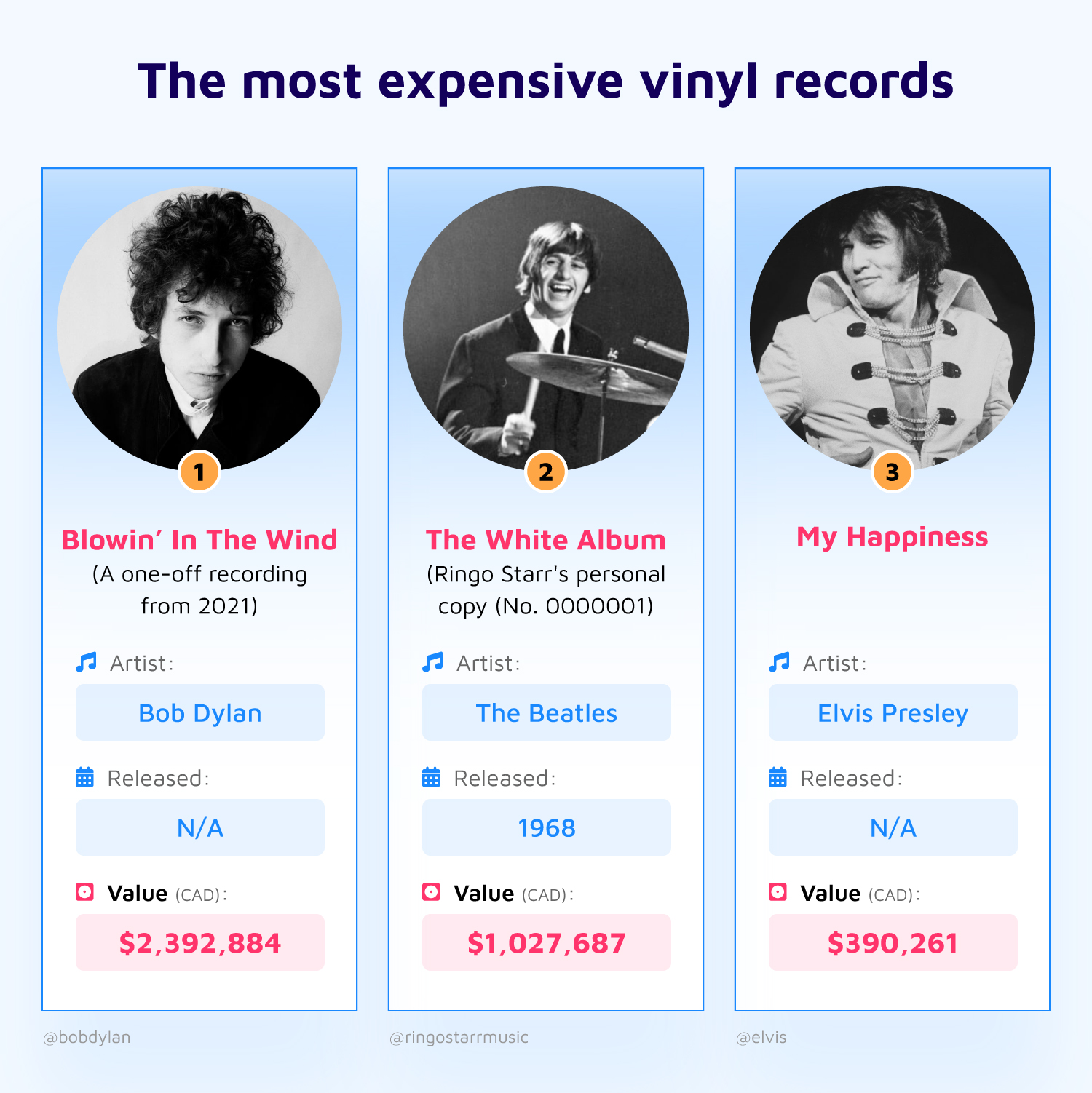 1. Blowin' In The Wind - a one-off recording from 2021
Artist: Bob Dylan
Released: N/A
Value: CAD$2,392,884
Selling at auction in London for a whopping $2.3 million is this version of Bob Dylan's classic folk song Blowin' in the Wind. The song recorded in LA in 2021 was etched directly onto a metal disc that can be played on a conventional record player, creating a unique handmade and truly original record.
2. The White Album - Ringo Starr's personal copy (No. 0000001)
Artist: The Beatles
Released: 1968
Value: CAD$1,027,687
Taking second place as the most expensive vinyl record ever sold is Ringo Star's personal copy of the Beatle's ninth studio album and the first to be pressed. After being kept in a London bank vault for 35 years, it was auctioned in 2015, smashing its estimate of US$60,000. 
3. My Happiness
Artist: Elvis Presley
Released: N/A
Value: CAD$390,261

In third place is the first song ever recorded by The King. Originally meant as a gift for his mother, the record was bought at auction by former White Stripes frontman Jack White for an eye-watering CAD$390,261. White then reissued a reproduced version for record store day in 2015, making it widely available to Elvis fans.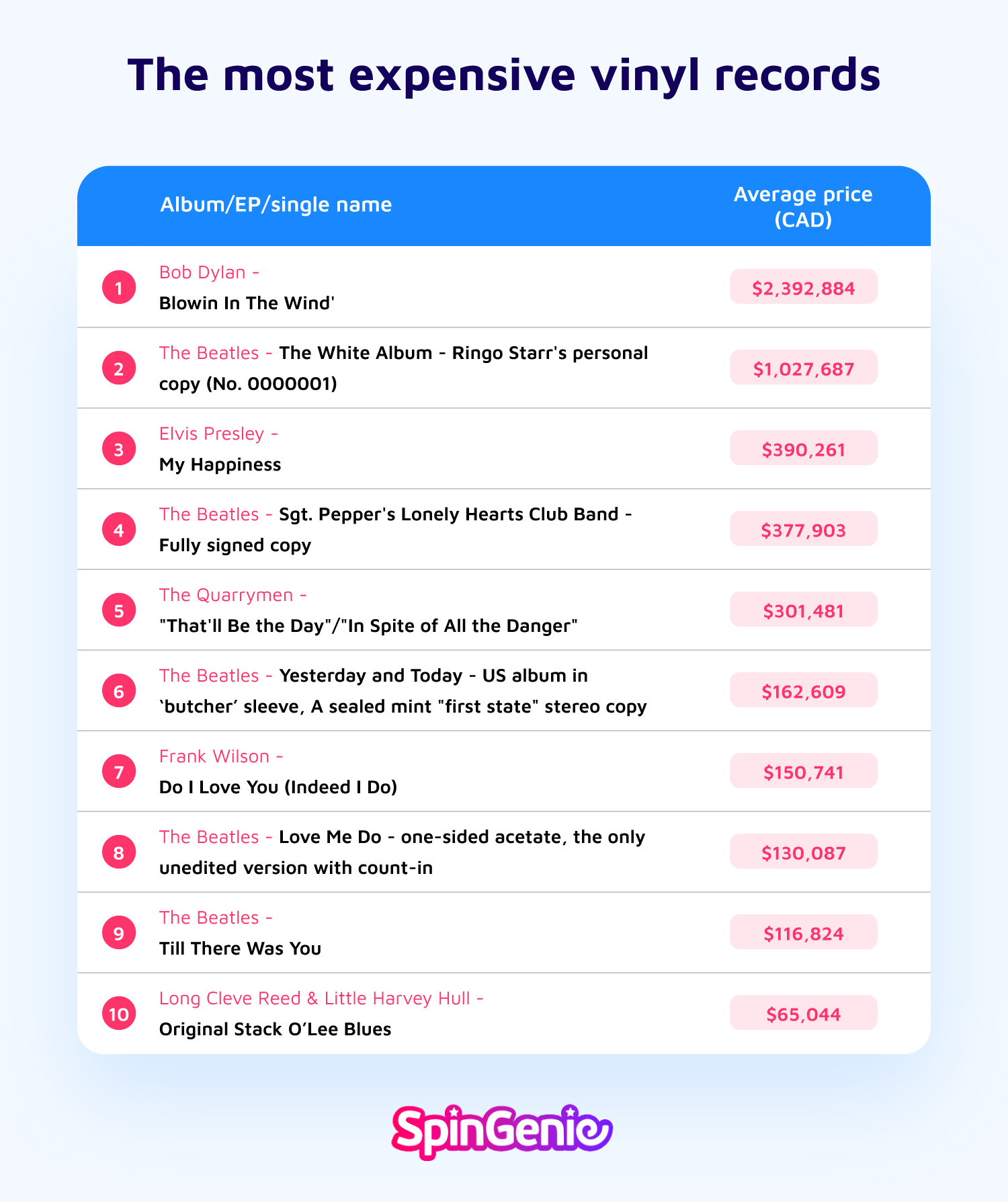 The Most Expensive Artists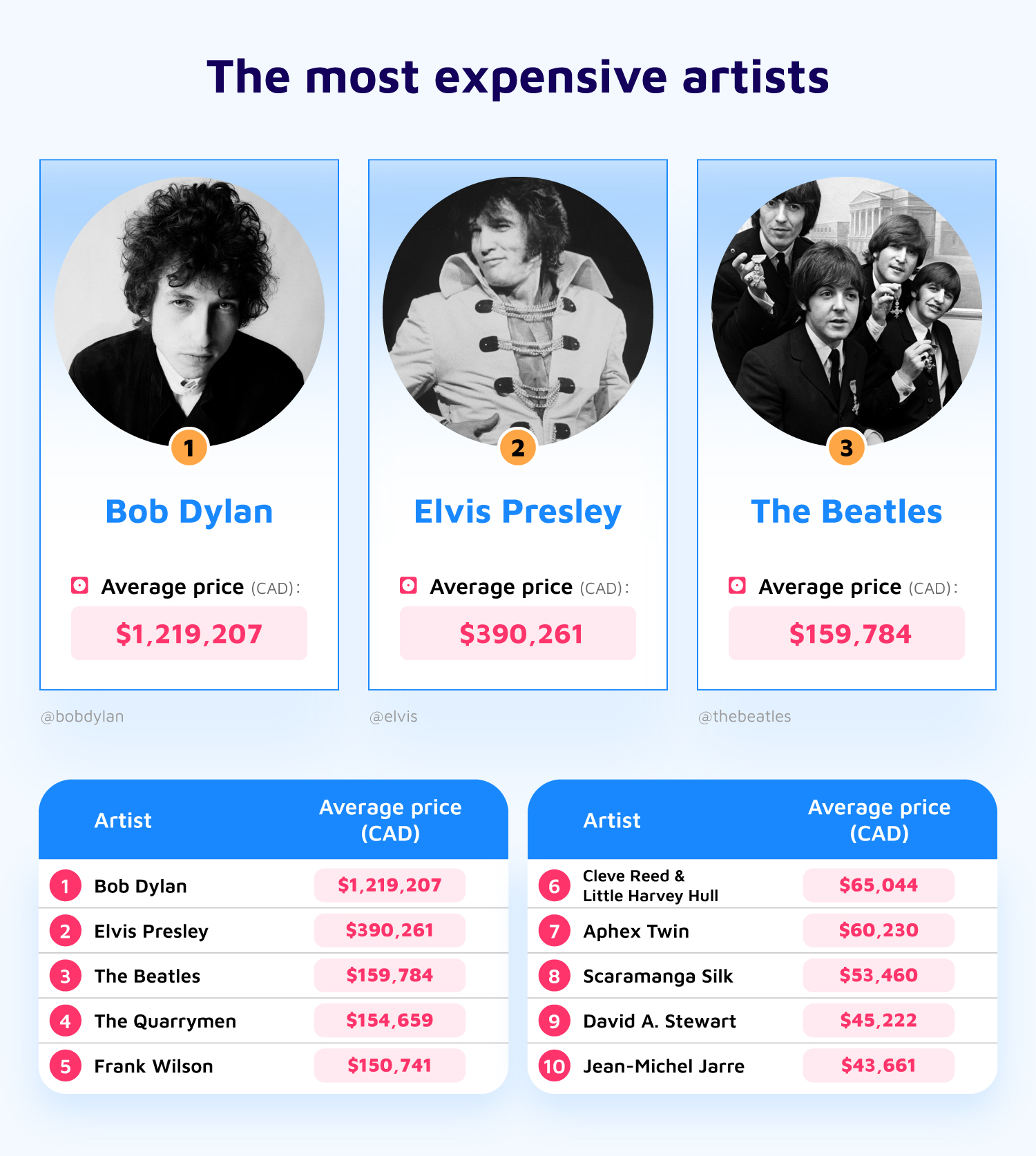 1. Bob Dylan 
Average price: $1,219,207


Thanks to Dylan taking the top spot for the most expensive record ever sold, he also comes out with the highest average price. Collectors also highly prize a version of Dylan's 1963 The Freewheelin' Bob Dylan, with four tracks not included in the widely available commercial version, which has been known to fetch more than $45,000 at auction.
2. Elvis Presley
Average price: $390,261

Elvis takes the second spot, thanks to his first record being one of the most expensive sold at auction. Most Elvis vinyl isn't very valuable as American teenagers bought it by the bucketload in the 1950s, but a mono copy of his debut album in good condition could fetch up to CAD$660. A complete set of his Sun Records 7"s can go for up to CAD$42,902.
3. The Beatles
Average price: $159,784

Taking third place is The Beatles, with an average price of $159,784 for their most highly prized vinyl records. These include the infamous Yesterday and Today compilation withdrawn from sale thanks to its gruesome cover art.
The Most Expensive Genres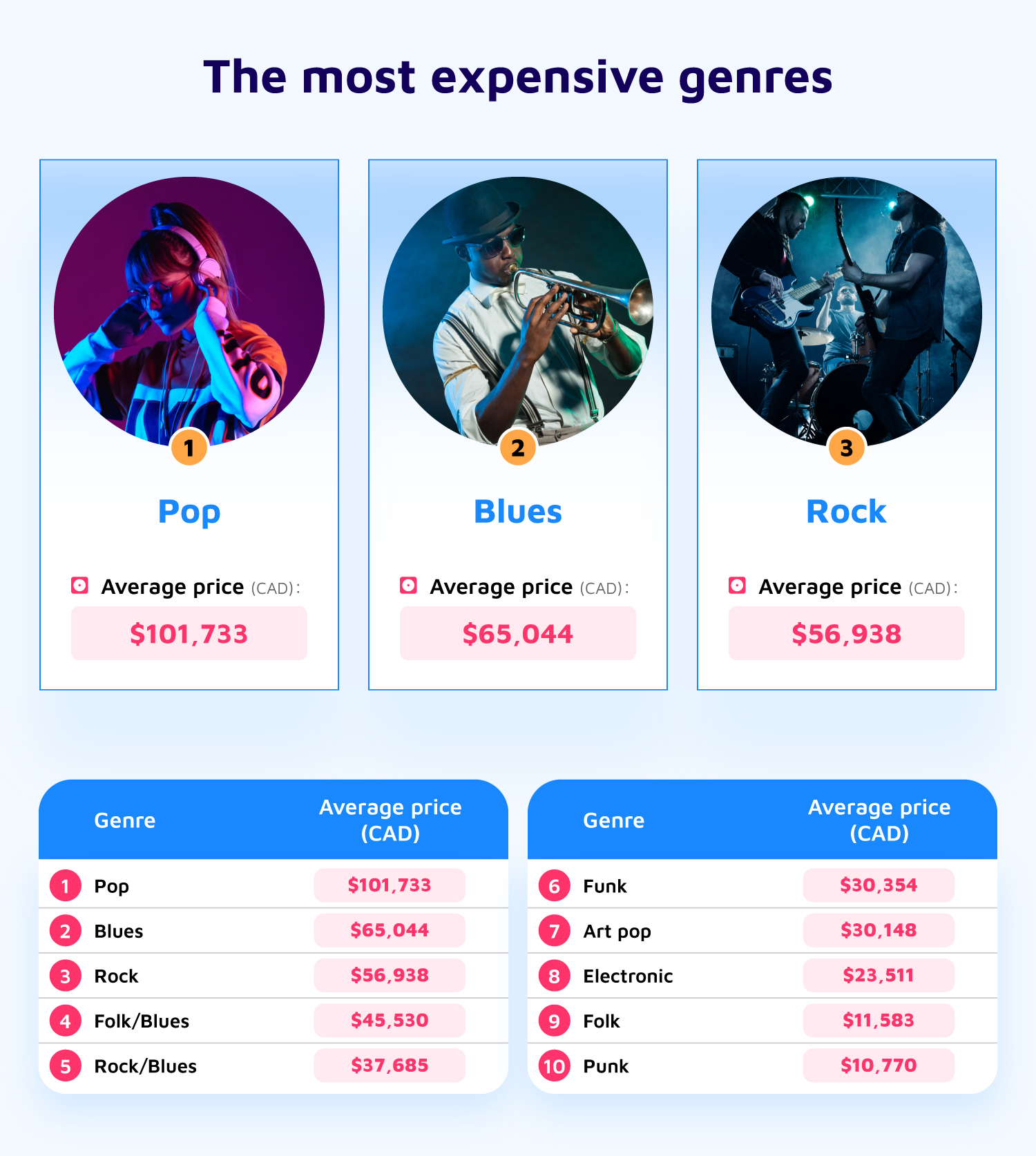 1. Pop
Average price: $101,733
Pop music and its sub-genres are the most expensive genre for vinyl collectors, averaging over $100,000 for rare records. It comes as no surprise that the genre tops the list, as it's designed to appeal to the broadest audience possible, resulting in high demand for the genre from collectors.  
2. Blues
Average price: $65,044
Up next are blues records. The genre originating in the Southern US had a huge impact on 20th-century music, particularly the rock 'n' roll of the 1950s, making them highly sought after by collectors for their historic value, as well as their rarity, as some were released over 90 years ago. 
3. Rock
Average price: $56,938
Taking third place is rock, the genre originating in the 1950s which has since spawned thousands of subgenres. The most expensive rock records sell for an average of more than $56,000, thanks to the enduring appeal of the genre and the variety of bands and albums under its umbrella.
The Most Expensive Decades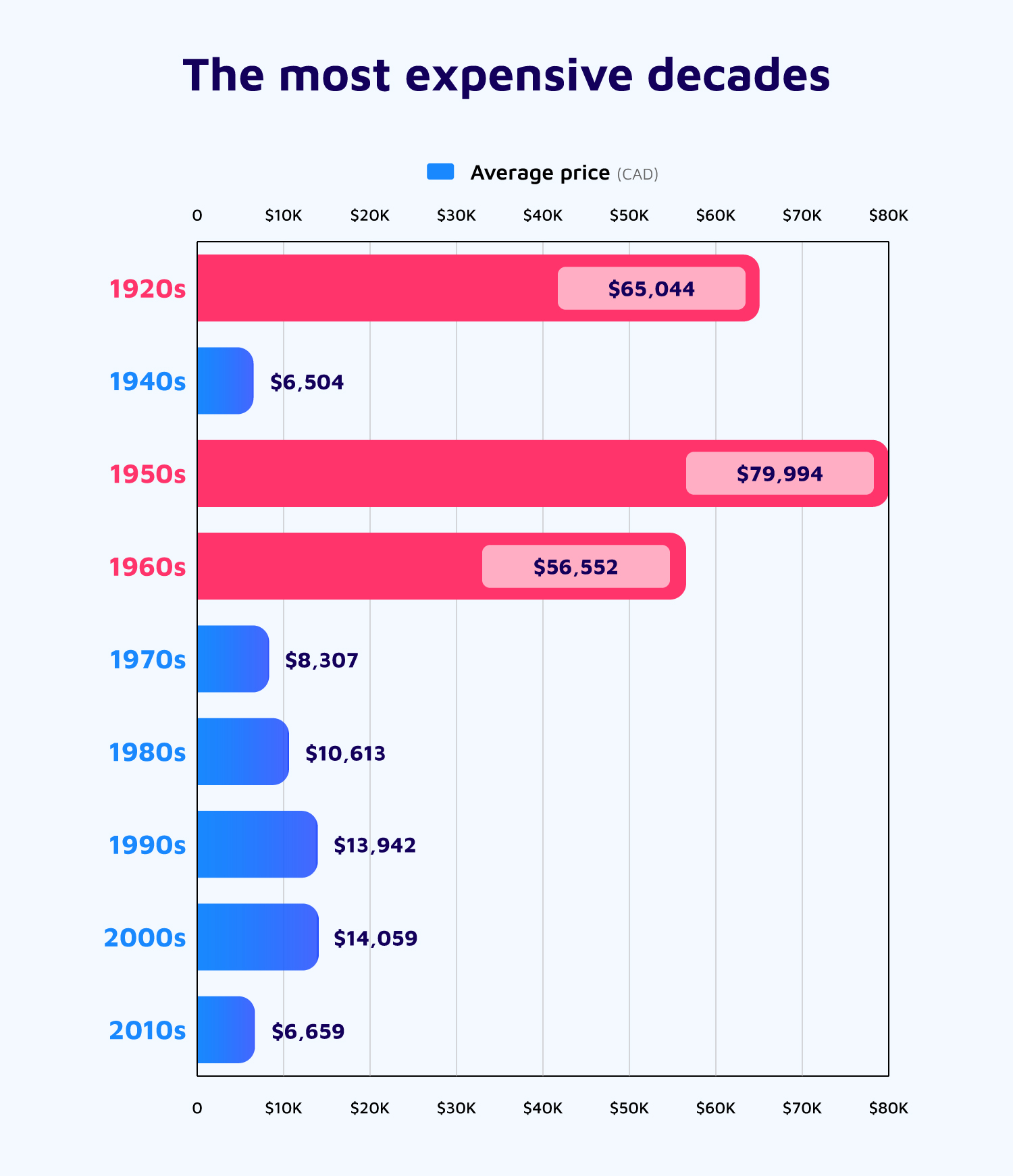 1. The 1950s
Average price: $79,993.89
The 1950s takes the top spot as the decade with the most expensive vinyl, with the rarest records from the era fetching an average of nearly $80,000. The albums from the decade that created rock 'n' roll are highly sought after by collectors as they hope to get their hands on original pressings of records that changed the musical landscape.
2. The 1920s
Average price: $65,043.50
Next up are the 1920s, with rare records selling for an average price of over $65,000. Amongst these rare 1920s records are the first singles released by many influential blues musicians, who would have faded into obscurity if not for avid collectors seeking out and preserving their earliest works.
3. The 1960s
Average price: $56,551.93
In third place are the swinging sixties, with rare records from the era fetching an average of $56,000. Among this vintage vinyl are Beatles albums signed by the band, a copy of David Bowie's first single, and Led Zepplin's first album, all highly sought after by fans who want to own a rare piece of music history produced by their favourite artists.
Methodology
The most expensive vinyl records ever sold were sourced from Wikipedia and Discogs. We then split these records by artist, genre, and decade and ranked them according to their average price.
Currencies were converted on 09/09/2022 using Google Finance.