When visiting the vibrant city of Vancouver, there is no shortage of things to see and do. Nestled on the stunning Pacific Northwest coast of British Columbia, Vancouver offers a rich tapestry of experiences that cater to various interests, from outdoor enthusiasts to art aficionados.
In this guide, we'll uncover Vancouver's 15 best activities and attractions, from the UNESCO-acknowledged Howe Sound to the Granville Island market, ensuring you make the most of your visit to this beautiful Canadian gem.
---
SPIN GENIE'S CHILLY WELCOME OFFER HERE
*Terms and conditions apply.*
---
The Best Things to See and Do in Vancouver
Whether you're looking for seaside walking tours, a stroll in one of the many charming city gardens, or want to experience the exceptional culinary delights downtown Vancouver has to offer, let us guide you on the best things to do in Vancouver.
1. Granville Island and Granville Island Public Market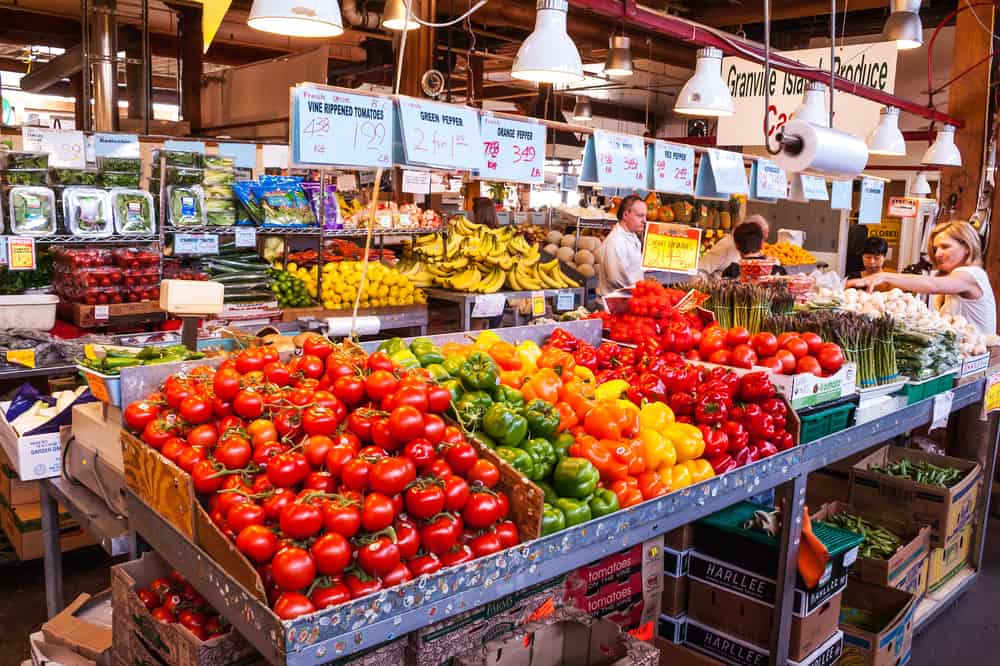 Take a day trip to the cultural district of Granville Island - located beneath the Granville Street Bridge. Explore its cobblestone streets lined with art galleries, theatres, and unique shops. This part of the city is a cultural treasure trove, a culinary delight, and a hub of artistic expression.
Whether you're strolling along the waterfront, enjoying street performances, or simply sipping coffee at a cozy café, Granville Island offers an eclectic mix of experiences. You can expect to see local art and live music in the craft beer scene Canada is famous for.
The island is also home to unique shops where you can find handmade crafts, jewellery, clothing, and souvenirs. It's a fantastic place to pick up one-of-a-kind gifts and souvenirs when you visit Vancouver.
2. Stanley Park and Seawell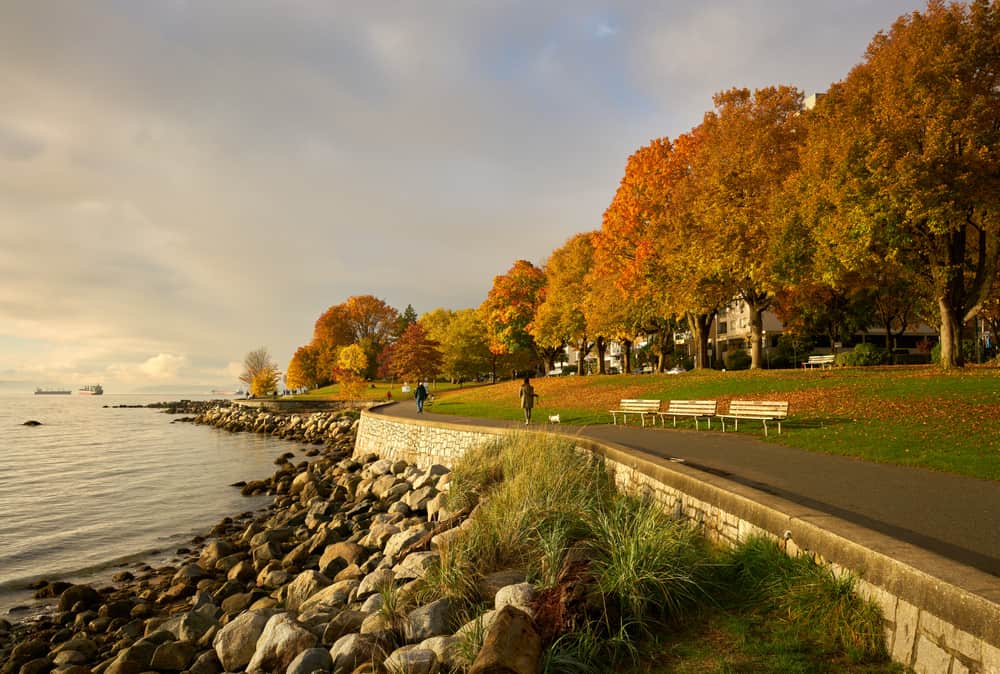 Stanley Park Seawall Path Autumn. Autumn leaves line the Stanley Park seawall in Vancouver's West End, Vancouver, Canada.
This sprawling urban park in downtown Vancouver is a must-visit for anyone visiting the city.
Over 1,000 acres, Stanley Park offers a sanctuary of lush greenery, serene lakes, and towering trees. However, one of its most celebrated features is the Stanley Park Seawall. 
This enchanting pathway winds along the park's waterfront, so you can experience an unparalleled opportunity to immerse yourself in nature while enjoying breathtaking views of the surrounding cityscape, the majestic North Shore Mountains, and the Pacific Ocean.
This world-renowned path is perfect for both walkers and cyclists. Renting a bike is popular, allowing you to traverse the entire 5.5-mile loop easily. As you pedal or stroll along the Seawall, you'll encounter various points of interest, including Totem Poles, Brockton Point Lighthouse, and Siwash Rock.
Each landmark weaves a unique story of Vancouver's history and indigenous culture.
3. English Bay Beach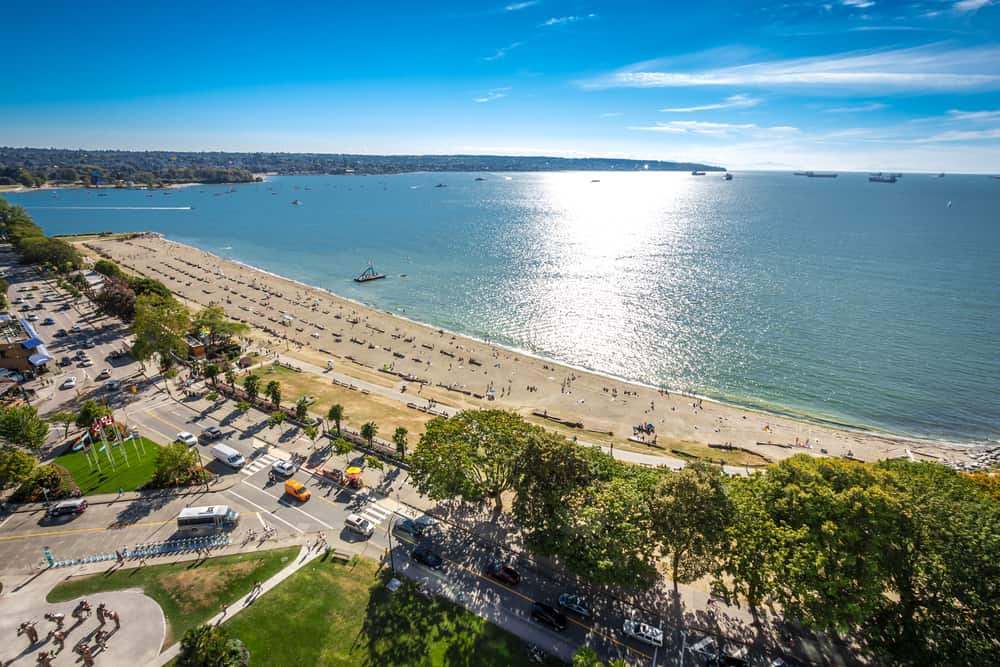 Located near the West End, English Bay Beach is a beautiful spot to relax and watch the sunset over the Pacific Ocean. The nearby Seawall connects to Stanley Park, making it a great place to start or end a day of exploring.
Within Stanley Park are the secluded and beautiful Second and Third Beaches, where you can relax, unwind and have a picnic enjoying the beautiful scenery without interruption.
What's more, the park boasts an outdoor swimming pool in summer, which is especially fun if you're travelling with little ones!
4. Wreck Beach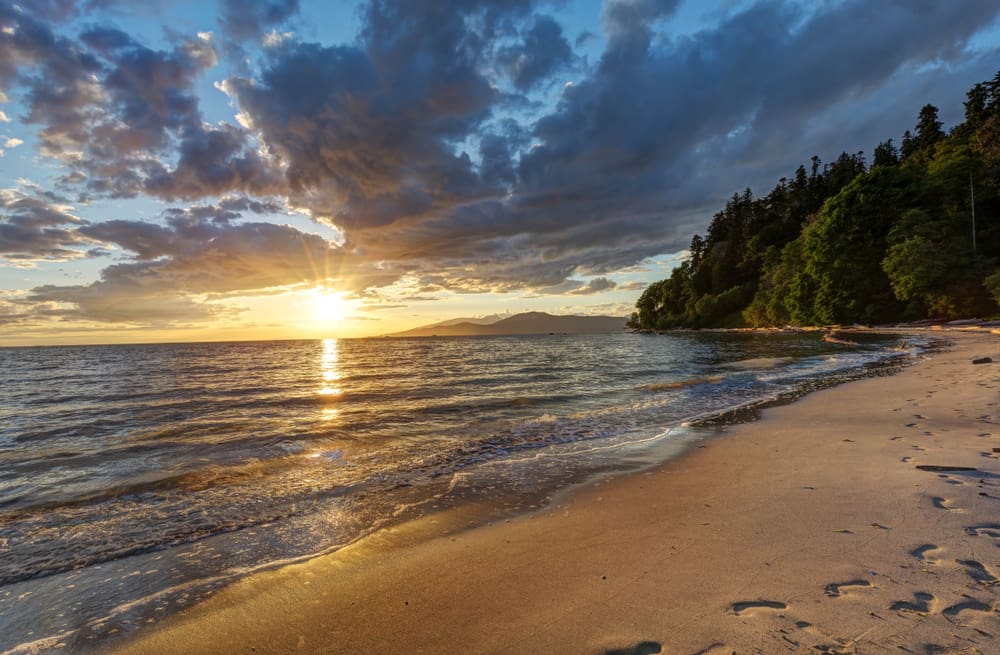 For a more secluded beach experience, venture to Wreck Beach, near the University of British Columbia. Favoured by nature lovers, Wreck Beach, with its stunning shorelines, lush surroundings and a relaxed atmosphere, is a must-see in Vancouver. You can swim, sunbathe or take a stroll down the sandy shores.
This landscape offers a serene escape from the hustle and bustle of visiting Vancouver, but be aware that Wreck Beach operates a clothing-optional status.
If you're staying in downtown Vancouver and looking for a slightly closer beach, Kitsilano Beach is popular and home to North America's longest outdoor swimming pool.
5. Vancouver Art Gallery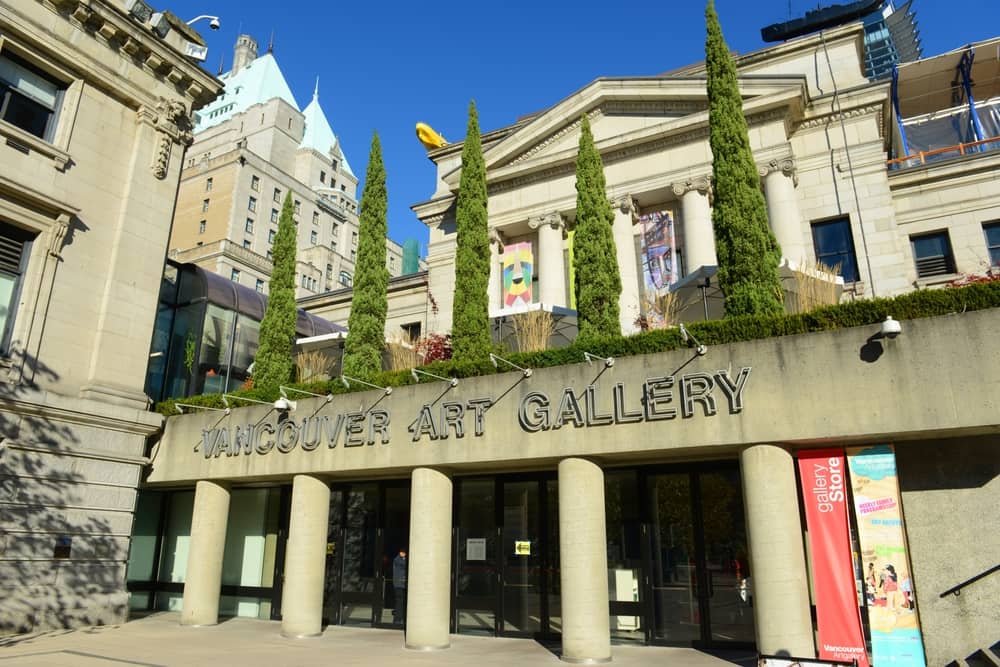 For art lovers, the Vancouver Art Gallery is a treasure trove of creativity. This iconic institution is a veritable treasure trove for art enthusiasts, boasting an extensive collection that spans centuries and cultures. Here, art lovers can immerse themselves in a world of creativity, from indigenous masterpieces to contemporary works that challenge the boundaries of artistic expression.
The gallery's permanent collection is a testament to British Columbia's rich artistic heritage, with a particular emphasis on Northwest Coast art. You can marvel at intricately carved totem poles and vibrant indigenous masks that offer insights into the region's indigenous cultures.
Whether you're an art enthusiast or just looking for a dose of inspiration, a visit to the Vancouver Art Gallery is an absolute must during your stay in this vibrant Canadian city.
6. Grouse Mountain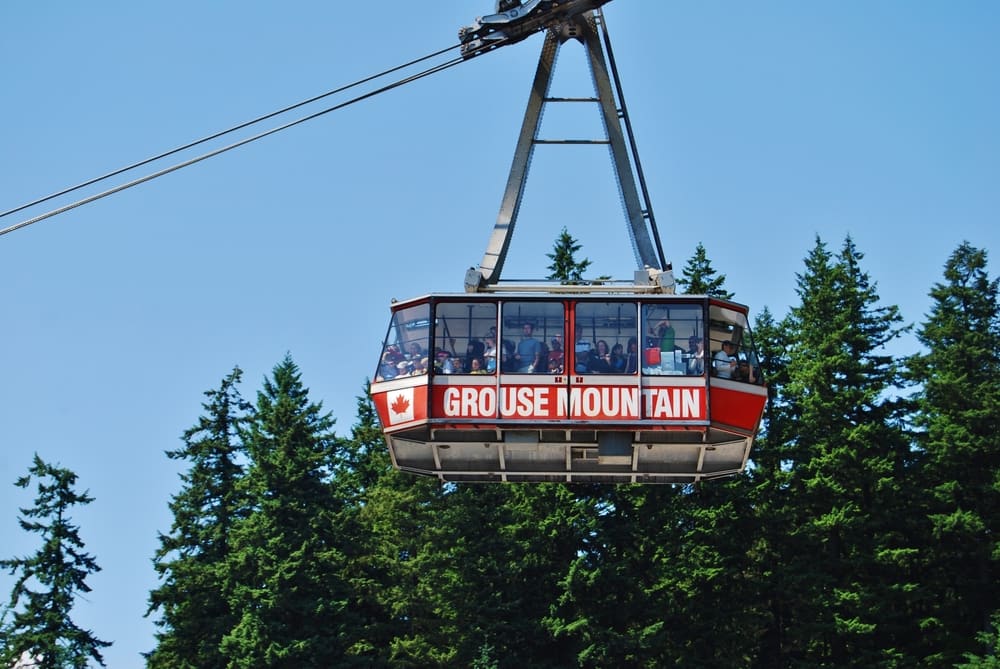 Nature enthusiasts and adventure seekers will want to head to Grouse Mountain in North Vancouver. This year-round destination offers hiking trails, zip-lining, and skiing in the winter.
In the summer, explore hiking trails that lead through lush forests and lead to panoramic viewpoints. Known by the locals as 'Mother Nature's Stairmaster', a popular 2,830-step hike named the Grouse Grind isn't for the faint of heart. Note the trail is closed from October throughout the winter for safety.
In the winter, Grouse Mountain transforms into a winter wonderland, offering skiing, snowboarding, and snowshoeing, making it a top destination for snow sports. Also home to a Wildlife Refuge, where you can observe local wildlife like grizzly bears and owls up close while learning about their conservation, Grouse Mountain has so much to offer outdoor enthusiasts.
While you're up there, you need to visit the sky gondola, which provides stunning panoramic views of the city and Howe Sound.
What's more, Grouse Mountain has an array of dining options. The best way to enjoy this spectacular setting is with a gourmet meal at a mountaintop restaurant or by getting warm and snug with hot cocoa by a fire pit. Which would you choose?
7. Capilano Suspension Bridge Park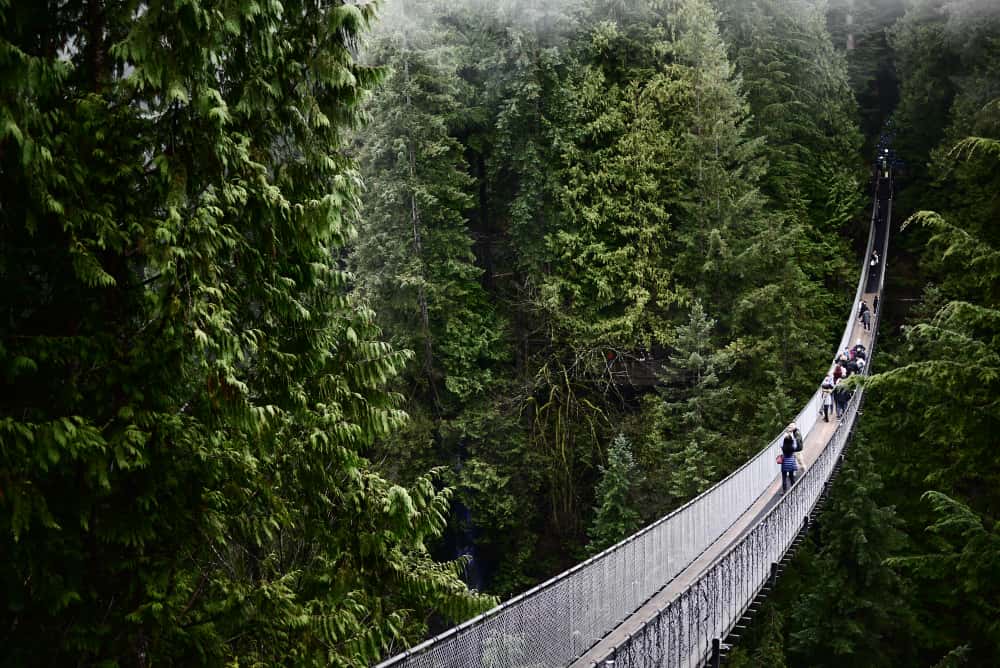 Get your adrenaline pumping at the Capilano Suspension Bridge Park.
Nestled in the heart of Vancouver's North Shore, the Capilano Suspension Bridge Park is a thrilling natural attraction that promises an unforgettable experience for visitors. This iconic suspension bridge sits 230 feet above the Capilano River and offers awe-inspiring views of the lush rainforest canopy and the river below. 
Originally built in 1889, the bridge provides an exhilarating and somewhat wobbly journey across this majestic landscape.
Beyond the main bridge, the park offers a network of walkways and treetop adventures that allow you to explore the temperate rainforest from a unique vantage point. The Cliffwalk is a cantilevered walkway that hugs the granite cliffside, offering thrilling canyon views. 
Meanwhile, the Treetop Adventure takes you on a series of suspended walkways and bridges through the towering Douglas fir trees.
This attraction combines nature, history, and mesmeric activities, making it a must-visit when you come to Vancouver.
8. Science World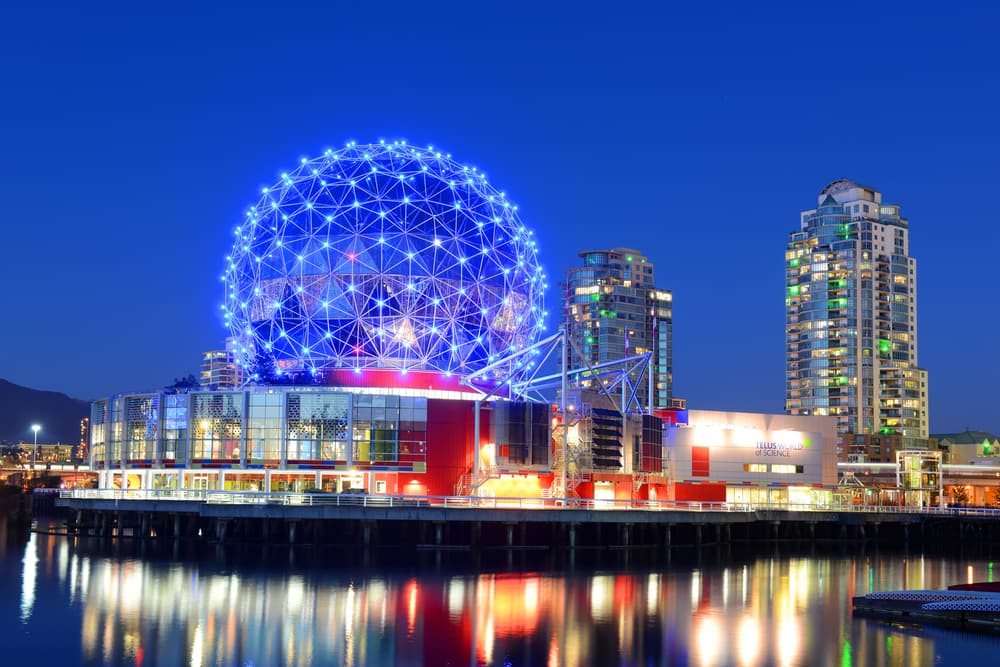 Located in the Olympic Village of Vancouver, Science World is a captivating destination that seamlessly blends education with entertainment. Boasting a striking geodesic dome as its architectural centrepiece, this museum is fun for visitors of all ages.
Inside, you'll find a dynamic array of interactive exhibits catering to various interests. From hands-on experiments showcasing the wonders of physics to displays exploring the ecosystems of the Pacific Northwest. Science World makes learning engaging and enjoyable for the whole family.
One of its highlights is the OMNIMAX Theatre, where you can immerse yourself in astonishing, larger-than-life films on a massive dome screen. The ever-changing lineup of documentaries covers topics as diverse as space exploration and the natural world.
9. Watch Vancouver Canucks at Rogers Arena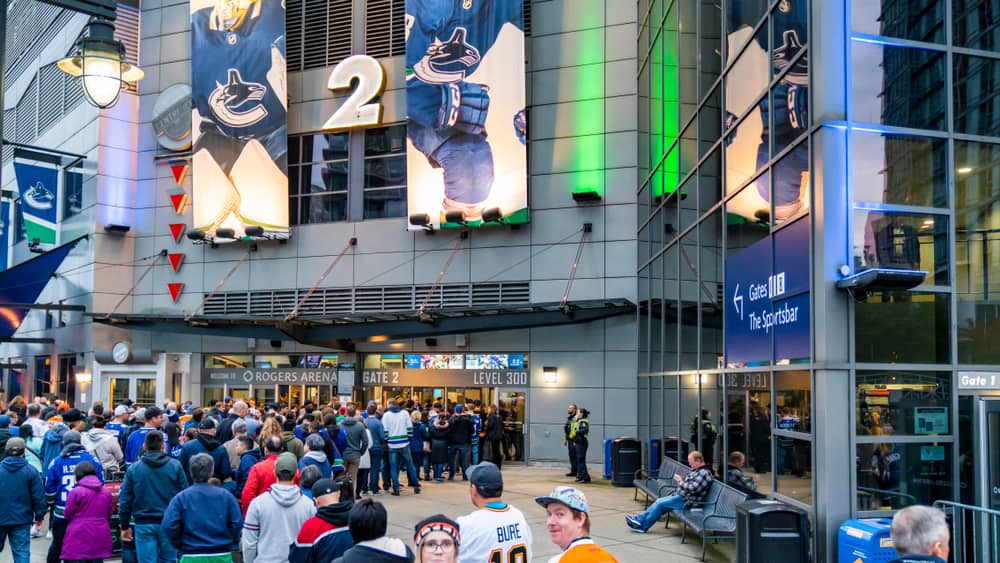 If you're a sports enthusiast visiting Vancouver, catching a Canucks game at Rogers Arena is a thrilling must-do. 
Rogers Arena in downtown Vancouver provides an electric atmosphere where fans come together to support their team in blue and green jerseys. Feel the city's pulse, immerse yourself in the passionate world of ice hockey and get ready to chant "Go Cannucks Go" as you watch this beloved NHL hockey team. 
What's more, Rogers Arena also doubles as one of the main music venues in the city. Making this venue a non-stop good time machine!
10. VanDusen Botanical Garden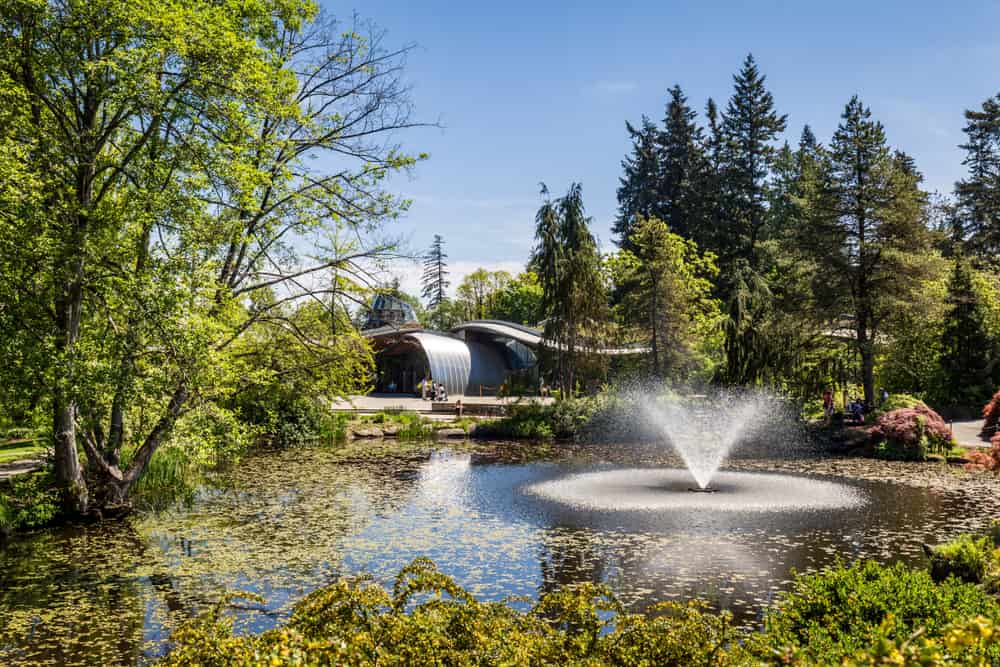 Escape the urban hustle and bustle at VanDusen Botanical Garden in Vancouver's South Granville neighbourhood.
Spread across 55 acres; the botanical garden is a tranquil oasis where nature enthusiasts and garden lovers can become engrossed in the beauty of meticulously curated landscapes.
The garden features a variety of themed gardens, each with a unique charm. From the elegant hedge maze and the vibrant Elizabethan garden to the serene Japanese garden and the fragrance-filled Scented Garden, there's something to captivate every sense.
You can meander along scenic pathways, pause at tranquil ponds, and marvel at seasonal blooms throughout the year. It's a peaceful escape from the city's hustle and bustle, making it a perfect spot for relaxation and rejuvenation.
11. Dr. Sun Yat-Sen Classical Chinese Garden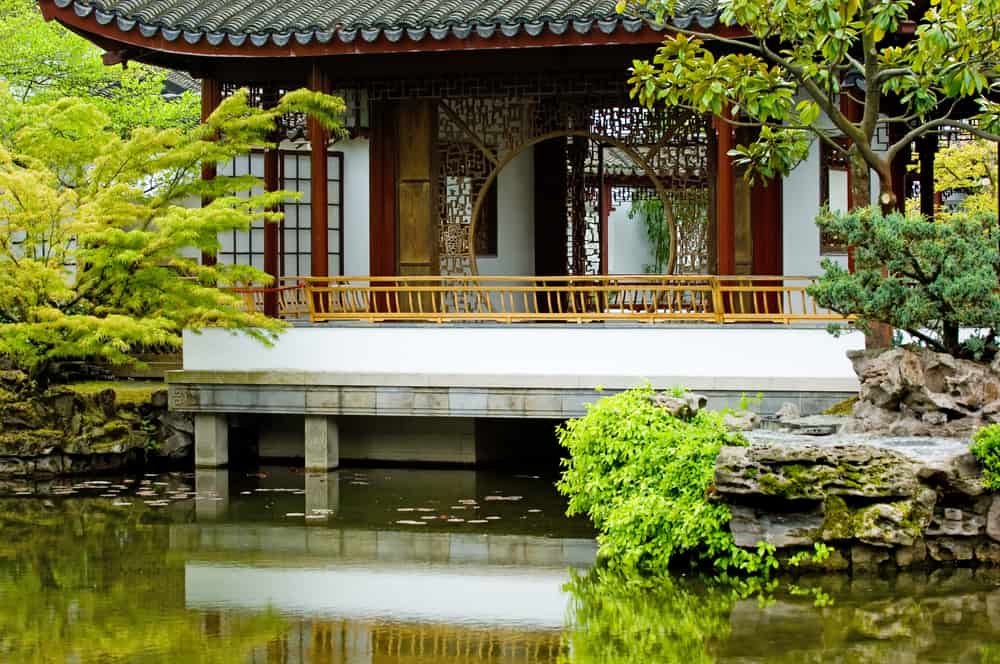 Tucked away in the heart of Vancouver's bustling Chinatown district, the Dr. Sun Yat-Sen Classical Chinese Garden is a serene oasis that offers a glimpse into China's rich history and culture.
Named after the founding father of the Republic of China, Dr. Sun Yat-Sen, it is a testament to the enduring connection between Vancouver and the Chinese heritage that has shaped the city's identity.
The garden is a harmonious blend of traditional Chinese design principles and lush, carefully curated botanical elements. You can wander through this charming space and encounter koi-filled ponds, intricate stonework, and vibrant plantings designed to evoke the serenity of a Ming Dynasty scholar's retreat.
One of the standout features is the traditional Chinese tea house, where visitors can partake in a tea ceremony while enjoying picturesque views of the garden. 
The Dr. Sun Yat-Sen Classical Chinese Garden is not just a place of beauty; it's also a centre for cultural exchange, offering workshops, performances, and educational programs that celebrate China's art, music, and traditions.
12. Vancouver Aquarium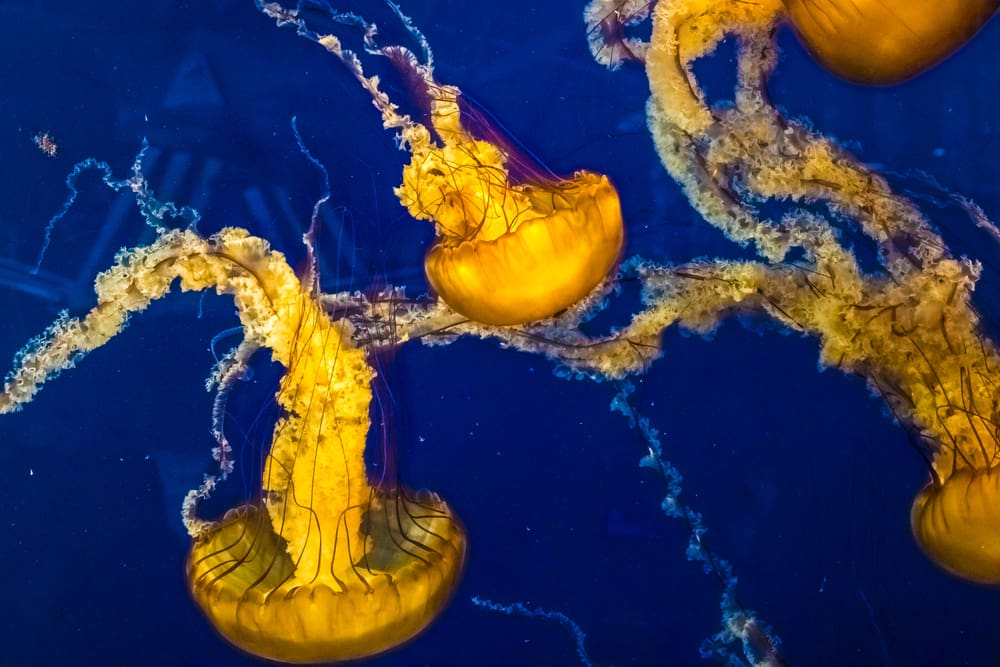 The Vancouver Aquarium, nestled within the scenic Stanley Park, is a marine marvel that promises an unforgettable experience. Home to various marine life, this attraction allows visitors to get up close and personal with sea otters, sea lions, and countless other aquatic creatures.
You can explore captivating exhibits that showcase the beauty of marine life and shed light on the importance of protecting our oceans. Through hands-on encounters with animals and informative presentations, the Vancouver Aquarium plays a vital role in raising awareness about the challenges facing our seas.
Whether watching dolphins at play or marvelling at the vibrant colours of tropical fish, visiting the aquarium is a journey into the fascinating world beneath the waves, making it a must-see destination.
13. Vancouver Maritime Museum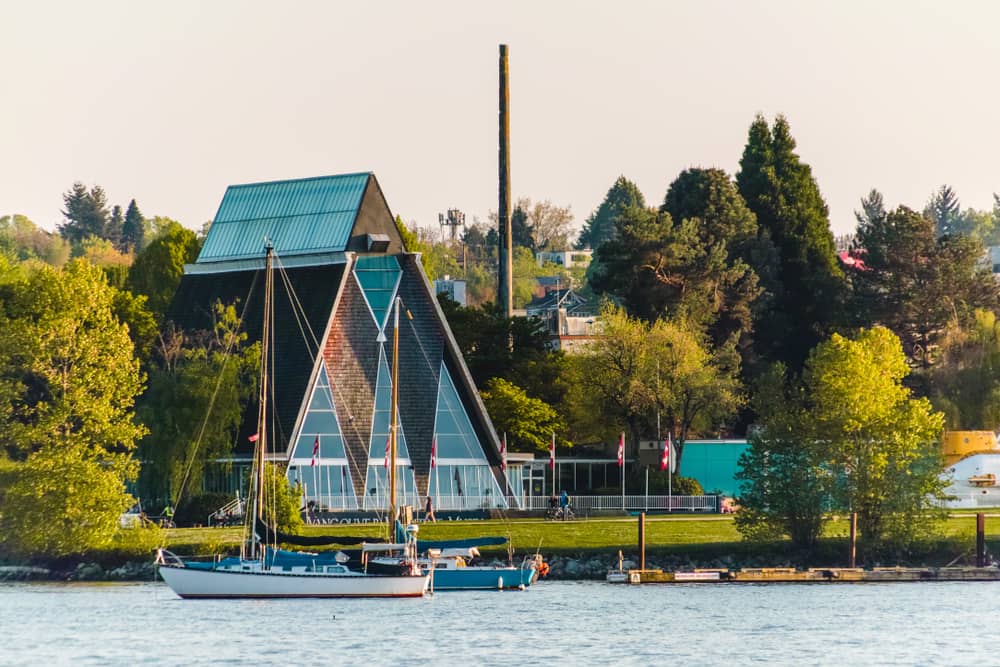 Located near the picturesque Kitsilano Beach, the Vancouver Maritime Museum is a captivating tribute to the city's deep-rooted maritime history. This cultural gem is a treasure trove of exhibits and artifacts that shed light on maritime traditions, indigenous heritage, and Vancouver's profound connection with the Pacific Ocean.
You can explore local art, which beautifully illustrates the indigenous cultures that thrived along the Pacific Northwest coast. The museum's interactive displays provide a compelling experience, allowing you to delve into the stories of seafaring explorers and learn about the evolution of maritime technology.
One of the museum's highlights is the iconic St. Roch, a historic RCMP schooner that completed the treacherous Northwest Passage in 1944. The vessel is a testament to early explorers' courage and determination.
14. False Creek Boat Tours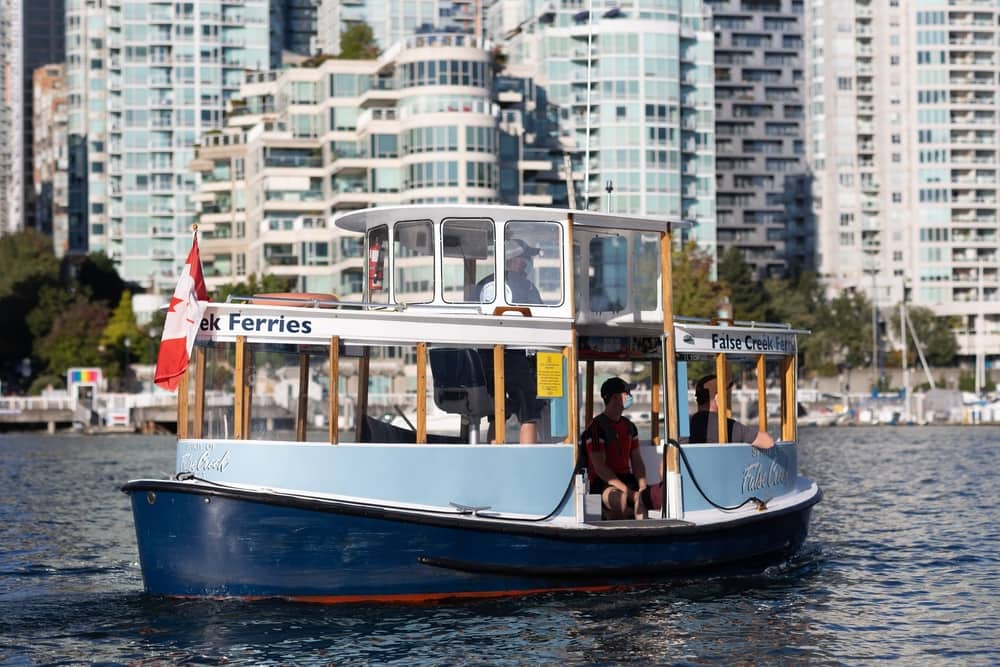 One of the most captivating ways to experience the city is through a boat tour along False Creek. This picturesque inlet and scenic waterway, surrounded by iconic landmarks, vibrant neighbourhoods, and stunning waterfront views, is one for the bucket list!
These boat tours offer an intimate and immersive experience, allowing you to see Vancouver from a unique perspective. As you glide along the waters of False Creek, enjoy the breathtaking sights of the Vancouver skyline, the majestic North Shore mountains, and the sparkling Pacific Ocean. You can use these boats just to get around too, for example, to cross the water to Granville Island and back; it is favoured as the best transport route.
Many boat tours in False Creek are run by knowledgeable guides who share fascinating insights about the city's history, architecture, and culture.
15. Richmond Night Market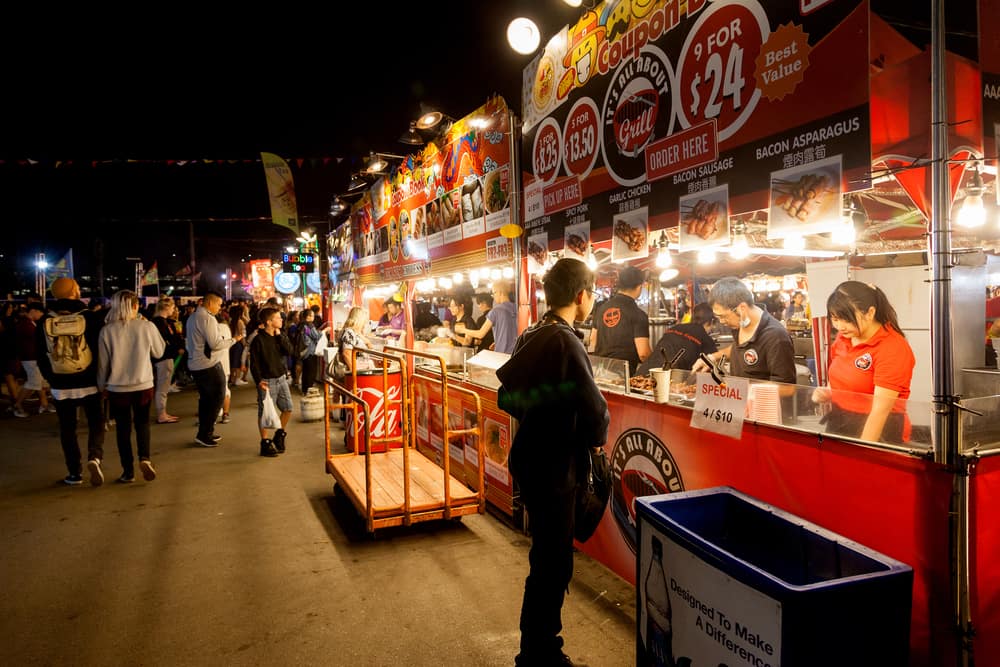 Wrap up your Vancouver adventure with a visit to the Richmond Night Market. Although it's located just south of Vancouver, it's where people from all walks of life come together to celebrate their heritage and share their culinary traditions. It's an opportunity to taste dishes you might never have encountered before.
Sample a delicious selection of international street foods and shop for unique gifts in a lively atmosphere. The market is a testament to the city's multiculturalism and the warmth of its people. Make sure to include this one on your Vancouver itinerary!
Experience all of the Pacific Northwest with Spin Genie
Whether exploring its natural beauty, immersing yourself in art and culture, or embarking on thrilling outdoor adventures, there's something for everyone in this Pacific Northwest destination.
Plan your visit to Vancouver, and you'll discover why it's often considered one of Canada's most captivating cities. Be sure to see it all with Spin Genie! Take a Spin on the best online slots in Ontario or discover the best online casino in Ontario for a chance at winning big.
But don't stop there - take a look at some of our other luxury lifestyle blogs to make the most of your Canadian escapades:
FAQs about Things to do in Vancouver
What is Vancouver, Canada, best known for?
Vancouver is renowned for its stunning natural beauty, including the majestic North Shore mountains, picturesque waterfronts, and lush parks like Stanley Park. The city is also famous for its vibrant cultural scene, featuring diverse art galleries, a thriving food culture, and a rich history. Vancouver's reputation as a gateway to outdoor adventure, with activities like hiking, skiing, and kayaking, adds to its allure.
Its commitment to sustainability and eco-friendliness also sets it apart as a green and forward-thinking city.
Is two days enough for Vancouver?
While two days can give you a taste of Vancouver's highlights, it's best to plan a more extended visit to fully explore the city's offerings. With only two days, focus on key attractions like Stanley Park, Granville Island, and a False Creek boat tour.
However, to immerse yourself in the culture, diverse neighbourhoods, and outdoor adventures, consider extending your stay to at least four or five days.
What is the best month to go to Vancouver?
The best time to visit Vancouver depends on your preferences. Summer (June to August) is ideal for warm weather and outdoor activities. Fall (September to November) offers beautiful foliage and fewer crowds. Winter (December to February) is perfect for skiing enthusiasts, while spring (March to May) brings cherry blossoms and milder temperatures.
Choose the season that aligns with your interests, but be prepared for some rainfall throughout the year, as Vancouver has a temperate coastal climate.
Why should I visit British Columbia?
There are many reasons why travellers of all ages and backgrounds would want to visit British Columbia. Tourists from all over the world flock to this Canadian province for its remarkable natural beauty. From the rugged Pacific coastlines to postcard-perfect mountain vistas with turquoise lakes, this region truly is an outdoor enthusiast's paradise. If you aren't a thrill seeker, don't worry; there are plenty of cultural attractions to explore in BC.
Throughout the province, you'll find opportunities to learn about Canada's rich indigenous heritage and explore the traditions that made it the place it is today. Plus, British Columbia has a thriving food scene, with chefs from near and far descending on cities like Vancouver to share culinary delights with hungry patrons. With its unique blend of urban sophistication and untamed wilderness, British Columbia is an unforgettable destination for travellers seeking both adventure and relaxation.
---
Discover Spin Genie
Your Magical Online Casino Destination
Spin Genie is a regulated online casino and the destination of choice for the most entertaining online slots, nostalgic game shows and live table games.