Making a Hollywood movie is far from a walk in the park, often with teams of hundreds of people from actors and directors to sound crews, cinematographers, editors and even the studio's marketing team all coming together to create the next cinematic sensation.
These teams of highly skilled moviemakers don't come cheap, and blockbuster budgets can often run up into the hundreds of millions. But which of these movies cost the most to make, and which made the most cash from their investment, just like you can in Ontario's best online casino?
Here at Spin Genie, we've dived into the data to find out. We've also taken a look at audience ratings and critics' reviews, to see if a bigger budget means better reviews.
The most expensive movies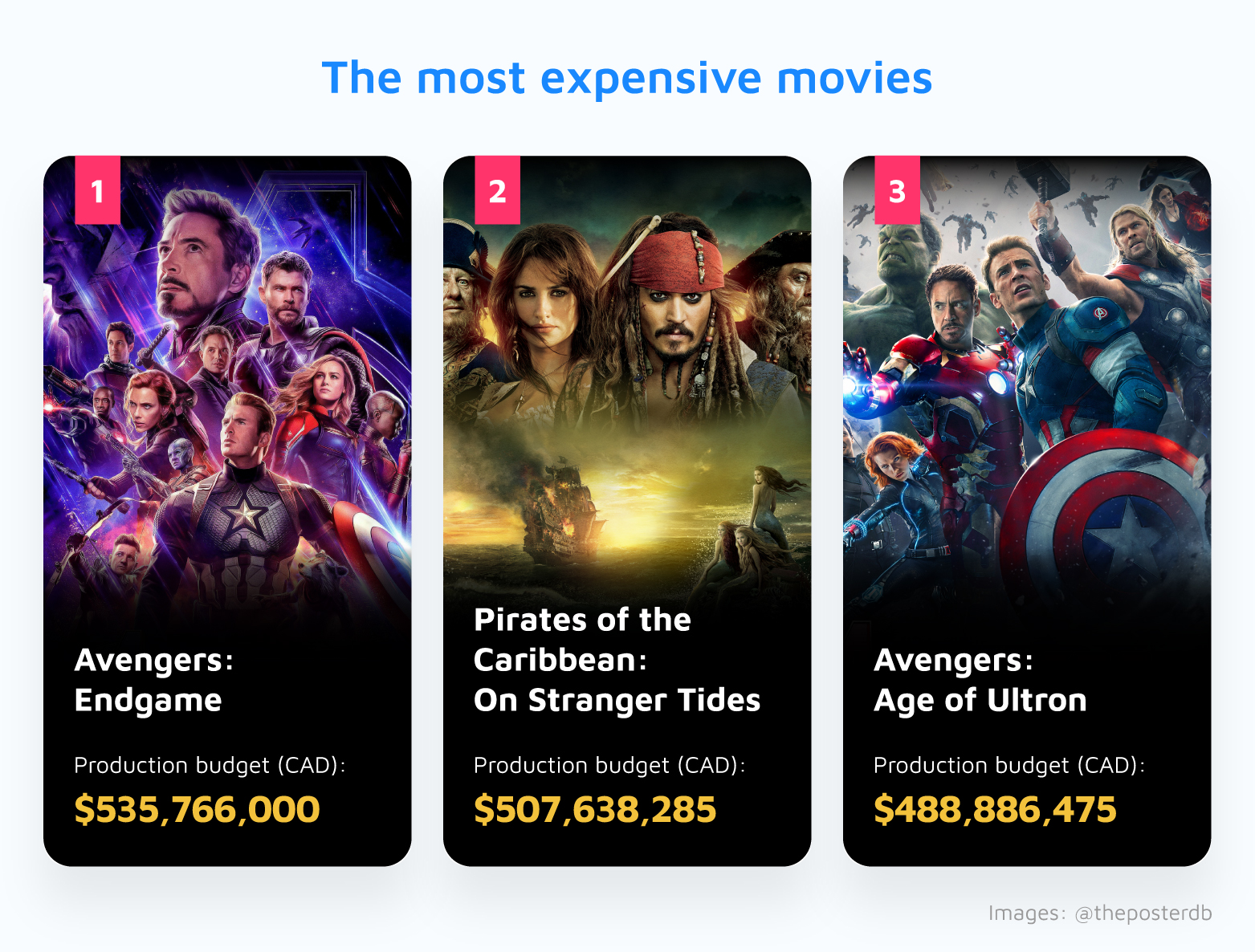 1. Avengers: Endgame                                                 $535,766,000
The movie that signalled the end of one of the most exciting eras in cinema history, Avengers: Endgame tops the list for the biggest budget, costing more than $5.35 million. Along with the usual costs of production and of course the star's salaries, Marvel Studios spent a record $269 million promoting the film!   
2.

Pirates of the Caribbean: On Stranger Tides        $507,638,285
Up next is the fourth installment of the Pirates of the Caribbean series, with the family adventure movie costing Disney more than half a billion Canadian dollars. The movie was shot entirely on 3D cameras, making production more costly and complex and scenes shot at sea are logistical challenges for production crews, which drove up the budget. 
3.
Avengers: Age of Ultron                                          $488,886,475
Taking third place is Avengers: Age of Ultron, with the movie costing Marvel Studios nearly $489 million. Unlike Marvel films produced after Age of Ultron, many scenes were shot on location in six countries across four continents, driving up costs for its producers.
The highest-grossing movies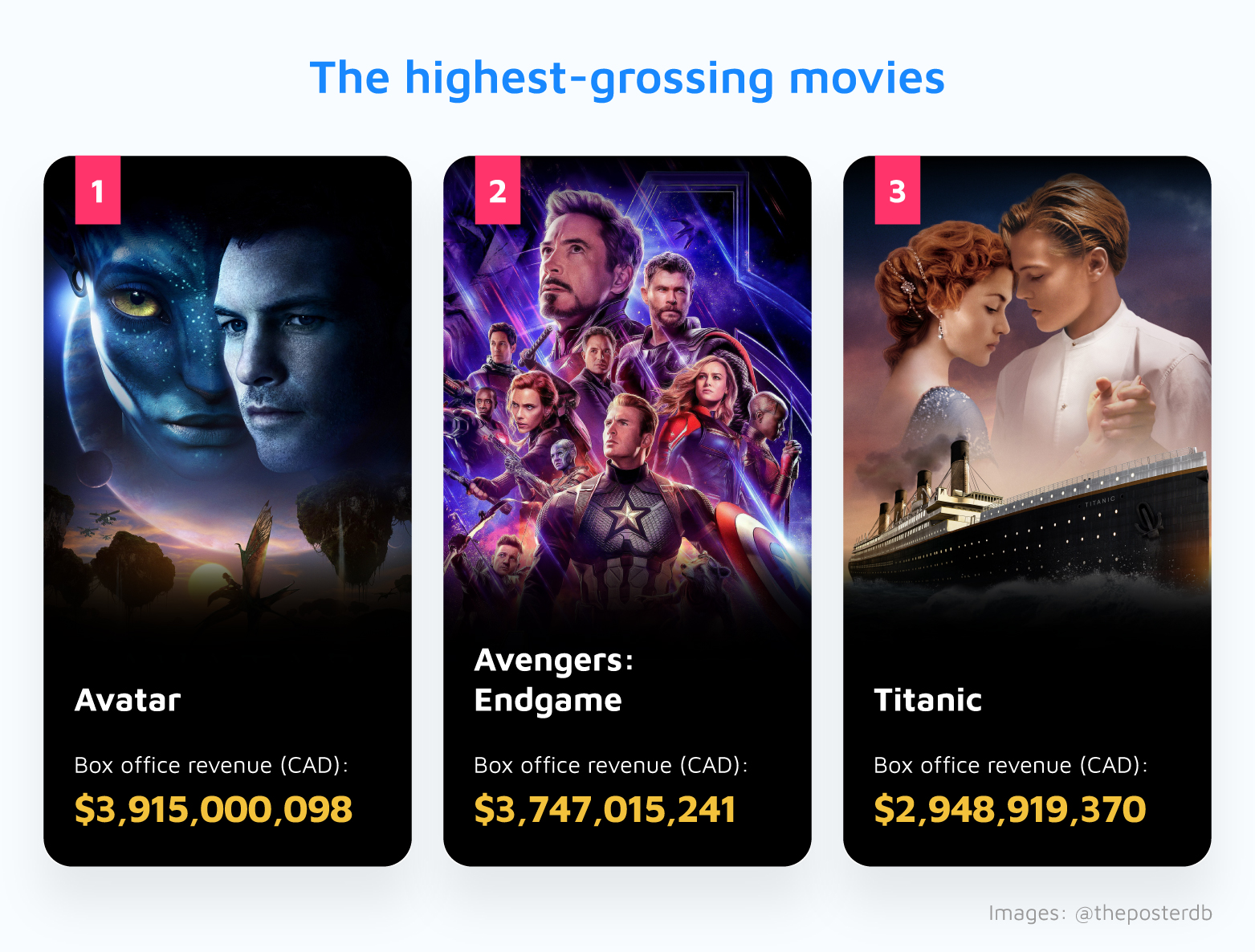 1. Avatar                                                                         $3,915,000,098
James Cameron's sci-fi epic takes the top spot as the highest-grossing movie, raking in more than $3.9 billion at the box office worldwide. Thanks to the state-of-the-art visual effects used to create breathtaking cinematography, audiences were inspired to rewatch the movie, resulting in huge takings at the box office.   
2.

Avengers: Endgame                                                 $3,747,015,241
Up next is the climax of ten years of Marvel cinema history, Avengers: Endgame. The movie that marked the end of an era grossed more than $3.7 billion at the box office, earning three-quarters of its takings in only 11 days! 
3.

Titanic                                                                        $2,948,919,370
Another movie helmed by James Cameron, Titanic smashed box office records when it hit theatres in 1997 and racked up an incredible 11 Oscars. The love story with a tragic ending features groundbreaking cinematography and an engaging plot that kept audiences coming back for more. It earned just under $3 billion at the box office worldwide.
The movies with the highest return on investment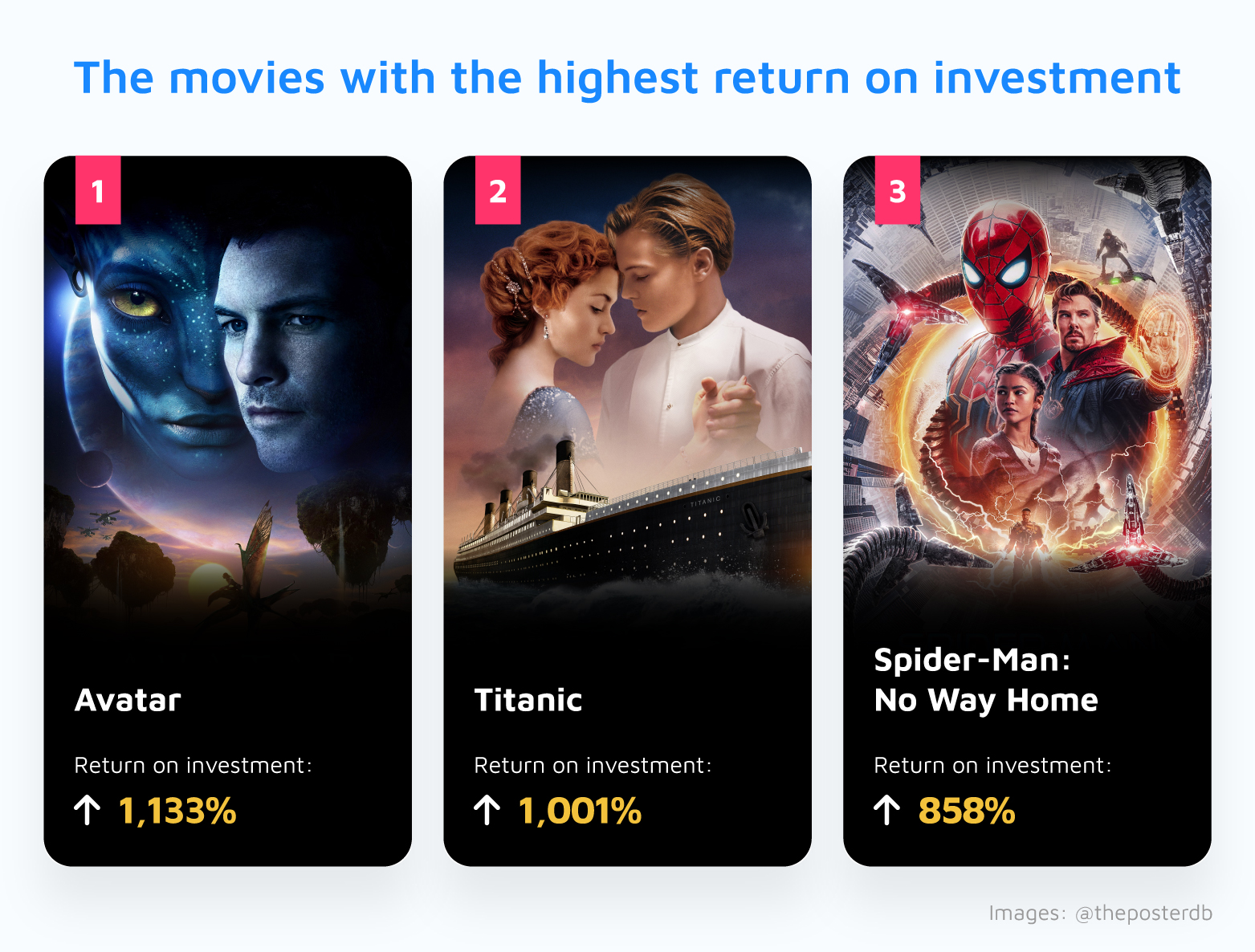 1. Avatar                                              1133% Return on investment
Taking the top spot is Avatar, earning more than eleven times its budget at the box office. The movie is still hugely popular with audiences because it appeals to such a wide demographic, blending action romance and science fiction too to create a movie everyone can enjoy. 
2.

Titanic                                             1001% Return on investment
In second place is Titanic, the movie written, directed and edited by James Cameron. Despite worries from movie executives that it would flop, the film made just over ten times its budget, which is very impressive considering it was the most expensive movie ever made at the time.
3.

Spider-Man: No Way Home          858% Return on investment
Up next is Spider-Man: No Way Home, the third action-packed installment in the Marvel Cinematic Universe's Spiderman franchise. The movie returned an impressive 858% of its budget, grossing over $2.5 billion.
The most-loved movies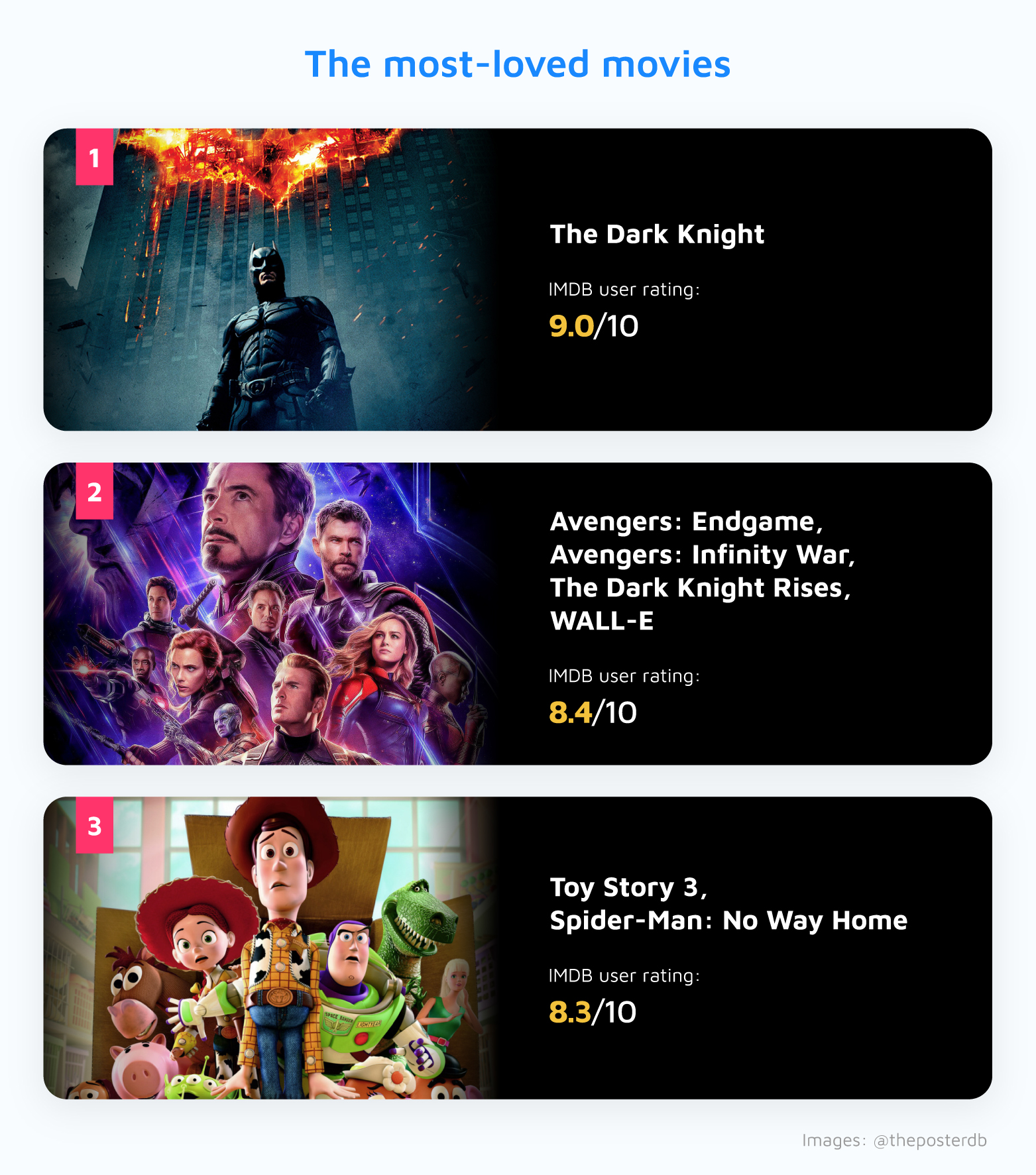 1. The Dark Knight                                         IMDB user rating: 9/10
The second installment in Christopher Nolan's Batman trilogy takes the top spot for audience rating, with a nearly perfect score of nine out of ten. The movie captivated audiences thanks to its gritty realism and stellar performances, particularly Heath Ledger's terrifying portrayal of the Joker.
2. Avengers: Endgame, Avengers: Infinity War,
The Dark Knight Rises, WALL-E                  IMDB user rating: 8.4/10
Four movies share second place all scoring an average of 8.4 out of ten. Two entries are the movies that brought Marvel's Avengers franchise to a close after ten years of thrilling adventure and world-saving action.
Another end to a beloved series of films, The Dark Knight Rises also shares second place. Audiences were stunned by its lush cinematography and three-dimensional characters as well as a captivating plot which concluded the trilogy.
WALL-E is next up, with the modern Disney-Pixar classic tugging on our heartstrings despite its lack of dialogue. The movie also has an environmental anti-consumerist message at its core without losing its charm as a touching love story.
3. Toy Story 3, Spider-Man: No Way Home  IMDB user rating: 8.3/10
Two movies take third place falling behind by only 0.1 in user ratings. Another entry into the Marvel cannon, Spider-Man: No Way Home and Pixar's classic Toy Story 3.
As one of the world's most famous superheroes, Spider-Man: No Way Home was bound to be loved by audiences. Featuring clever one-liners, tense action sequences, and nostalgia from seeing Toby Maguire and Andrew Garfield reprise their roles as the friendly neighbourhood Spider-Man.
Toy Story 3, another Pixar entry on the list, shares third place. Like many of Pixar's releases, the movie is packed with laughs without sacrificing its emotional complexity which touches on love, loss and friendship.
The most critically acclaimed movies
1. Toy Story 3                                                          Tomatometer score: 98%
Taking the top spot is the third entry in the Toy Story series with a nearly perfect Tomatometer score of 98%. The film was praised for its soundtrack, provided by Randy Newton and the emotional roller coaster of its at times heart-wrenching plot.
2.

Toy Story 4, Mission: Impossible Fallout        Tomatometer score: 97%
Two very different movies share second place for their critical acclaim, Toy Story 4 and Mission: Impossible Fallout.
Praised for its heartwarming plot and groundbreaking animation, Toy Story 4 has a Tomatometer score of 97%, just behind Toy Story 3.
Mission: Impossible Fallout couldn't be more different from Toy Story 4, it's filled to the brim with action-packed set pieces and thrilling stunts that wowed critics at the time of its release, earning it an average score of 97%. 
3.

Black Panther                                                     Tomatometer score: 96%
By far one of Marvel's most popular movies, Black Panther smashed box office records and was nominated for seven Oscars and won three when it took to the big screen in 2018. The movie was highly praised for its race and gender-conscious casting and costumes, with a black director and an almost entirely black cast and featured a number of black women in powerful roles.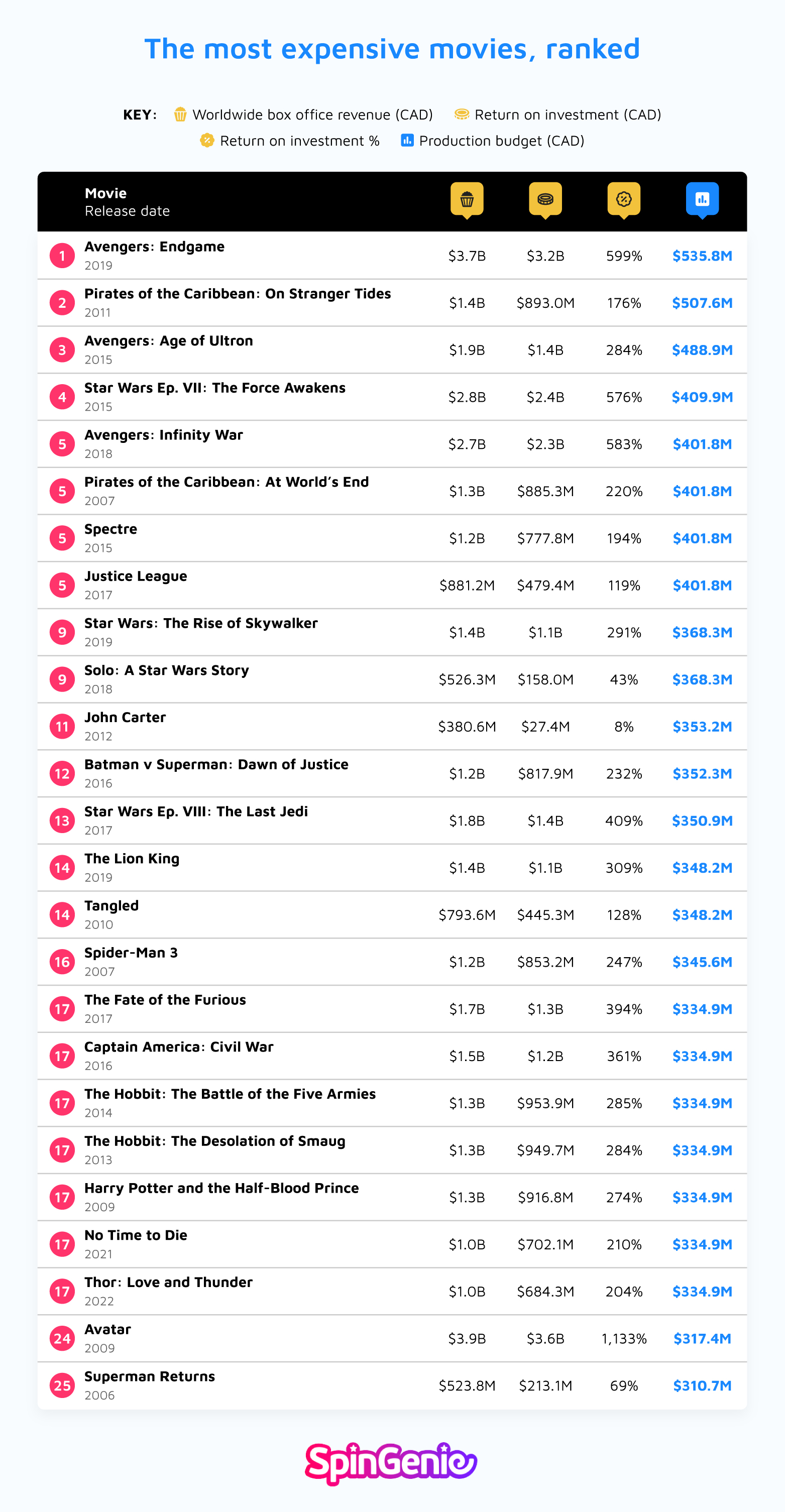 Methodology
Beginning with a list of the biggest budget movies according to The Numbers, we gathered the worldwide box office revenue for each movie taken from Box Office Mojo. We then used this data to calculate the percentage return on investment for each movie.
The most-loved movies: The user rating of each film according to IMDB.
The most critically acclaimed movies: The percentage of positive reviews for each film according to Rotten Tomatoes.
Currencies were converted on 16/11/2022 using Google Finance.