What Canadian cities are the most expensive?
The world is getting more expensive, prices of utilities such as oil and gas are on the rise, and the housing market continues to increase across the western world. As a result, many people are finding the cost of living to be more expensive than ever, but where are residents spending the most to live?
By studying the cost of living factors (as well as house prices) from Canada's 25 largest cities, Spin Genie is able to reveal the most expensive cities in the country to live in.
Top Ten Most Expensive Cities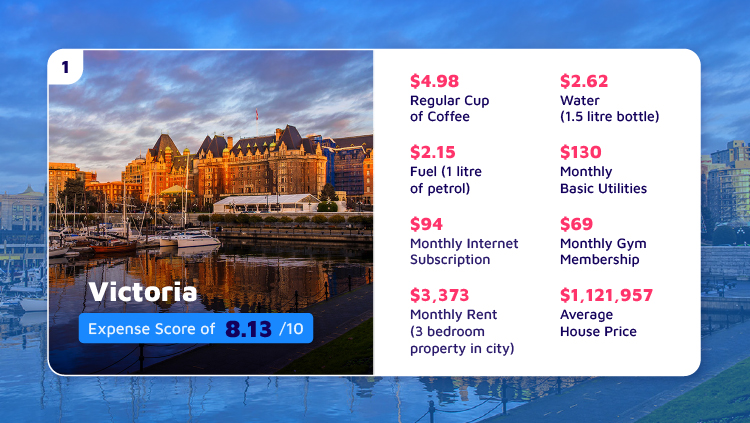 1 - Victoria, Expense Score of 8.13/10
The most expensive major Canadian city in which to live is Victoria, the British Columbian city situated at the southern end of Vancouver Island, across the bay from Seattle in the US. Victoria was consistently expensive, ranking in the top three most expensive cities in seven of the eight factors studied. It has the second most expensive petrol price at $2.15 per litre.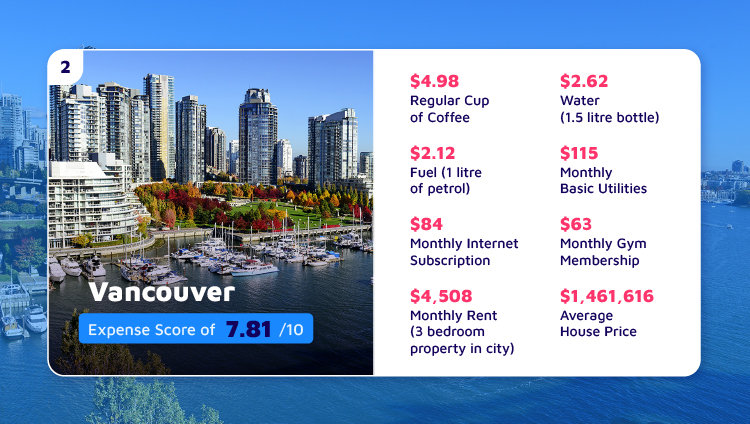 2 - Vancouver, Expense Score of 7.81/10
Vancouver is the second most expensive Canadian city to live in. Situated close to Victoria it is slightly more affordable than its neighbour. Vancouver has the highest house prices, the average to buy is almost $1.5 million, and the average rent for a three-bed apartment is over $4,500 a month. On the other hand, basic utilities are only $115 per month, making it one of the cheapest cities for this factor.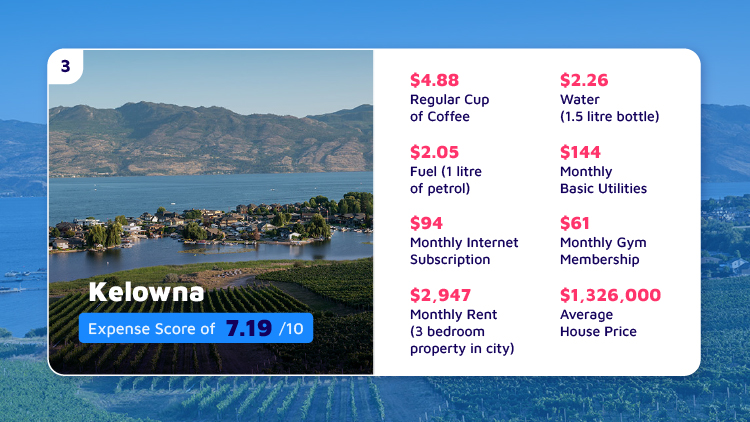 3 - Kelowna, Expense Score of 7.19/10
Kelowna is the third most expensive city in Canada and this makes it a British Columbia-dominated top three. The average house price in Kelowna is over $1.3 million, making it the second most expensive city for that factor, it also has high internet costs prices and fuel prices.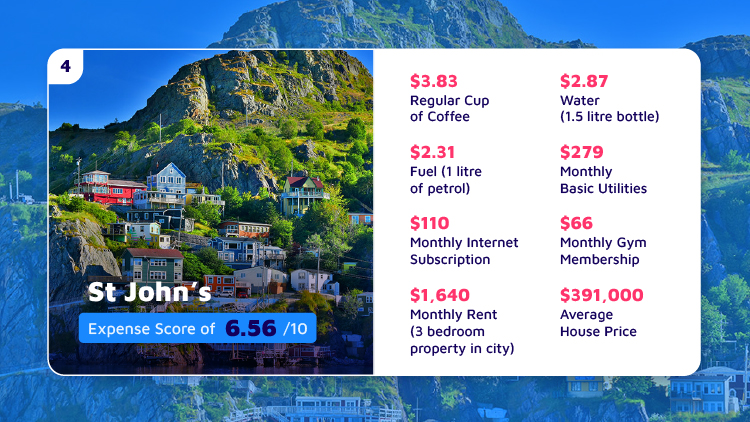 4 - St John's, Expense Score of 6.56/10
On the other side of the country is St John's. This city sits on the Atlantic coast of the island of Newfoundland. Although average house prices are almost a million less than they are in Vancouver, St John's is expensive for many other factors. For example, it has the most expensive monthly internet cost, with prices averaging $110.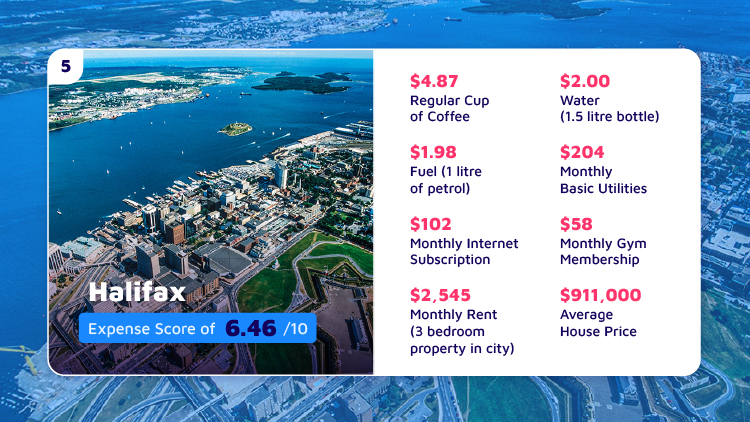 5 - Halifax, Expense Score of 6.46/10
The Nova Scotian city of Halifax is the fifth most expensive major Canadian city to live in, and just like St John's to the north, Halifax has high internet costs. It is the only other city with average internet prices over $100, per month, on top of this it has high average house prices of $911,000.
6 - Calgary, Expense Score of 6.25/10
Calgary is situated in southern Alberta, making it the most expensive city to live in that particular province and the sixth most expensive in the country. Keeping fit and living in Calgary can be an expensive business, as it has the most expensive average monthly gym membership of any city studied, it costs a whopping $79.63.
7 - Oshawa, Expense Score of 6.15/10
Located on the northern shores of Lake Ontario, just east of Toronto is the city of Oshawa, it is the seventh most expensive major city in Canada. Oshawa is especially expensive for basic utilities ($206 per month), and internet ($86 per month).
8 - Ottawa, Expense Score of 5.68/10
Ottawa is the capital city of Canada, but it is by no means the most expensive place to live in the country, in fact, it is only the eighth most expensive city. Just like Calgary, Ottawa has expensive gyms. The average cost is $71, making it the second most expensive.
9 - Guelph, Expense Score of 5.63/10
Guelph is an Ontarian city of Guelph is located near the larger cities of Toronto and Hamilton, but it is more expensive to live in than either of them. Guelph ranks in the top ten most expensive cities for all but two factors, house prices are just under $840,000, and a bottle of water is $2.55 (the fifth highest on average).
10 - Toronto, Expense Score of 5.52/10
Toronto is extremely expensive in terms of housing, it has the second highest average rental prices at over $3,500 per month. On top of this, it has the fourth highest average house price, it costs over $1 million to buy a house. However, it only ranks tenth overall as it has low costs for utilities, gyms and drinks.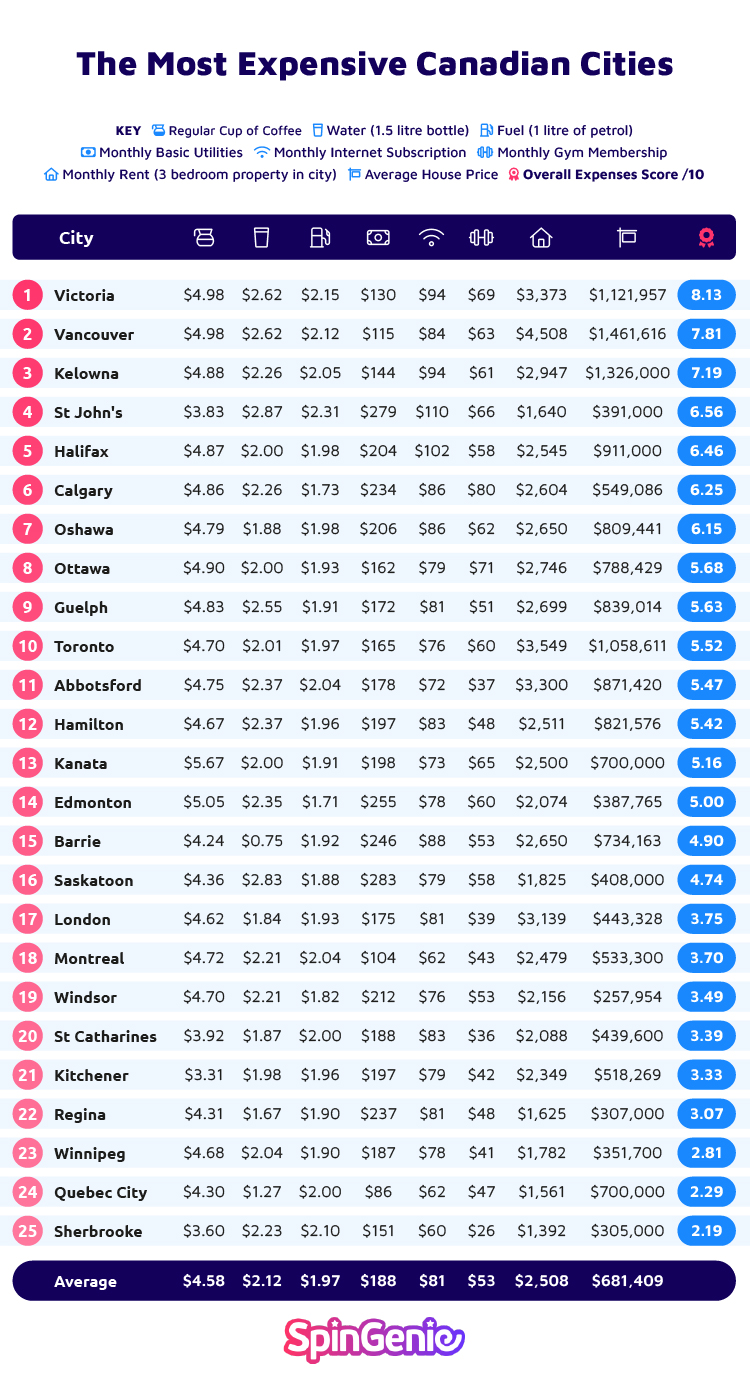 Methodology