On the cusp of the historic coronation of Charles III and his wife, Camilla, as king and queen of the United Kingdom, Spin Genie sat down with Grant Harrold, the former butler to the future King Charles III. With his extensive knowledge of royal customs and practices, Mr. Harrold shared fascinating insights into the life and times of the British monarchy, including some personal insights about Camilla, Queen Consort. Read below for more on our royal duo.
---
---
What was your view of Camilla when you were working for the royals?
The thing that was funny for me was when I went for my interview with the Prince, as he was, what nobody told me was that she was going to be there as well. I remember coming into the room at Clarence House already nervous enough about meeting him but I remember to the side of him I could see this lady and I looked and thought 'that's Camilla Parker Bowles' which completely threw me. The Prince definitely said something along the lines of 'oh, and may I introduce Camilla Parker Bowles'. I remember it as if it was yesterday, and she put her hand out and I think I nodded my head. I did a bow which I didn't need to do because she wasn't a royal then. I remember being a bit confused like 'I wonder why she's here'. Then I started to panic thinking maybe the job is not for him, maybe it's for somebody else. The reason she was there of course was because a year on they got engaged. Exactly a year on, the plan was already in motion. They were obviously spending time together. For me it was quite strange because for that first year I saw her from time to time and when they got married she was very much one of the bosses.
What was nice was from the minute I met her on day one until it became official she never changed. You hear people marry into families and they change and become different. She didn't change one iota, she was the same the way throughout and I really liked her. A problem I had was when people knew she was part of the family and people would slate her, not be nice and I was a bit like 'but you don't really know her' and they'd say 'we do because she's done this and this' I said I really like her, I really got on with her, she was good to me. As the years went on there were more and more reasons, examples of the nice things that she did. The same people years later I have seen and they've come up to me and said 'I absolutely love Camilla', views completely changed. I hear that from literally everybody now, everybody says the same. I think you could say she's won over the hearts of the nation, people have accepted her and I think that's time being a healer.
What was nice from my point of view was that she always did things to make me feel part of the team, she was always really kind. She was always caring and compassionate but I saw her about five/six months ago in Scotland and as soon as she saw me she recognised me. She's an amazing lady and I'm not surprised that her popularity has come back.
Is that a case of time being a healer or her work out in public too?
I think time's a healer but again it's one thing for me to tell people how amazing she is and all the things she does but it's another when you actually witness that. I have no doubt she'll have met real die hard Diana fans and they will still chat to her and be nice to her and say 'wasn't it lovely meeting her'. Time is a healer but also you see her doing the most moving things. I remember at Clarence House at Christmas, children that are sadly dying and are invited to Clarence House to decorate the Christmas tree with her. It was the most heartbreaking thing I have ever been involved in and I had to leave the room because I was crying so much and she carried on doing it. That's what I think was amazing, she had a tear in her eye but she still carried on doing it and it's the same when she's presenting medals to any service persons who came back from Afghanistan, again I was finding it really upsetting hearing the stories and she was moved but able to carry on doing what she was doing, I think people want that. I think in carrying out the duties people have seen she's a very kind, caring and compassionate lady first and foremost. Another advantage that she's got, a bit like the Princess of Wales now, because although they've got more money than other people I think people accept even more and admire the fact they've gone from having relatively normal and peaceful lives to giving their lives up to the job. You do give your life up to do that job, I've witnessed it. People say I'd love to be a royal and live that lifestyle but I hate to tell people they don't sit around in chairs in palaces watching television and eating cereal bars or whatever, it's not like that, they don't get that luxury at all. The irony is they are in those rooms to do events and they leave them and that's it. It's not quite what people imagine so I think that's where people probably look at them and think they've dedicated their lives to the country.
What did you make of Camilla and Charles' relationship?
They are the most fun, loveable couple, hysterical to be around. They were great fun and she is so good to him because of all the pressures and seriousness of what he does, even before he was king, she always added a bit of fun to everything. It was always a bit of fun and lighthearted, there was a lot of laughter. More importantly they are best friends, absolutely best friends, no question on that at all and they are a great team, I witnessed that. I remember thinking how lucky that later in life he's found somebody that he adores and loves and it is his best friend.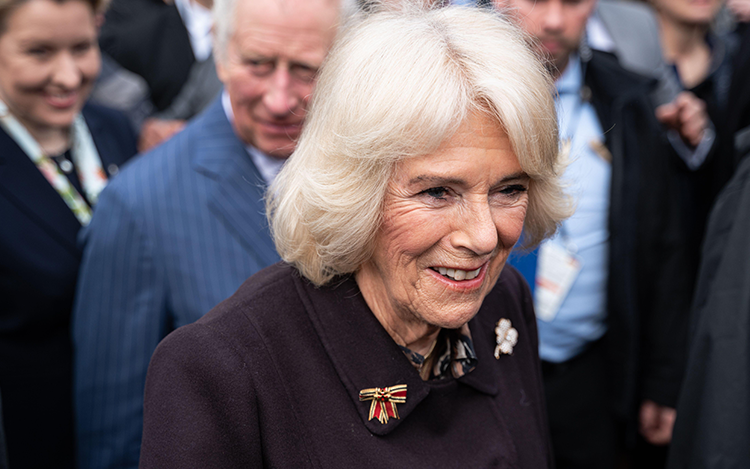 How do you think she's settled into being a Queen?
I think she's settled in really well, I think she's very clever. She's managed to bag herself a royal life and a private life. What some people might not know or not so aware of is that she's got her own children, Tom and Laura, and they've got their own children so she's a grandmother with her own grandchildren. She's also got her own house, Ray Mill, which is where the king lives and she's maintained that as her own residence. It's her own space so when she's not doing royal duties she's still got her own space for her and her family from her first marriage and I think it's nice that she's got that. She spends a lot of time with the King, of course they share the same homes and everything but she's got that little bolthole, somewhere she can go and have her own space especially if he's away and doing things overseas on his own. I think that's the secret to a healthy relationship, having your own space as well is vital and that's maybe what they've worked out was the mistakes from previous years. So that works really well.
I remember going to the house years ago before they married and I went to the house and she answered it as if you would answer your house. Now she's Queen and if you wanted to get in touch with her you have to go through offices and allsorts, imagine back then knocking on the door, 'Mrs PB? I'm here!'It's different now, so different.
Did her own children visit often?
Yes, I don't know 100% how often they were there but she is very close to her children. I think through Google you can discover that Tom's kids and Laura's kids, or one or two of their christenings were held at Clarence House. They are a very close family. I'm probably contradicting myself because Harry said they aren't close but I thought they were close. I'm talking about Harry and William as well here. I thought they were all close. As with any families with new marriages and the kids 'having' to get on but they did get on and they were always quite good fun.
---
Discover Spin Genie
Your Magical Online Casino Destination
Spin Genie is a regulated online casino and the destination of choice for the most entertaining online slots, nostalgic game shows and live table games.