From the pitch to the court, the field to the rink, sports stars are held up as idols by their adoring fans. However, it's not necessarily just their athletic abilities that make sports stars such loved figures.  
Whether it's charisma, style, or just straight-up physical attractiveness, many sports stars also feature fairly prominently when it comes to people's celebrity crushes.
But who are the world's biggest sports crushes? To find out, we've analyzed hundreds of sports stars based on Google search volume.
For each athlete, we found the number of searches for their name followed by the word "hot" in the last two years, to reveal which garner the most affection.
Some of these sports stars have won everything there is to win in their respective fields. To experience the thrill of winning big yourself, be sure to check out our online slots and online casino games too.
The World's Biggest Female Sports Crushes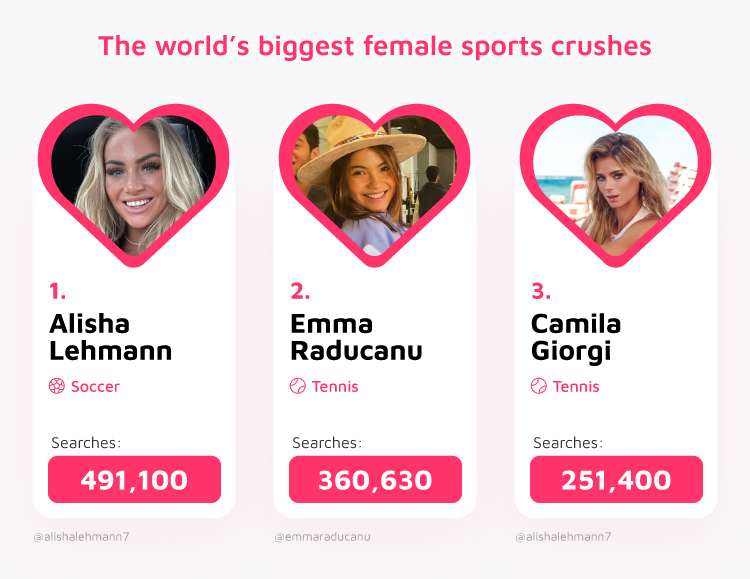 1. Alisha Lehmann (Soccer) - 491,100 searches
In first place is soccer player Alisha Lehmann, who plays for Aston Villa in the English WSL and the Swiss national and received over 491,100 searches.
She's also known for her social media presence off the field, with over 13 million followers as of May 2023, making her the most followed women's footballer.
2. Emma Raducanu (Tennis) - 360,630 searches
In second is British tennis player Emma Raducanu, with over 360,000 searches in the last two years.
Raducanu burst onto the scene in 2021, winning the US Open at just 18 years old, making her the first British woman to win a Grand Slam singles title since Virginia Wade in 1977.
3. Camila Giorgi (Tennis) - 251,400 searches
Third place goes to another tennis star, Italy's Camila Giorgi, with over a quarter of a million searches in the last two years.
On the court, Giorgi is known for her aggressive style of play and came to international recognition in 2012 after reaching the fourth round of Wimbledon as a qualifier, defeating several higher-ranked players on the way.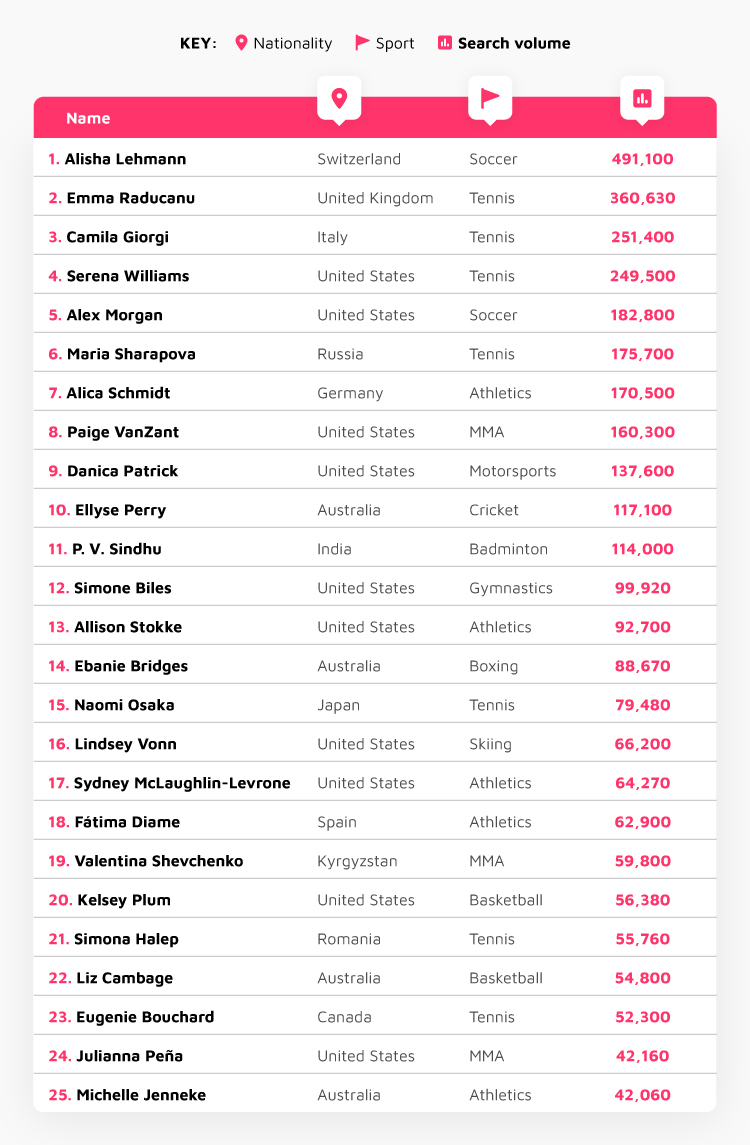 The World's Biggest Male Sports Crushes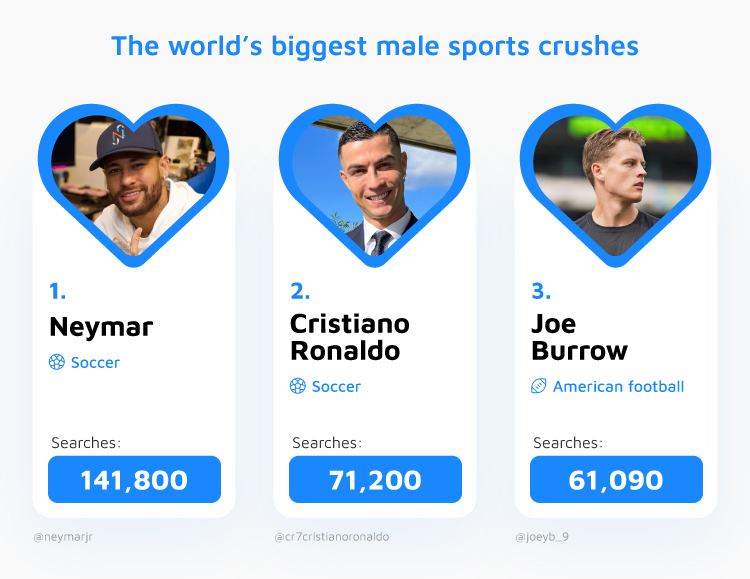 1. Neymar (Soccer) - 141,800 searches
When it comes to the men, Neymar is the most fancied sports star, with over 140,000 searches in the last two years.
Neymar (or Neymar da Silva Santos Júnior to give him his full name) is widely recognized as one of the most exciting players in the world, known for his flair both on and off the pitch.
2. Cristiano Ronaldo - 71,200 searches
Another soccer player takes second place, this time in the form of Cristiano Ronaldo, with 71,200 searches.
Ronaldo is the most famous footballer in the world and the most followed person on Facebook and Instagram, with legions of fans.
3. Joe Burrow - 61,090 searches
Completing the top three is NFL star Joe Burrow, with 61,090 searches in the last two years. Burrow is quarterback for the Cincinnati Bengals and has been nicknamed "Joe Cool" and "Joe Brrr" for his calmness under pressure.
Off the field, he's known for his humility and has spoken out on several social issues. After signing his rookie NFL contract, he stated that he would save all of his earnings and live purely through money earned from endorsements.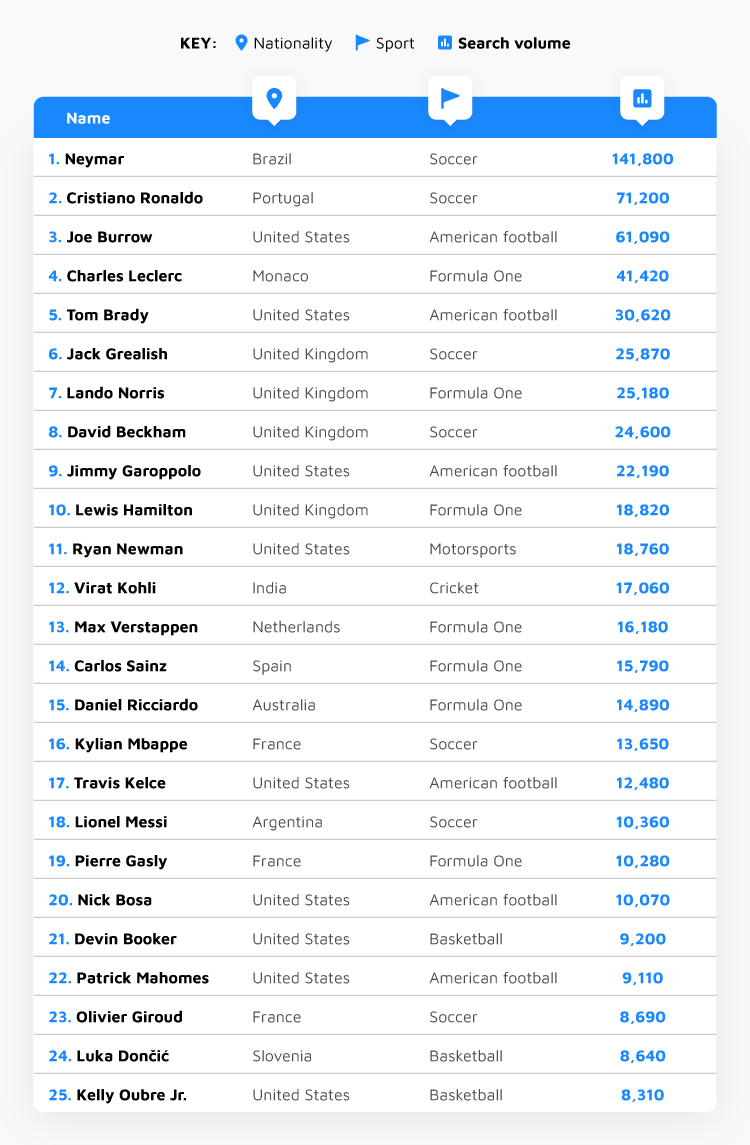 The Biggest Crushes by Sport
Soccer - Alisha Lehmann (491,100 searches)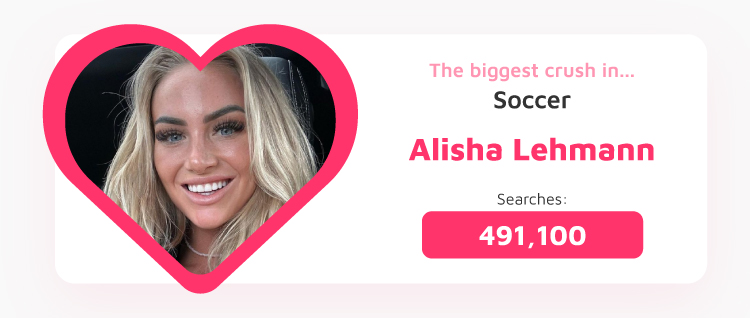 There are more soccer players (both male and female) than any other sport on our list, with Alisha Lehmann being the most fancied player overall with just under half a million searches.
Lehmann's fans will be able to watch her at the upcoming Women's World Cup after she ruled herself out of the 2022 Women's Euros.
American football - Joe Burrow (61,090 searches)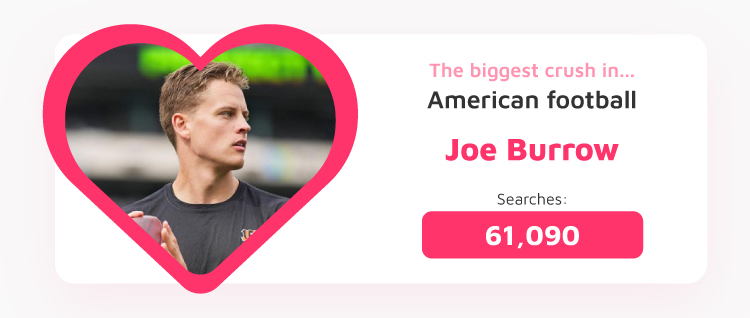 As the third-most lusted-over male athlete overall, it's not too surprising that Joe Burrow is also the biggest crush in the NFL.
He did come ahead of the legendary Tom Brady though, which is something of a surprise, with Burrow (61,090) receiving twice as many searches as Brady (30,620).
Tennis - Emma Raducanu (360,630 searches)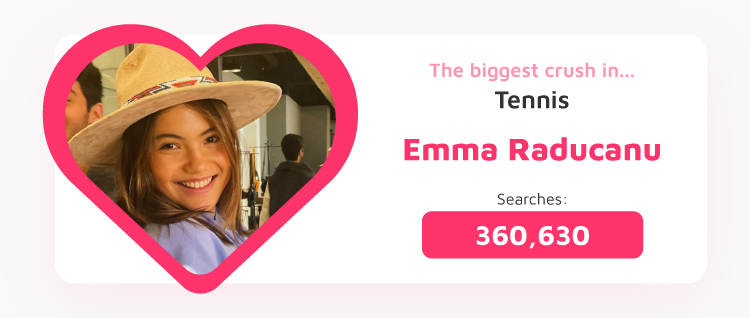 Tennis is another sport played by many of our biggest crushes, with four of the top five overall being tennis players.
Emma Raducanu is the most popular of these, with over 360,000 searches in the last year, although since her breakthrough success has struggled with injuries.
Basketball - Kelsey Plum (56,380 searches)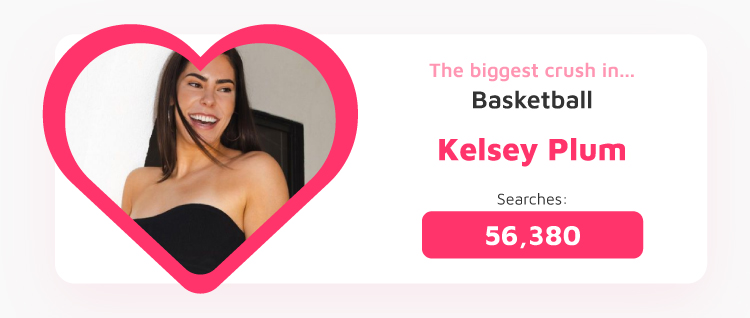 A mixture of male and female basketball stars make our list, but the most popular is Kelsey Plum of the Las Vegas Aces, with over 56,000 searches.
Last year she won her first WNBA Championship and was also named in the All-WNBA First Team, being named the MVP in the All-Star Game.
Athletics - Alica Schmidt (170,500 searches)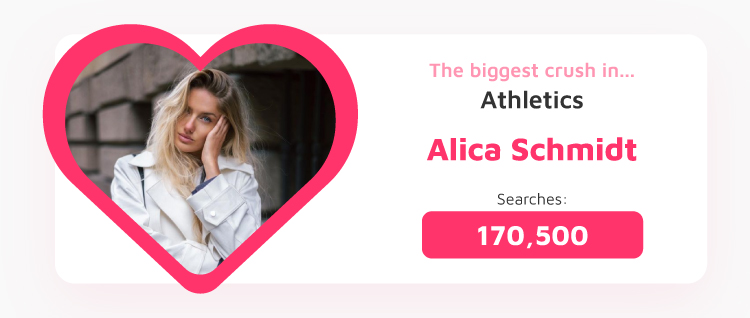 From the world of track and field, Germany's Alica Schmidt is the world's biggest crush, with over 170,000 searches in the last two years.
A runner for the German athletics team, she has also made waves away from the track and currently has over 3.7 million followers on Instagram.
Formula One - Charles Leclerc (41,420 searches)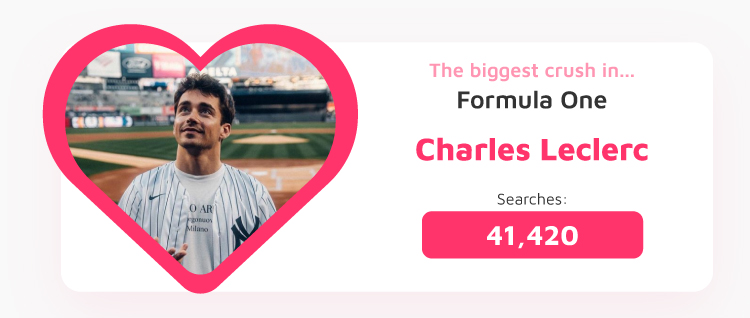 When it comes to Formula One, Charles Leclerc takes the top spot with over 40,000 searches in the last two years.
Despite coming second in the 2022 World Drivers' Championship, Leclerc leads the way here and is also a big deal on Instagram, with just under 11 million followers.
The Biggest Crushes by Country
United States - Serena Williams (249,500 searches)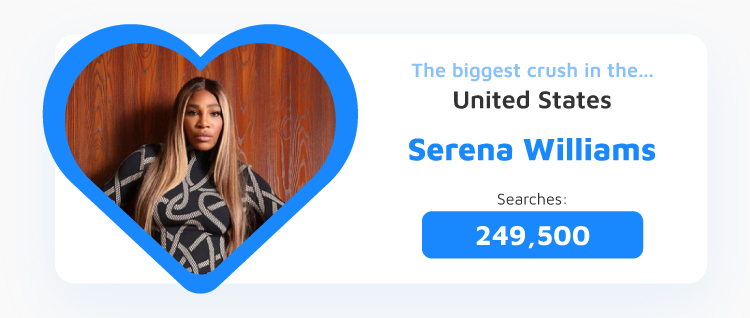 The most adored American sports star is tennis icon Serena Williams, with just under a quarter of a million searches in the last two years.
Widely regarded as one of the greatest ever, she has more Grand Slam titles than anyone in the Open Era and the second-most of all time.
United Kingdom - Emma Raducanu (360,630 searches)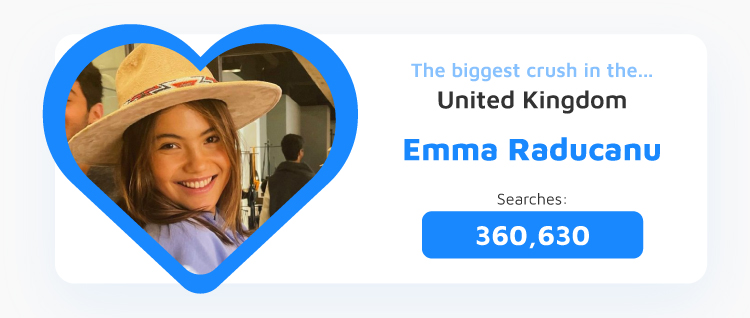 The biggest sports crush among British athletes is also a star of the tennis court, albeit one at the beginning of her career rather than coming to the end.
Emma Raducanu received over 360,000 searches, and while her career is still young, she's already a huge star, with numerous endorsements and an estimated net worth of over £12 million.
Canada - Eugenie Bouchard (52,300 searches)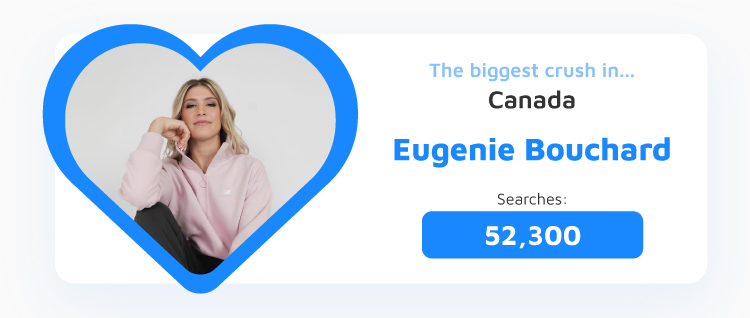 Canada's most loved athlete is yet another tennis superstar, with Eugenie Bouchard being searched over 52,000 times.
She's one of the most popular Canadian tennis players of recent years and at Wimbledon 2014 became the first Canadian-born player to reach the final of a major singles competition.
Which athletes' relationship statuses are we most obsessed with?
We also took to Google to find out which athletes are receiving the most searches about their "girlfriend", "boyfriend", "wife", "husband" or "partner".
Female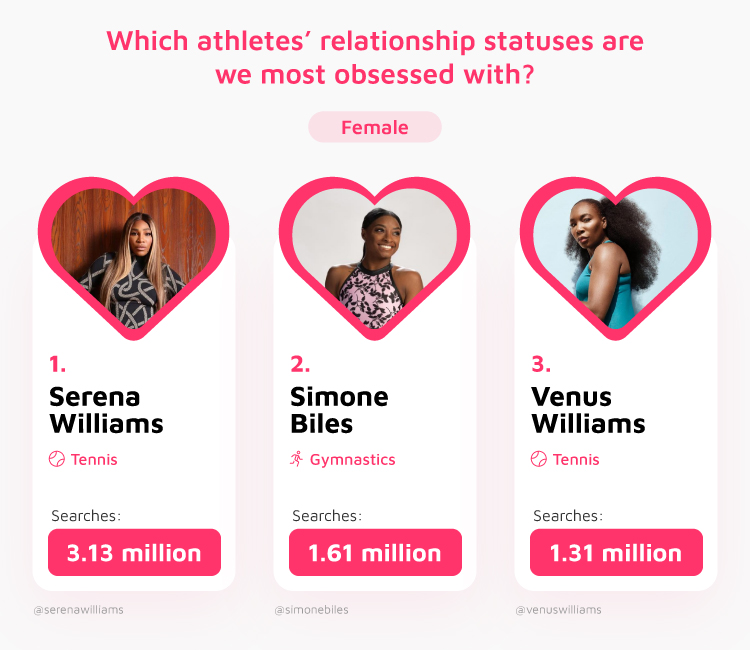 1. Serena Williams (Tennis) - 3.13 million searches
As well as being one of the biggest sports crushes overall, it appears that we're also all intrigued about Serena Williams' relationship status, with over 3 million searches.
Williams is married to Alexis Ohanian, a successful internet entrepreneur best known as one of the co-founders of Reddit and for his advocacy work for open internet rights.
2. Simone Biles (Gymnastics) - 1.61 million searches
In second is gymnast Simone Biles, with over 1.6 million searches from people searching for info about her partner.
She recently got engaged to her boyfriend Jonathan Owens who is also a pro sportsperson, playing for the Houston Texans in the NBA.
3. Venus Williams (Tennis) - 1.31 million searches
Joining her sister in the top three is fellow tennis ace Venus Williams, with over 1.3 million searches.
The majority of searches are for "Venus Williams husband" although as of now she isn't actually married and has kept her personal life relatively private.
Male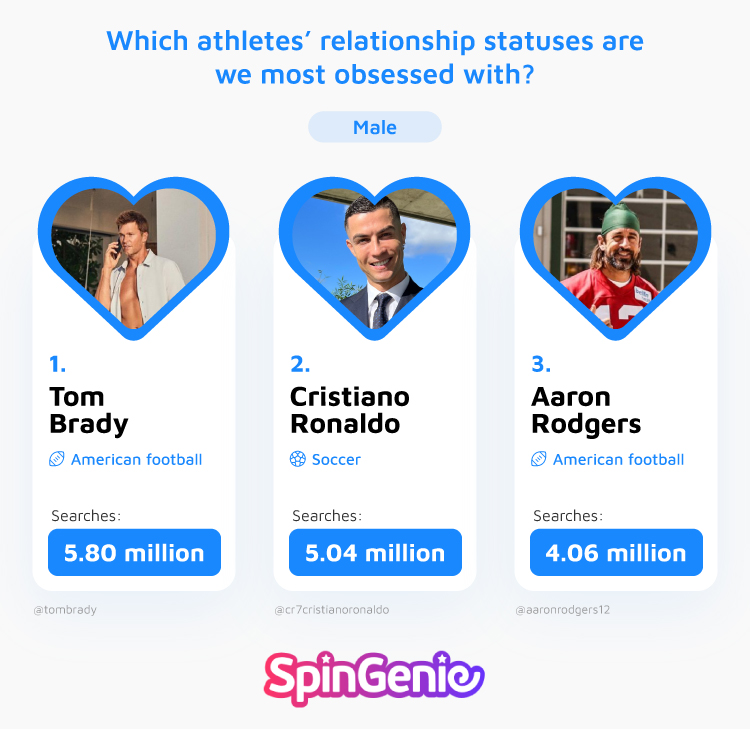 1. Tom Brady (American football) - 5.80 million searches
The male athlete whose relationship people are most interested in is Tom Brady, with 5.8 million searches.
Tom Brady was married to Brazilian supermodel and environmental activist Gisele Bündchen but they divorced in October after 13 years of marriage.
2. Cristiano Ronaldo (Soccer) - 5.04 million searches
In second is Cristiano Ronaldo, with just over 5 million searches regarding his relationship status in the last two years.
The majority of searches were for "Cristiano Ronaldo wife" although while he has been in a relationship with Georgina Rodríguez for seven years, they aren't yet married.
3. Aaron Rodgers (American football) - 4.06 million searches
NFL star Aaron Rodgers takes third place, with just over four million searches from people interested in his relationship status.
Having previously dated actress Shailene Woodley, Rodgers was most rumoured to be dating Mallory Edens, daughter of Milwaukee Bucks owner, Wes Edens.
Methodology
First, we created a list of over 800 athletes, using online lists of the best and most well-known athletes and also of those considered the most attractive.
For each athlete, we then used Google Ads Keyword Planner to find the number of global searches for the athlete's name followed by the word "hot" in the last two years (May 2021 to April 2023).
We also looked at the number of searches for each athlete's name followed by the terms "girlfriend", "boyfriend", "wife", "husband" and "partner", before adding together the results for each of these to show which athlete has received the most searches about their relationship status.
Only those who play sports professionally were included and celebrities who have played professional sports but are better known for non-sporting activities were excluded.
---
Discover Spin Genie
Your Magical Online Casino Destination
Spin Genie is a regulated online casino and the destination of choice for the most entertaining online slots, nostalgic game shows and live table games.